Councilman Gentile Sponsors Legislation To Protect The Unemployed From Job Discrimination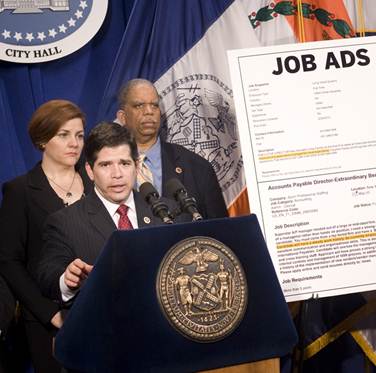 From the office of Councilman Vincent Gentile:
The New York City Council passed legislation yesterday providing a private cause of action for those unlawfully discriminated against on the basis of being unemployed – the first law of its kind in the nation.
Intro 814-A will prohibit employers from using a person's employment status in a hiring decision and from posting job advertisements that require applicants to be currently employed. The bill has the strong support of City Council Speaker Christine C. Quinn and Manhattan Borough President Scott Stringer as well as the National Employment Law Project, which is a national advocacy organization for employment rights of lower-wage workers.
"Employers who weed out candidates simply because they are unemployed has become the new face of employment discrimination," Councilman Vincent J. Gentile said. "If you are otherwise qualified, being unemployed should not prevent you from securing a job. This important piece of legislation will effectively end this perverse Catch-22 that has served only to deepen our unemployment crisis in New York City."
Under the groundbreaking legislation, it will be illegal for an employer to base a hiring decision on an applicant's unemployment without a substantially job-related reason for doing so. It will also be illegal for employers to post in job advertisements that current employment is a job requirement, or that unemployed applicants will not be considered for the position.
"If you are otherwise qualified, how does being unemployed make you ineligible for a job?," Councilman Gentile asked. "Is a dentist somehow more qualified for a job as a bank teller than an out-of-work bank teller simply because the dentist is currently employed!? This bill will stop the phenomenon of discrimination against the unemployed before it becomes the next crisis."
City Council Speaker Christine C. Quinn stated, "Imagine spending every day and night for months upon months upon months looking for a job – only to be told 'don't even bother… unemployed need not apply.' We cannot – and will not – allow New Yorkers who are qualified and ready to work have the door of opportunity slammed in their faces. The long-term unemployed face some of the greatest challenges in their job searches. Tomorrow, we will vote to remove one obstacle they simply should not have to face."
"Discrimination against the unemployed is unacceptable, especially at a time when the jobless rate in our City hovers around 9%," said Manhattan Borough President Scott Stringer. "A review of job postings by my office uncovered dozens of examples of New York City job listings that required candidates to be currently employed–and it is clear that New York's hopes for economic recovery are undermined when a person can't find work for reasons outside their control. I am proud to stand with my colleagues today in support of legislation that protects unemployed people against such damaging discrimination."
At 9.4%, New York City's unemployment rate far exceeds both the national average and the New York State average. More than half of unemployed New Yorkers were actively seeking work for more than six months and nearly a third were still actively looking for work after searching for more than a year.
Intro 814-A will be voted on at tomorrow's Stated Council meeting and is expected to pass overwhelmingly.