Councilman Deutsch Holds Forum On Park Safety At Homecrest Playground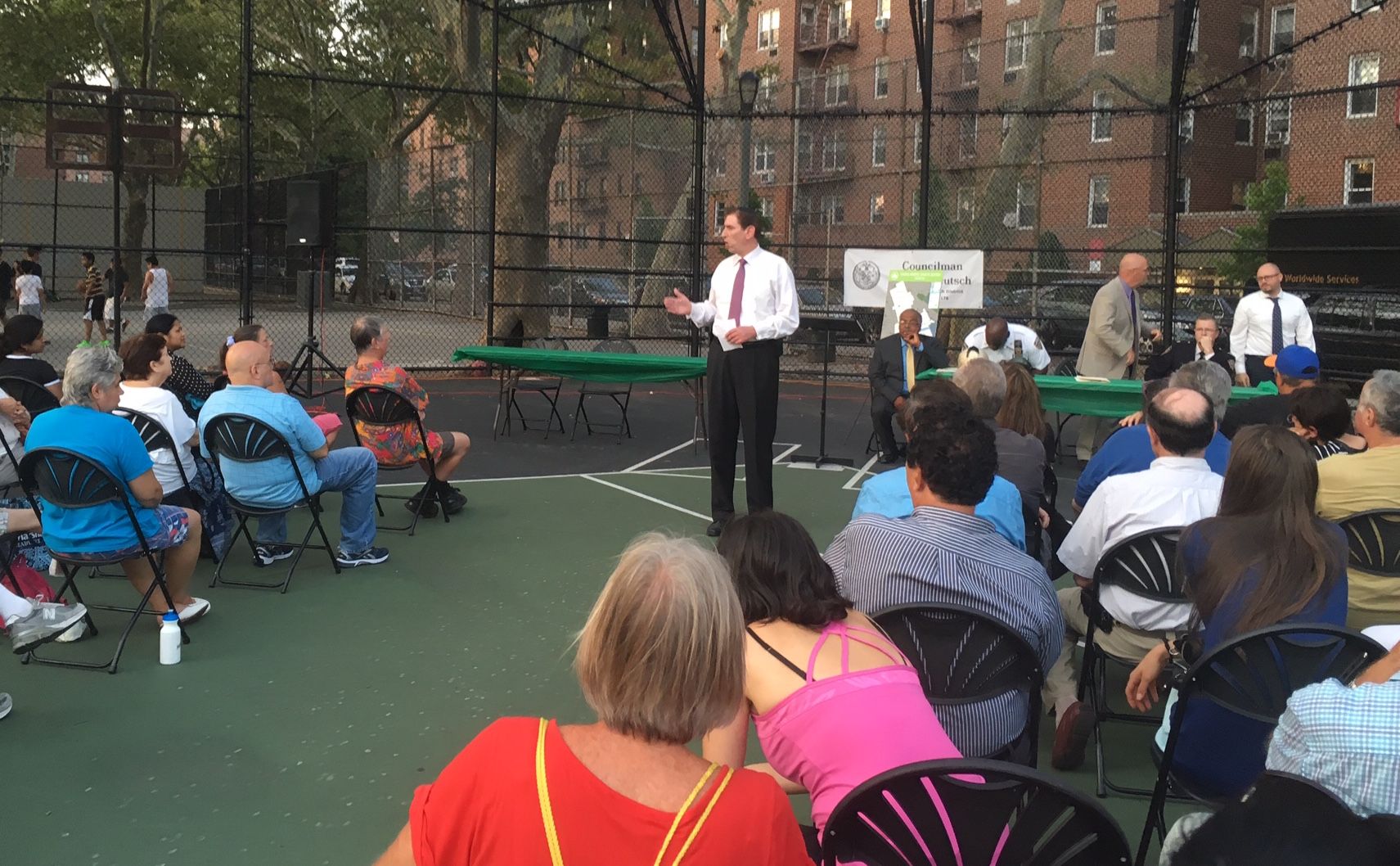 Councilman Chaim Deutsch held a community forum last night at Homecrest Playground. He was accompanied by Brooklyn Parks Commissioner Kevin Jeffrey, NYPD Brooklyn South Chief Steven Powers, NYPD 61st Precinct Captain Winston Faison and the NYPD Brooklyn South Narcotics Division Inspector George Fitzgibbon.
The event was an opportunity for members of the community to voice concerns and ask questions about everything from park lighting at night, to police initiatives on dealing with known drug spots. Homecrest Playground has had issues as a haven for drug dealers in the past. Last year, four individuals were arrested with around $1,500 worth of marijuana and pills, according to the NYPD, and Councilman Deutsch claims that people are often afraid to call the police when they see a drug sale out of fear of retaliation.
Efforts have been made over the past year to increase police presence on the area around the park, and the Councilman used the spot to broaden the conversation with the community on improving park safety and quality of life issues across Sheepshead Bay. Roughly 60 concerned residents showed up to join the conversation and have their voices heard.
Yuliya Golubev, a young mother of two, was in attendance hoping to speak out about a particular local drug dealer in the area. She was one of the founding members of a Facebook group called "Save Homecrest Playground," a community of parents that have been working to raise awareness about safety in the park.
"We have major problems here. We have a drug dealer on the corner here who sells. I live in the building where he lives, so I don't feel safe," Golubev said before the forum started. "I don't feel protected at all, so I want to hear from the police enforcer how they're going to help."
Once things got started, Golubev stood up and expressed her concerns to the panel. She was answered by Brooklyn South Narcotics Division Inspector George Fitzgibbon, who told her that he was aware of that particular case and already had men working on it.
"We probably wouldn't have known about it unless we had gotten phone calls, so what I really want to stress is if you see something, say something," Fitzgibbon said. "I just want to let you know that it's because of people like yourself, that we are currently working on that location."
Another audience member asked if there was going to be an increase in police presence, and said that by the time the police typically show up after she calls in a drug deal, the sellers are already long gone.
Captain Winston Faison responded by saying that while his department does need more help, it's not going to come in the form of more police officers, but in more community engagement.
"What helps us is the community. Now we can't be everywhere, but you guys are our eyes and ears and we need you," Captain Faison said. "I know, sometimes the cops come a little late, and by the time they come the guy's gone. But get license plates, get anything you can to help us stop the guy who's doing the crime in the neighborhood."
According to Captain Faison, the 61st precinct has received around 300 emergency calls for the year so far, and only six of them have ended up being narcotics related. Those six incidents were teenagers smoking marijuana in the parks, and he said he has a very limited amount officers who can respond to such minor offenses.
Since he was elected around two and a half years ago, Councilman Deutsch says that he's allocated $10 million to local parks. At the end of the evening he was confident that he managed to address the major topics that mattered to his constituents on how to improve the overall quality of parks, but said that it's never enough and there's always more work to be done.
"I think that it's very important to have this forum in our parks to send the message that this is a park that belongs to the people," Deutsch said after the forum, "And it was a beautiful night to bring people out, to listen to the issues and to respond."