Council on Recovery and Resiliency Holds Oversight Hearing for Build It Back Program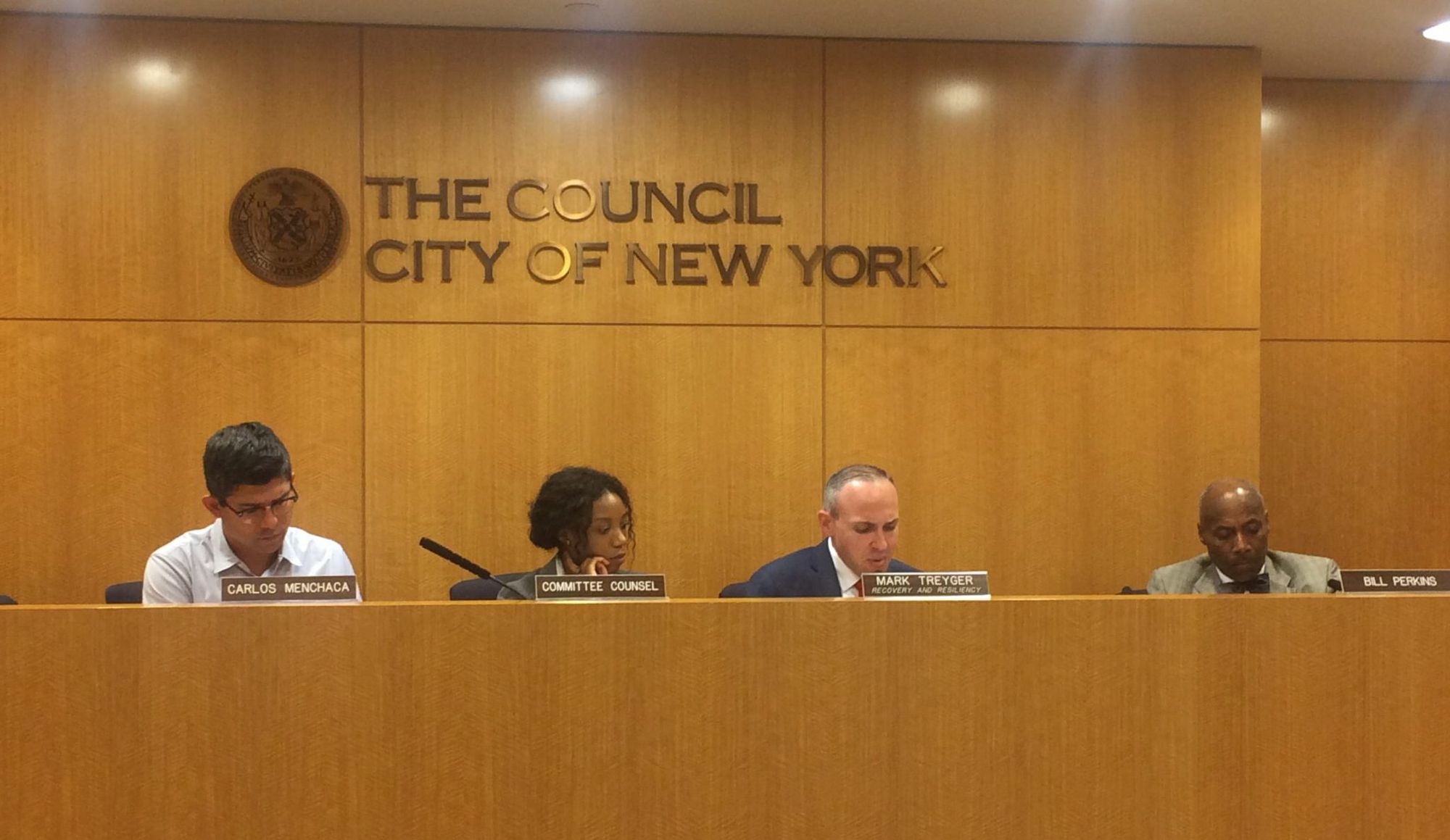 CITY HALL – Seeking answers to the ongoing disenrollment of participants from the Build It Back program for Hurricane Sandy relief, the Committee for Recovery and Resiliency held an oversight meeting yesterday, September 26.
"The program claims to have served 98% of the remaining 8,300 families, [and] we are gravely concerned by the decline in program participants that has continued unchecked since the beginning of the program," said Council Member Mark Treyger, the committee chair.
In September of 2016, a study on applicant withdrawal was commissioned to determine "how 20,000 applicants in 2013 became 15,000 in 2014, became 8,300 participants in 2017," he said.
The report is forthcoming, but the committee sought answers from Amy Peterson, director of the Mayor's Office of Housing Recovery.
Peterson said that of the roughly 20,000 people who called for information on Build It Back, about 5,000 never went past that step—despite efforts by Build It Back to call back and enroll them.
Another 5,000 never completed the application process to the point of selecting a recovery track, continued Peterson, and of those who did, about 1,000 were found ineligible, and another 1,000 selected a track, then dropped out. This accounted for the 12,000 participant dropoff.
Additionally, Treyger wanted to determine how many families were "flipped down" from a full elevation or rebuild to lesser compensation.
These were families that, according to Treyger, waited four years, "including some who had already received move out dates, fully complying with all the bureaucratic hurdles of the program, only to be told at the 11th hour that they are only eligible for a moderate rehabilitation."
The short answer: 58.
Peterson said that a review was done of every application slated for elevation or rebuilding, which included surveyed elevation of the houses—an input absent from the original calculations done to determine whether "substantial damage" was done to the homes.
When comparing the new information, only made available once the design phase of the projects had been started, Build It Back found that 50 of the 58 homes were already at or above "Base Flood Elevation"—and therefore, not candidates for rehabilitation.
That these 50 homeowners were originally told they qualified for elevation or rehabilitation, then denied after years of waiting, stuck with Treyger, who fruitlessly pushed the director for an answer on why.
The director refused to characterize the switch as a mistake, claiming it was a result of new information, rather than poor planning on behalf of Built It Back.
It seems no one will be left holding the bag—except the homeowners, still trying to rebuild.