Cops Recover Loaded Firearm During Routine Traffic Stop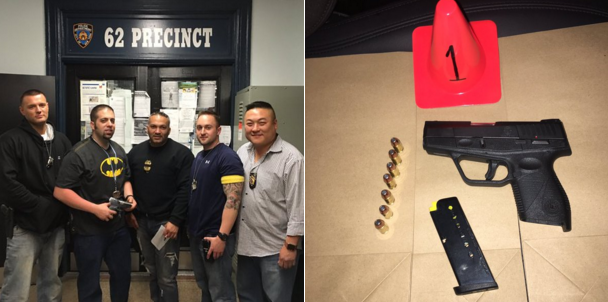 A 38-year-old man, already on the hook for a previous weapons charge, is back in the slammer after cops caught him last week with a loaded firearm during a routine traffic stop in Gravesend.
Authorities say Jamel Dower was riding in the passenger seat of his pal's Range Rover on April 20 when police pulled the vehicle over at Cropsey Avenue and Bay 54th Street. Cops stopped the car for failing to signal while changing lanes and having excessively tinted windows.
A search discovered a 9mm pistol inside a red gym bag Dower was holding, according to the Brooklyn District Attorney's Office.
Dower was arrested along with four other people a week earlier during a raid at the Nostrand Houses. The search recovered a 9mm handgun, as well as heroin, ecstasy, and marijuana, police say.
Dower was charged with criminal weapons possession for being swept up in the raid. A judge released Dower, who has been previously convicted of attempted robbery, on his own recognizance while the case moves through the courts, according to prosecutors.
However, it appears the pending charges didn't encourage Dower to lay low. He is now being held in jail on $25,000 bond, according to the DA.