Cops Accused Of Falsifying Police Report After Hitting Cyclist In Gowanus [Video]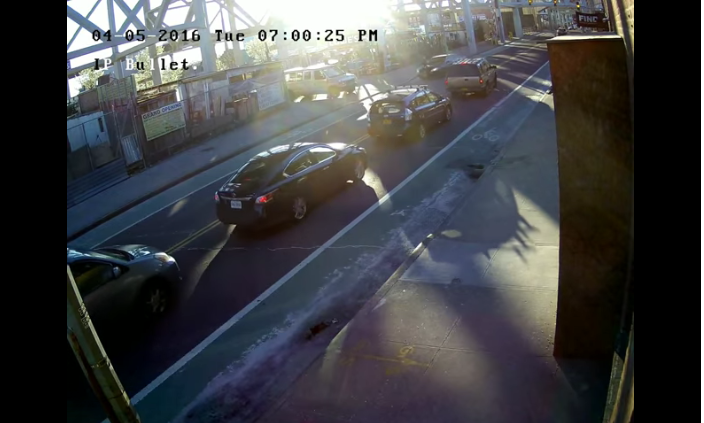 A cyclist claims that after cops drove into him, they plowed over the facts.
Ross Cunningham was biking near Smith Street and 9th Street when he was struck by a police vehicle on April 5, but he says the police mischaracterized the incident in the police report — a claim that's confirmed in newly released surveillance footage (the moment of impact is at :20).
"It's a completely insane thing because how would a car hit me if I was riding on the sidewalk?" Cunningham elaborated to Gothamist.
As Gothamist reported:
The report contains other, less obvious inaccuracies found in the NYPD's internal code for describing accidents. The number "4" in Box 2 beside Cunningham's name indicates that he had been "crossing, no signal or crosswalk" prior to the crash. Cunningham and his attorney,Steve Vaccaro, allege that the box should be marked "5" to indicate "riding along the highway with traffic." Another box is marked to indicate that Cunningham was "not ejected" when, as the video shows, he was thrown from his bicycle.
Vaccaro spoke to the Park Slope Stoop about the incident and described the catch-22 that his client Cunningham has found himself in.
"He wants to get fully checked out medically and that is something that needs to get paid for by the city of New York as the owner and operator of the vehicle," Vaccaro said. "U
nder the no-fault laws of New York, you cannot pursue a personal injury unless you meet a certain level of injury, and that's the going to require the medical check-up that Mr. Cunningham needs the city to pay for.
"
While Cunningham has yet to file a notice of claim with the City, Vaccaro said his client has made a formal request that the accident letter be amended.