Cooling Centers Open As Heat Wave Rolls Into NYC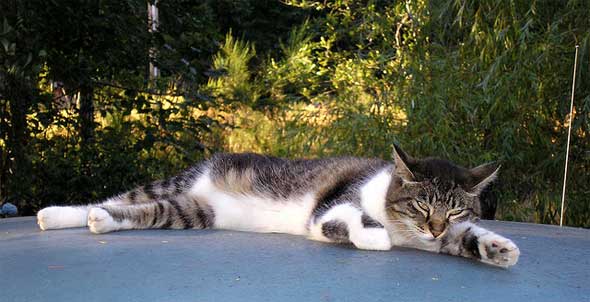 Oy! I'm schvitzing!
If you thought yesterday was hot and muggy, brace yourself for the rest of the week. New York City – and much of the Northeast – will be swept up in a heat wave, with temperatures hovering in the mid- to high-90s through Thursday, before settling down to a brisk 82 degress on Friday (and some weather models are putting Friday in the 90s, too). Oh, and the heat index (the actually "this feels like…" measurement) is put above 100 degrees.
We're not expected to see much relief at night, either. Tonight, the temperature will be in the 80s, giving you no time to cool off and dramatically increasing chances of heat stroke or death.
So what do you do? Follow these tips from the National Weather Service:
Slow down. Strenuous activities should be reduced, eliminated, or rescheduled to the coolest time of the day. Individuals at risk should stay in the coolest available place, not necessarily indoors.
Dress for summer. Lightweight, light-colored clothing reflects heat and sunlight, and helps your body maintain normal temperatures.
Foods (like proteins) that increase metabolic heat production also increase water loss.
Drink plenty of water or non-alcoholic fluids. Your body needs water to keep cool. Drink plenty of fluids even if you don't feel thirsty.
Do not drink alcoholic beverages.
Spend more time in air-conditioned places. Air conditioning in homes and other buildings markedly reduces danger from the heat. If you cannot afford an air conditioner, spending some time each day (during hot weather) in an air conditioned environment affords some protection.
Never leave persons, especially children, and pets in a closed, parked vehicle
Don't get too much sun. Sunburn makes the job of heat dissipation that much more difficult.
Don't have an air conditioner? The city is opening up cooling centers tomorrow. We've got at least five in the area, so look for the one closest to you using this Office of Emergency Management tool.
Lastly, if you have neighbors that are seniors or disabled, check on them a couple of times during the week and make sure they're doing okay. Even if you think they're smart enough to take care of themselves, at the very least you'll have earned some brownie points. And, who knows, maybe they'll make you some brownies for it.
Stay cool!