Controversy Swirling Over New Reality Show Starring Brooklyn DA Charles Hynes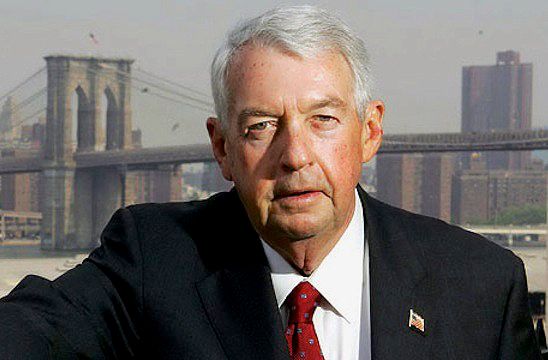 Brooklyn District Attorney Charles Hynes is up for reelection, and it looks like he will be getting an extra dose of scrutiny this year as a CBS reality show is set to document the D.A.'s office, according to a report by the New York Daily News.
The show is being called Brooklyn D.A. and will be a six-part miniseries that documents Hynes, his staff and some high-profile cases.
One such case includes that of a Manhattan Beach plastic surgeon, Dr. Oleg Davie, who fatally operated on a woman who had a heart transplant and is accused of negligence. The indicted doctor is expected to surrender this week.
The show will also focus on Hynes' top aid Michael Vecchione, a veteran prosecuter who, according to the Daily News, has a controversial history:
Central to the show is Hynes' powerful — and controversial — top aide, Michael Vecchione, "a veteran prosecutor with a big personality," the treatment says, and notes some of his major successes — including getting a conviction against Gerald Garson, a former judge who took bribes. He also scored convictions against two detectives who were hit men for the mob and Clarence Norman, the head of the Brooklyn Democratic Party.
The show will also address criticism lobbed against Vecchione for his handling of other cases — including allegedly bullying a witness in the murder case against Jabbar Collins. The 1995 conviction was tossed after a witness said Vecchione threatened to hit him with a coffee table and throw him in jail if he didn't finger Collins.
Collins was freed and filed a $150 million lawsuit against Vecchione. A federal judge called the prosecutor's behavior "horrific," and said he was "disturbed" Hynes didn't punish him.
Controversy swirls around the existence of the show itself. Hynes's opponents in the upcoming D.A. race charge that Hynes' is getting undue free publicity.
D.A. hopeful Ken Thompson sent us a press release blasting Hynes's reality show.
It is simply reckless for District Attorney Hynes to share sensitive information about ongoing cases and investigations with a film crew for self-promotion—information that leaked before the show even aired and could easily lead to more failed prosecutions and overturned cases.
We also reached out to Abe George, another opponent of Hynes who hails from Sheepshead Bay. In an email to Sheepshead Bites, he wrote:
Charles Hynes doesn't want to be DA. He just wants to play one on TV. Hynes should spend more time addressing the misconduct that sent innocent men like David Ranta, William Lopez and Jabar Collins to prison and less time on his reality show.
George told Sheepshead Bites that he plans to send a letter to CBS requesting that they delay the show until the primary is over. George also alleged that the timing of the show's release is the result of a political connection Hynes used to ensure a glorified political ad designed to paint him in a positive light right before the primary.
"It is clear to us that because of some political connection that Hynes has CBS is airing this show before the primary as a political ad to paint an embattled da in a more positive light," George wrote.
In his defense, Hynes's campaign spokesman, George Arzt, told the Daily News that, "Jealousy is not a positive for political figures."