Controversy Over A Potential School Near The 70th Precinct, Scam Warnings & More Notes From Last Night's Community Board 14 Meeting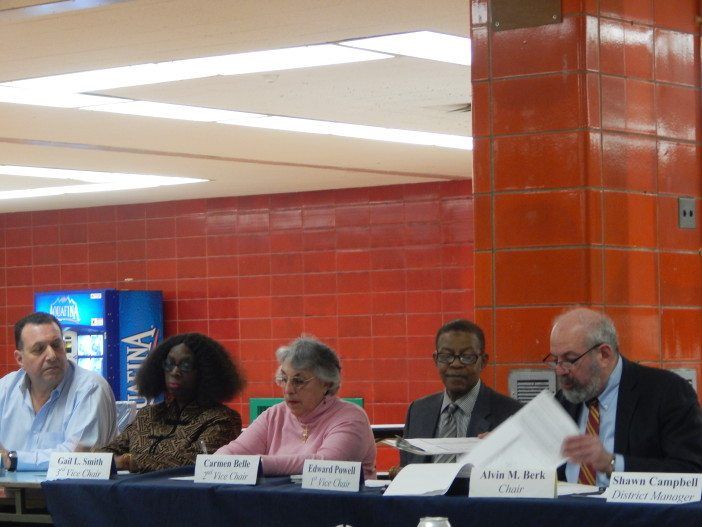 Community Board 14 members narrowly passed on Monday night a controversial motion to back a private institution's application for a variance that paves the way for it to open a 130-seat school on what neighbors pointed out is an already congested roadway close to the 70th Precinct station house.
Members voted 16-15 during their Monday night meeting at Edward R. Murrow High School to approve Bais Chaya Esther Incorporated's application with the city's Board of Standards and Appeals to convert the existing building at 119 Webster Avenue, between Seton Place and Ocean Parkway, from residential use to community facility use. Following the board's approval, the BSA now has the final say on the application.
Bais Chaya Esther's push for a school in the area has drawn concern from community leaders, with CB 14 Chairman Alvin Berk noting that the March 2 public hearing on this application "was not without controversy."
"This is a very needed facility in a very crowded area," Berk said. "There were concerns raised about transportation and the use of school buses."
Berk noted that members pointed out the facility's proximity to the 70th Precinct, which members worried would present problems with emergency vehicles being about to maneuver in the area.
CB 14 Secretary Joseph Dweck pointed out that Webster Avenue is "extraordinarily narrow."
"One cannot get down that street in a car, just about," said Dweck, who noted that traffic in that area is already "horrendous."
Board member Robert Newman noted that while he was concerned about the traffic issues stemming from an influx of buses and school children, that wasn't his primary issue with the proposal.
"During discussion, one board member quite reasonably asked the applicant what's the current use of this building?" Newman said of CB 14's March 2 public hearing on the matter. "The applicant's attorney said the building's now vacant – then, after a dissenting member of the community alleged the building is not vacant and tenants are being harassed," the attorney conceded there were individuals living there.
"That disturbed me," Newman continued. "…What would resolve my concerns… is being assured by the applicant, or applicant's attorney, that the building is in fact vacant… and there are no ongoing investigations into tenant harassment and no investigations that resulted in an adverse finding against the applicant."
After board member Florence Valentino too stressed the attorney's untrue statement about the building's vacancy, CB 14 Chairman Alvin Berk noted that it was not " the applicant himself who made the misrepresentation."
We have reached out to the applicant's attorney and will update this as soon as they get back to us.
Despite these concerns, civic leaders pointed out that, legally, board members did not have much leeway in the matter.
"The school itself could build there tomorrow morning – the school has the as of right," board member Kalman Yeger said. "They're looking to change the zoning so they can make certain adjustments on the outside of the building to add staircases and ingresses and egresses.
"As to whether or not there will be traffic there, we know there's traffic on Seton Place, but there's nothing we can do… to alleviate the traffic because they can put that school there," Yeger continued.
Dweck went on to stress that "we have an obligation to follow the law," saying that while board members may not be happy with issues of traffic in the area, the only matter they were legally permitted to take into consideration was the zoning change that would allow for the installation of items like ramps and staircases on the property.
"We're not allowed to make a different issue out of that – that there might be too many schools there, that we don't like what they might be teaching – that's not the issue," Dweck said. "… Our job is to follow the law and not to bring our own views into something."
Prior to their final vote, board members voted on a motion to table the vote, which failed. They then voted to support the application before the city BSA.
In other news, here's what else happened during the CB 14 meeting:
CB 14 District Manager Shawn Campbell said the board's first merchants' roundtable, held last week, was well attended, including about 30 local merchants, 12 agencies and utility companies, and seven representatives from elected officials' offices, as well as Councilman Mathieu Eugene. Because the event was such a success, the board will soon hold another one.
CB 14 Chairman Alvin Berk announced longtime board member Henry Floyd will be moving out of the district. "We're losing him after 13 years of excellent service," Berk said. "We'll miss you Henry – you've served very well."
Board members unanimously voted to approve apartments for three people with developmental disabilities at 141 E. 21st Street between Caton and Church Avenues, two people with disabilities at 131 E. 21st Street between Caton and Church, and two people with disabilities 55 Lenox Road between Flatbush and Bedford Avenues. The individuals living in the facilities will have access to various programs, workshops, treatment and more for people with development disabilities.
Deputy Inspector Richard DiBlasio, commanding officer of the 70th Precinct, noted the two individuals who the NYPD wanted to speak with yesterday after the men were shown on surveillance footage near two Ocean Parkway synagogues were identified. "There's no threat, no crime, no terrorist threats at all," DiBlasio said.
DiBlasio also urged individuals to pass on information about the Green Dot Moneypak scam, which he said still frequently occurs throughout the city. As part of the scam, an individual will call and say they are from a utility company or the Internal Revenue Service and need to collect a debt. They will often threaten the individual, often a senior citizen, with the loss of their heat or electricity if they do not pay the so-called debt. To find out more about this scam, go here.
Councilman Mathieu Eugene announced that the city is now accepting applications from individuals between the ages of 14 and 24 for their summer youth employment program. You can learn more about applying by going here.
Harry Schiffman, from Assemblyman Jim Brennan's office, said the lawmaker has launched two petitions calling on the governor to better fund schools and transportation in our area.
Schiffman also announced that Brennan's office has hired a new staff member, Miriam, to work specifically with the district's Pakistani community. Miriam, who speaks Urdu, will be at the office from 10am-3pm on Mondays and 12-5pm on Thursdays.
Mo Razvi, the executive director of the Council of Peoples Organization, announced COPO will hold a Youth Career Day on Saturday, May 9, at Kingsborough Community College at 2001 Oriental Boulevard. More than 500 children, from elementary to high school, are expected to attend the career day. To find out more about the event, call COP at 718-434-3266 ext. 129.
Community Board 14 will hold its annual youth conference on April 29 in the student union at Brooklyn College. To learn more about the event, go here.