Construction To Derail N, R Trains Next Week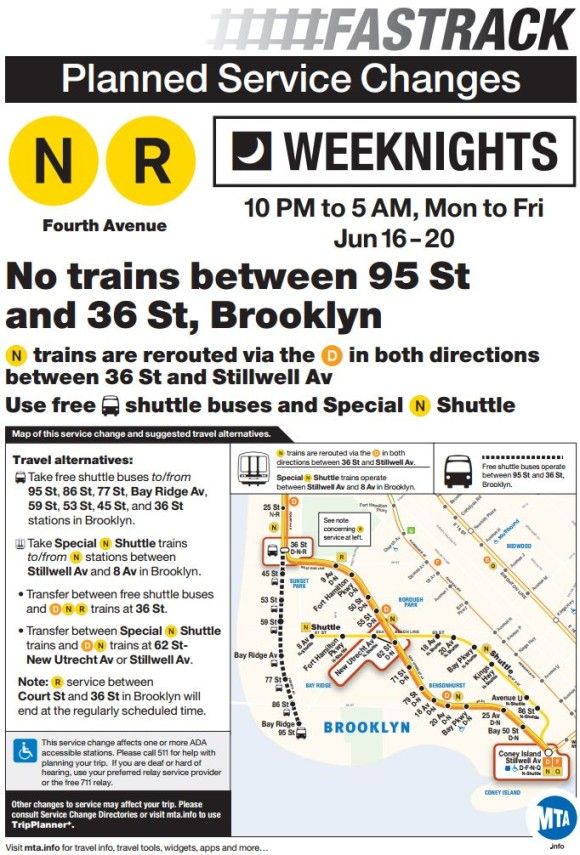 The MTA is ramping up constructing on the N and R lines next week, causing significant service adjustments over four consecutive days next week as they expedite the work schedule.
From Monday, June 16, to early Friday morning, there will be no service south of 36 St on either line. The R will cease running that stretch entirely, replaced by shuttle buses, while the N will be rerouted via the D in both directions between 36 St and Coney Island-Stillwell Av. Regular R service between Forest Hills-71 Av in Queens and 36 St in Brooklyn will end at the regularly scheduled time.
Here's how you can get around next week:
Take free shuttle buses to/from 95 St, 86 St, 77 St, Bay Ridge Av, 59 St, 53 St, 45 St, and 36 St stations in Brooklyn.
Take Special N Shuttle trains to/from N stations between Coney Island-Stillwell Av and 8 Av in Brooklyn.
Transfer between free shuttle buses and D/N/R trains at 36 St.
Transfer between Special N Shuttle trains and D/N trains at 62 St-New Utrecht Av or Coney Island-Stillwell Av.
The work is being done as part of the FASTRACK
program. As the MTA explains: "FASTRACK was introduced in January 2012, devoting four straight weeknights to perform maintenance work in tunnels, stations and on tracks, completely suspending service within a given line segment for a seven-hour period between

10 p.m. and 5 a.m.

, allowing an army of maintenance workers to perform dozens of tasks."