Construction Begins On Q Tracks At Sheepshead Station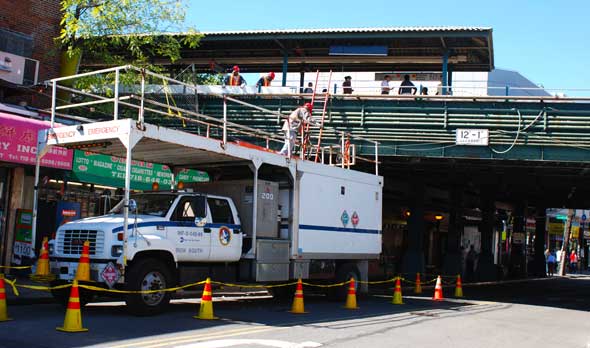 It looks like repairs are getting off the ground for the Manhattan-bound local tracks at Sheepshead Bay train station, where weeds have overtaken the line. The MTA's Division of Infrastruction Elevated Iron Fabrication crew was seen this morning putting up boards along the railing. A slew of new service announcements now plaster the walls of the station, which we'll bring you a summary of later today.
No word yet on whether this has any connection to asbestos removal that went on Friday and throughout the weekend. During that time, a team appeared rather abruptly and was seen inside the building where the florist used to be. A reader told us the area was closed off with red and yellow tape saying "ASBESTOS! DO NOT CROSS!" He added that it looked like they were climbing up through the old florist space to access the underside of the platform, removing what looked like chunks of rock. Next to the trucks were asbestos containment units covered in white sheets.