Congressman Turner Meets with Army Corps of Engineers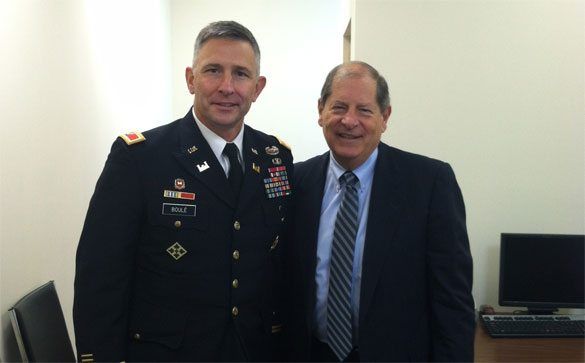 Congressman Bob Turner met with the Army Corps of Engineers on Friday to discusses 9
th
District projects with District Commander Col. John Boule. Among the items discussed was the Plumb Beach restoration project. No new developments have been announced, but it was a necessary meeting to bring the newly-elected congressman up to speed. Below is a press release from Turner's office:
Last Friday, Congressman Bob Turner (NY-09) met with Col. John R. Boule, District Commander of the New York District Army Corps of Engineers, to discuss the Army Corps of Engineers' projects in the 9th Congressional District. Projects discussed included ecosystem restoration in Jamaica Bay, the Jamaica Bay Federal Channel (at Rockaway Inlet) Navigation project, the Storm Risk Reduction Project at Plumb Beach, and a Reformulation Study on the Rockaway Peninsula.
"It was important for me to discuss these local projects with Col. Boule, especially those relating to Plumb Beach and the Rockaways. My district has the most Army Corps activity of the 43 congressional districts Col. Boule oversees," said Congressman Turner. "I appreciate his taking the time to meet with me, and I assured him that my office will work closely with his, to do everything we can to see these projects through to completion."
During the meeting, the Congressman and Colonel Boule also discussed how they can work together to secure the federal funding needed to complete the local projects.
"The Army Corps of Engineers looks forward to working with Congressman Turner to address diverse water resources challenges – reducing flood risk to critical public infrastructure such as the Belt Parkway, restoring the aquatic ecosystems in Jamaica Bay, and maintaining safe navigation," said Col. John Boule, commander, New York District.
Congressman Turner and his staff have met with several residents and organizations, including the Jamaica Bay Task Force and the Sheepshead Bay-Plumb Beach Civic Association, where the current Army Corps projects in the district were main topics of discussion.
Turner stated, "These projects have been in the planning phases for a number of years, and the communities affected by them are rightfully looking for actual work to begin to reduce the risk to our communities. I will do all I can to make this a reality."