Congressman Michael Grimm Stands Up For Practitioners Of Falun Gong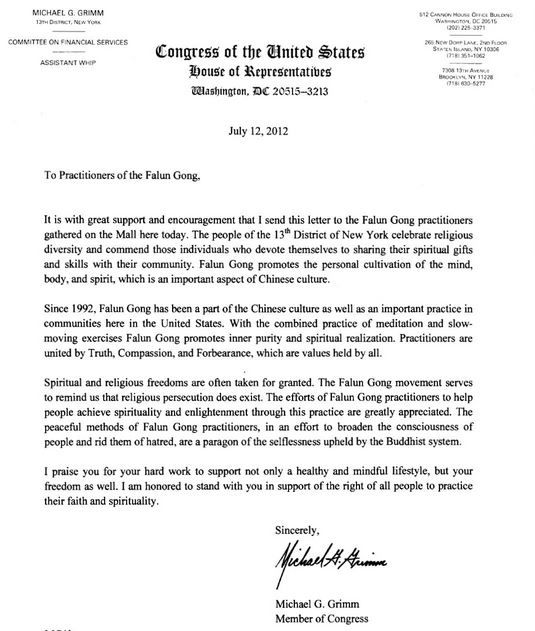 According to Minghui.org, July 20 marks the 13th anniversary of the persecution of Falun Gong (Falun Dafa) practitioners in China. Congressman Michael Grimm reached out to the offices of Falun Gong administrators with a letter declaring his solidarity with protesters in Washington.
The practice was initially supported by Chinese officials, however, the view quickly changed and it was seen as a political threat due to its growing following among other factors. The government then began a crackdown that continues to this day.
He writes:
It is with great support and encouragement that I send this letter to the Falun Gong practitioners gathered on the Mall here today. The people of the 13th District of New York celebrate religious diversity and commend those individuals who devote themselves to sharing their spiritual gifts and skills with their community. Falun Gong promotes the personal cultivation of the mind, body, and spirit, which is an important aspect of Chinese culture.
Since 1992, Falun Gong has been a part of the Chinese culture as well as an important practice in communities here in the United States. With the combined practice of meditation and slow-moving exercises Falun Gong promotes inner purity and spiritual realization. Practitioners are united by Truth, Compassion, and Forbearance, which are values held by all.
Spiritual and religious freedoms are often taken for granted. The Falun Gong movement serves to remind us that religious persecution does exist. The efforts of Falun Gong practitioners to help people achieve spirituality and enlightenment through this practice are greatly appreciated. The peaceful methods of Falun Gong practitioners, in an effort to broaden the consciousness of people and rid them of hatred, are a paragon of the selflessness upheld by the Buddhist system.
I praise you for your hard work to support not only a healthy and mindful lifestyle, but your freedom as well. I am honored to stand with you in support of the right of all people to practice their faith and spirituality.