Coney Island's West 8th Street Walkway Will Be Torn Down This Summer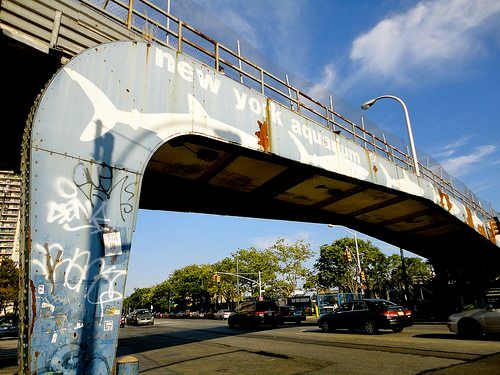 The walkway connecting the West 8th Street train station to the Coney Island Boardwalk will soon be no more. Brooklyn Daily reports that the city is tearing down the rusted shark-painted bridge for safety reasons.
The bridge, which spans over Surf Avenue, will be replaced by broadened sidewalks and a new crossing light. A new entrance to the boardwalk will be created at West 10th Street.
The walkway was originally built more than 50 years ago to compel people coming off the Culver and Brighton lines to head to the then newly built aquarium.
Chuck Reichenthal, the Community Board 13 district manager, welcomed the end of the walkway.
"It started looking like hell 15 years ago. It has to go," Reichenthal said.
Todd Dobrin, who is running to replace term-limited Domenic Recchia on the City Council, was angry at the news of the bridge's impending dismantling.
"It's a safe gateway into Coney Island and directly onto the Boardwalk," Dobrin told Brooklyn Daily. "What about all those kids who come here on field trips, and the old people?"