Coney Island USA Hosts Halloween-Themed Fundraiser Nov. 2
CONEY ISLAND – Coney Island USA, the non-profit arts organization dedicated to the revitalization of the beachfront neighborhood, will host its 2019 fall fundraiser, "Creeptacular," on Saturday, November 2. Proceeds from the event will support off-season programming, institutional development, and renovations to Coney Island USA's landmarked headquarters at 1208 Surf Avenue.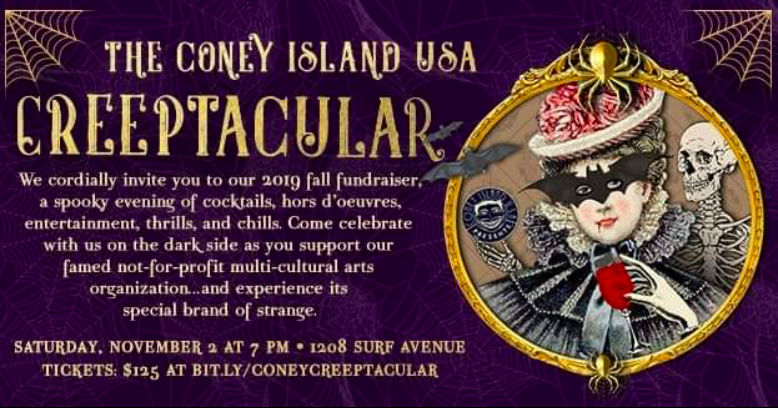 In true Coney Island spirit, the organization will keep things strange at the Halloween-themed event which will feature cocktails, hors d'oeuvres, and local entertainment including host Adam RealMan; Miss Coney Island 2020, Laura Lee Pants; acrobats Faux Pas le Fae and Aurora North; Tiny D and Ginger Twist; Kittyhawk Boone; Qualms Galore; snake charmer Serpentina; and more. There will also be music by Pink Velvet Witch and electric harpist Sara Gil. A raffle will include prizes such as limited edition artwork, Coney Island USA membership, and the opportunity to serve as a Mermaid Parade judge.
Tickets for the fundraiser are $125. "Your attendance helps support our organization, its mission, and its exceptional arts programming—and ensure[s] that we can continue to cherish and build upon the Coney Island legacy for many years to come," Coney Island USA's founder and artistic director, Dick Zigun, said in a statement. "This has always been a place where visitors from all walks of life could come together for an unforgettable themed experience."
Coney Island USA was founded in 1980 as a not-for-profit "dedicated to the economic and cultural revitalization of Coney Island." It runs the Coney Island Museum and hosts the annual Mermaid Parade, Circus Sideshow, Coney Island Film Festival, and Burlesque at the Beach. The organization's mission seeks to "defend the honor of American popular culture through innovative exhibits and performances."
Coney Island USA's Halloween-Themed "Creeptacular" Fall Fundraiser
Saturday, November 2, 7pm-11pm
1208 Surf Avenue, Coney Island
Tickets $125