Coney Island Photographer Harold Feinstein Retrospective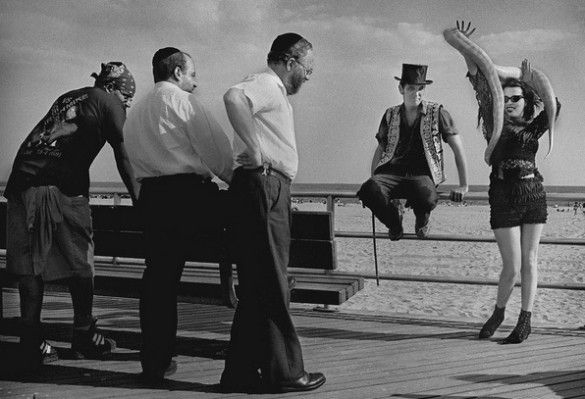 Harold Feinstein, a photographer known for taking gorgeous black and white photos of Coney Island throughout the decades, is featured in a fascinating new article by the Jewish Daily Forward. Feinstein, now 81, has work that stretches as far back as the 1940s, and the best of it has now been collected in a new book entitled "Harold Feinstein: A Retrospective" by Nazraeli Press.
Feinstein's love affair with photography began as a teenager in the late 40s when he began snapping photos of his beloved Coney Island home with a 35 mm Argus C3, his first camera. The article describes Feinstein's keen eye for capturing the full range of human emotion, relying on the credo that if something makes your jaw drop, 'click the shutter.'
After serving in Korea, Feinstein moved to a bohemian loft space in a 6th Avenue walk-up where he further enriched himself in the art world, including meeting fellow legendary photographer W. Eugene Smith, composer Hall Overton and famous jazz musicians ranging from Charles Mingus to John Coltrane.
Feinstein scored exhibitions at the Whitney and the Museum of Modern Art before he turned 30. The article goes on to describe how Feinstein was able to parlay his early success into a career designing album covers for jazz labels as well as working for various photography magazines like Modern Photography and Popular Photography.
To see more of Feinstein's gorgeous work and to get more information on the man's life, you can his website by clicking here.