Coney Island Has Huge Opening Weekend, But Community Far From Full Recovery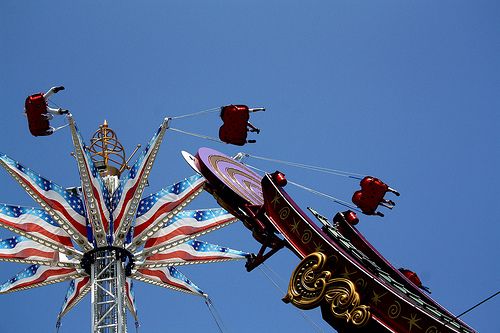 The Coney Island boardwalk had a triumphant reopening this past Sunday as thousands of people swarmed the beloved rides and reveled in some pre-summer fun. Despite this positive step towards recovery, many Coney residents aren't joining in the joy. Still hurting from the devastating destruction left by Superstorm Sandy, protesters demanding action were seen alongside park revelers.
According to a report by Crain's, the reopening of Coney Island's boardwalk and rides was a smash success and one of the biggest openings in the park's history. The usual gaggle of Russian immigrants, dog walkers and joggers navigated a deluge of thrill-seeking roller-coaster lovers, filling the boardwalk with energy and happiness.
"Normally Palm Sunday is a day for the locals and the diehards, but we had people here from all over," Wonder Wheel operator Steve Vouderis told Crain's. "It feels good to be back."
Despite all the revelry and enthusiasm expressed over the return of the rides, Coney Island's amusement business is still not 100 percent. According to a report by the New York Daily News, Coney Island's famed freak sideshows are still not operational and won't be expected to return until May.
Workers need two more months to finish repairing the nearly half million dollars worth of damage inside the Coney Island Circus Sideshow theater on Surf. Ave which was under four-feet of water after the Oct. 29th disaster.
It's the first time in 32 years since the freaks missed their opening day acts.
"We aren't happy that we aren't open. But we are exciting about what we are rebuilding," said Coney Island USA founder Dick Zigun who runs the shows.
Frustration was also felt by the now long-suffering Coney Island residents, with many protesting the slow progress in restoring much needed public facilities like the library and post office and clearing piles of debris.
"We're in an isolated peninsula here on Coney Island, and we feel that they forgot about us," a protester told PIX 11.
Local politicians on hand for the festivities surrounding the reopening of Luna Park promised relief but stressed that time is a factor in making sure all the funds from the $60 billion Sandy aid package are distributed properly.
"Its going to take several months, but the good news is, [the bill] is both generous and flexible, and is aimed at helping people from every different walk of life who were hurt by Sandy," Senator Charles Shumer told PIX 11.
Brooklyn Borough President Marty Markowitz understood the slow pace of the federal dispersal of the approved funds, but expressed empathy with the protesters.
"I think they're right actually," PIX reported Markowitz saying, "but it should go must faster than its been going."