Coney and Canarsie Council Members Call for Ferry Routes
The NYC Ferry may have celebrated its one millionth rider last month, but Southern Brooklyn politicians are saying it needs to serve their communities too, by adding stops in Coney Island and Canarsie.
City Council Members Mark Treyger and Alan Maisel were joined by Assembly member Pamela Harris, Congressman Hakeem Jeffries and assorted elected officials, community groups and local activists on the steps of City Hall on August 8 to call for an expansion of the NYC Ferry to Coney Island and Canarsie.
Currently, the South Brooklyn ferry service extends down to Bay Ridge, while the Rockaway service bypasses Coney Island and Canarsie on its way to and from Wall Street.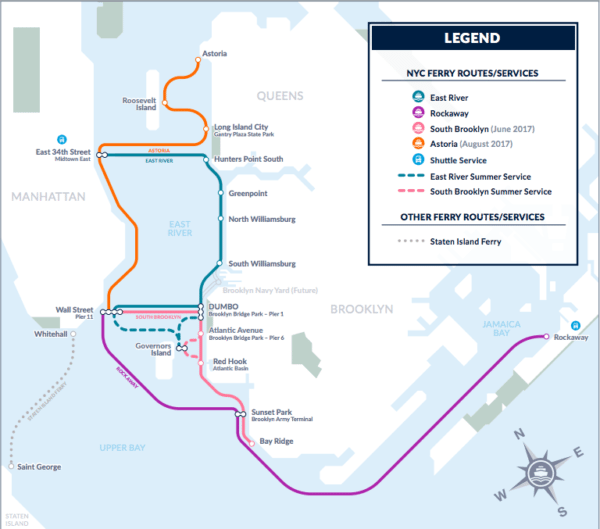 Council member Treyger, who represents Coney Island in the 47th district, posted a message to Facebook after the event calling for the expanded service as a response to the city's "transportation crisis." Canarsie and Coney Island already suffer from limited transit options which affect commutes, turning them into "truly arduous journeys," said Treyger.
Along with Council member Treyger's focus on the ferry's potential impact on commuters, Assembly member Pamela Harris brought up an additional upside—visitors to Coney Island.
The increase in transit delays "means fewer and fewer people are spending summer days on the boardwalk, or taking part in all our community has to offer," Harris said in a statement. "In addition to ensuring residents have a safe and reliable transportation option, expanding ferry service will ensure more people come to Coney Island to visit and live. That's good for our local economy and good for our community as a whole."
Previously, Coney Island residents have petitioned for ferry service in Southern Brooklyn. A report from 2013 explored potential obstacles, such as the need for a barrier protecting the pier from waves, building new docks, and pollution in Coney Island Creek
"The ferry is a great success, but it needs to be equitable. Southern Brooklyn residents deserve their fair share, and my colleagues and I will continue to advocate for ferry service in our neighborhoods, where we need additional transit options most," Council member Tregyer said.