The Commute: State And City DOT Are A Bad Joke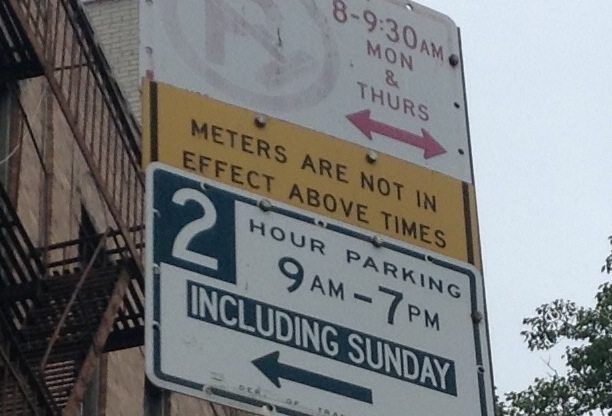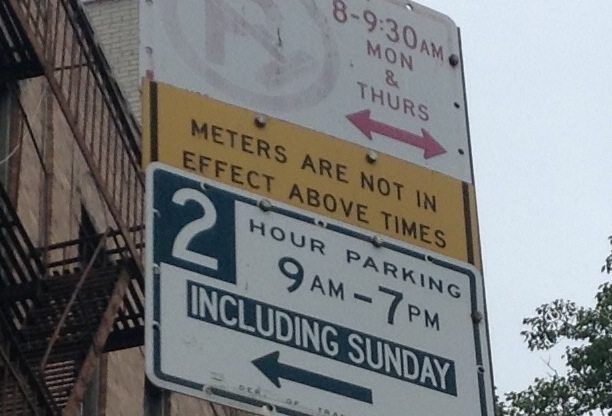 THE COMMUTE: Confusing signage near where the Belt Parkway separates from the Gowanus Expressway has been misleading commuters for months — sending baffled Belt-bound drivers over the Verrazano-Narrows Bridge. However, because the left lane switches to a high-occupancy vehicle lane during the day, the state Department of Transit (DOT) claims little can be done to change the signs until roadwork near the exit finishes in August.
Wouldn't electronic signage help? These signs are supposed be flexible. However, when the Belt Parkway exit was moved from the left to center lane, it took the DOT three months to reprogram the electronic sign near Hicks Street.
The left lane on the Gowanus portion of the Brooklyn-Queens Expressway (BQE) states High Occupancy Vehicles (HOV) only, even when HOV is not in effect. There is no sign to designate the lane. Signs direct motorists to the right lane for the Verrazano Bridge. Center lane pavement markings say "BQE and Belt Parkway."
Until drivers figured out they can also use the left lane for the bridge (when it wasn't reversed), the two right lanes were backed up for several miles. On one such occasion, I used the virtually empty left lane just to avoid sitting in the center lane for 15 minutes, even though I knew it would not take me to the Belt. Initially, very few were aware where the left lane went and were afraid to use it.
After complaints, DOT relocated the small temporary Belt Parkway exit sign because it served no purpose. It could only be read at a distance of ten feet away. If you were in the wrong lane, it was too late to switch when you saw the sign. The new larger "Exit 22 sign" was placed ahead of the exit. However, it does not reflect off headlights at night. So even if you are in the lane with the pavement marking stating Belt Parkway, it is too late to switch to the exit lane once you are able to see the sign. You will still miss your exit. Another confusing overhead sign was placed between two lanes, with a third Belt Parkway exit sign placed after the traffic cones where it is also too late to switch lanes. How can they make such obvious mistakes?
NYC DOT
"Traffic calming," which involves eliminating traffic lanes on Flatbush Avenue south of the Belt Parkway and on Cross Bay Boulevard, contributes to hour-long traffic delays on hot summer weekends. A wait of nearly two hours for a Q35 was reported by one beach-goer returning home from Jacob Riis Park to Marine Park this past July 19th.
A few years after the despised Oriental Boulevard bike lane was installed, DOT changed the "No Parking" regulations to "No Stopping" in order to clear the curbside bike lane adjacent to Manhattan Beach Park. In 2013 the bike lane was relocated from the curb to a former traffic lane. However, DOT still has not changed the signs back to "No Standing" to allow cars to briefly load and unload near the beach.
"No stopping" is a joke since the lane is filled with parked day camp buses in the summer. The DOT has been evaluating a possible move of the bike lane to Shore Boulevard for the past three years and is deciding what to do about Guider Avenue for 10 years now.
The Select Bus Service (SBS) lanes on Nostrand Avenue have been totally worn out for a year. An exclusive bus lane is being installed on Woodhaven Boulevard, which will be relocated in only two years. The DOT paints over potholes. We were promised clearer parking signs. Instead, we got printed signs that are smaller and more difficult to read. Instead of clearer streets signs, we got ones that are more difficult to read. Parking meter signs that call for paying the meter on Sundays still exist on Brighton 12th Street even though Sunday parking became free in 2005. How many continue to feed the meter on Sundays? We still have signs for the B21 bus that was eliminated in 1978 and is old enough now to be a landmark. It was reported a few years ago that a "No Parking" sign on Ocean Parkway existed because of construction completed 40 years earlier. How many other outdated signs remain?
Conclusion
Both DOTs claim safety is their priority, but dangerous highway conditions cause mass confusion and last minute decisions by motorists that increase the likelihood of accidents — even after attempts to fix the problem. Lane markings are only replaced long after they wear out. You would think city DOT would do some oversight on how it checks for missing, faded or outdated signage instead of solely relying on complaints. Yes, state and city DOT are indeed a bad joke.
The Commute is a weekly feature highlighting news and information about the city's mass transit system and transportation infrastructure. It is written by Allan Rosen, a Manhattan Beach resident and former Director of MTA/NYC Transit Bus Planning (1981).
Disclaimer: The above is an opinion column and may not represent the thoughts or position of Sheepshead Bites. Based upon their expertise in their respective fields, our columnists are responsible for fact-checking their own work. Their submissions are edited only for length, grammar and clarity. If you would like to submit an opinion piece or become a regularly featured contributor, please email editor@sheepsheadbites.com.