Community Leader Paul Podhaizer Recognized With Street Renaming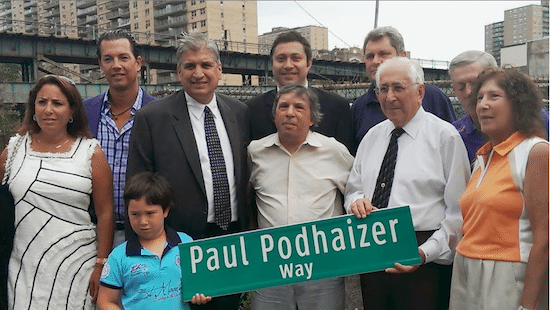 Paul Podhaizer, a beloved local civic and political leader, was honored with a street renaming in Coney Island. According to a report by the Brooklyn Daily Eagle, Podhaizer's name will be immortalized at the northeast corner of Seabreeze Avenue and West Fifth Street.
Podhaizer, who passed away in 2010, was the Democratic district leader in the 46th Assembly District, a member of Community Board 13, vice president of Temple Beth Abraham and chairman of the tenants' council in Brightwater Towers. He was described as a person who worked tirelessly to improve the quality of life for the residents in his neighborhood.
The recognition was bestowed by Councilman Domenic Recchia, who sponsored the legislation calling for the street renaming. Mayor Michael Bloomberg signed the legislation into law earlier in the year. Recchia expressed great admiration for Podhaizer at the street renaming dedication.
"I am privileged to rename a street in honor of Paul Podhaizer. Paul's love of this community was second to none and the contributions he made to improve the lives of people in Brighton Beach and Coney Island will live on for many years to come," Recchia said.
Ruth, Pohaizer's wife, died earlier this year. Ruth and Paul were survived by their sons, Stewart and Alan.