Community Declares Kensington a "Hate Free Zone"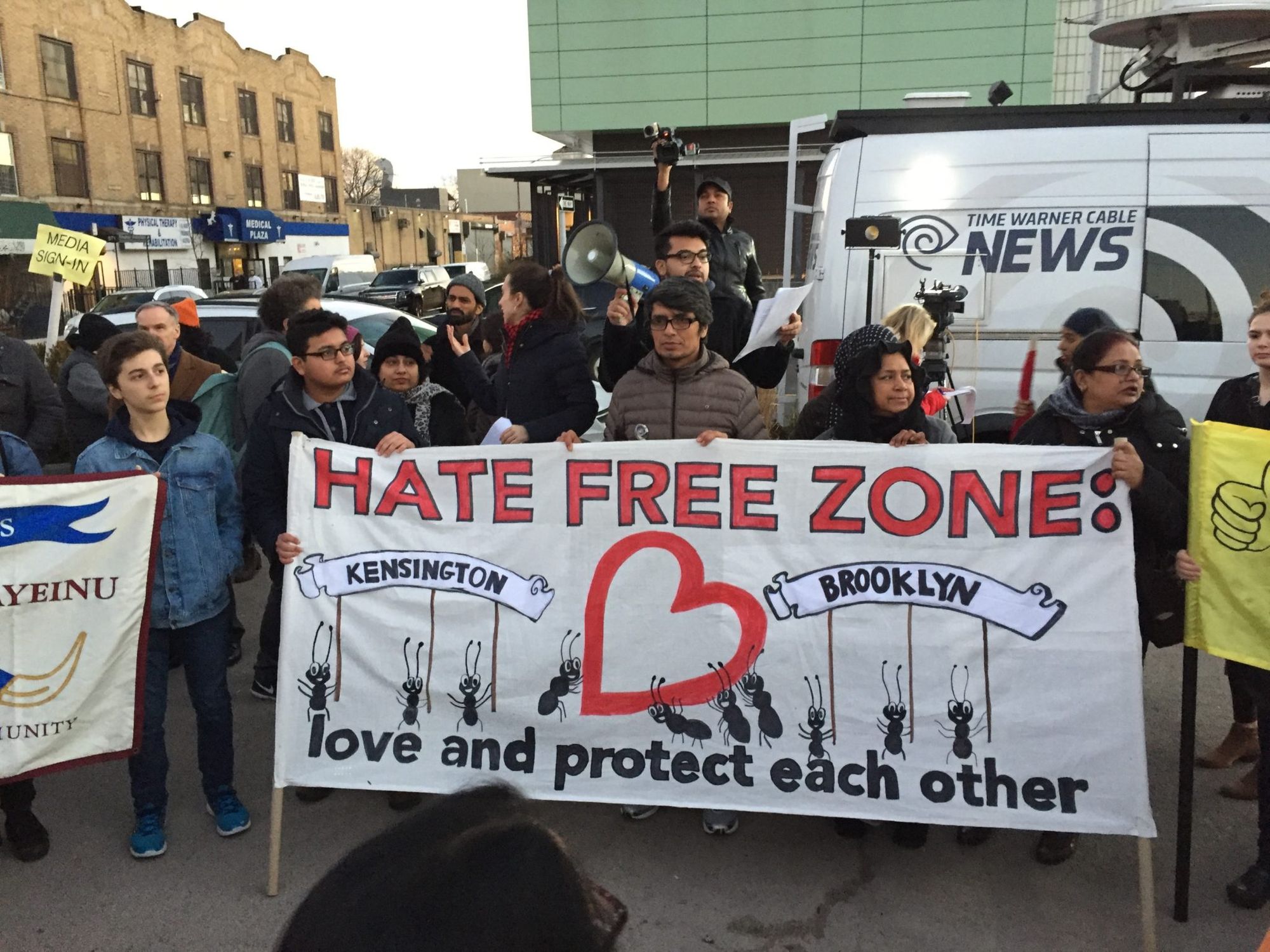 Hot on the heels of President Trump's signing executive orders to expand efforts to deport immigrants living in the country illegally, bar refugees from entering the United States, and build a wall along Mexico's border, community leaders, neighbors, and elected local officials gathered Wednesday night to launch a "Hate Free Zone" in Kensington.
Organized by DRUM, an organization representing low-wage South Asian immigrants in New York City, hundreds of community members convened at the Avenue C Plaza (at McDonald Avenue and Avenue C) for a press conference followed by a march through the neighborhood. Speakers included Council Member Brad Lander as well as local business owners and a number of community leaders representing immigrant, Muslim, Jewish, LGBTQ, Latino, and South Asian organizations in Brooklyn.
Kensington is now a Hate Free Zone from James Monohan on Vimeo.
With a series of chants, including "No ban! No Wall! Kensington Stands Tall!" the crowd's message was to "build a line of defense against the Trump administration's policies of xenophobia, racism, and bigotry," which according to a DRUM statement, "explicitly target low-income, immigrant, refugee, and Muslim communities."
DRUM Youth Leader, Israt Audry, told the crowd that she immigrated to the U.S. with her family 16 years ago to "escape political and financial oppression and violence, only to find similar troubles in a new land." She fears the current administration will cancel the DACA (Deferred Action for Childhood Arrivals) program that permits her to work, earning at least minimum wage, and support her family and pay for her undergraduate education.
She adds that Trump's Executive Actions against immigrants, refugees, and asylum seekers are "all a part of normalizing the blatant Islamophobia and anti-immigrant policies and practices they are committed to pursuing." She says declaring Kensington a "Hate Free Zone" builds a "community defense system that will allow us to defend our communities from workplace raids, deportations, mass criminalization, violence, and systemic violation of our rights and dignity."
Brad Lander then took the stage stating, "It is a dark, dark day in this country when vile xenophobia is the executive order of the White House…." He continued, "We are coming together, led by DRUM and the leaders of this community and our Muslim neighbors to join together as allies in this 'Hate Free Zone.'" He promised, "When that bully Trump, ICE [U.S. Immigration and Customs Enforcement], hate mongers, [and] fear mongers come to threaten this community, we will stand with you," led by those on the "front lines of xenophobia, hate, misogyny, [and] homophobia."
Lander ended his speech declaring, "What stands tonight in Kensington is stronger than what happened today in the White House!"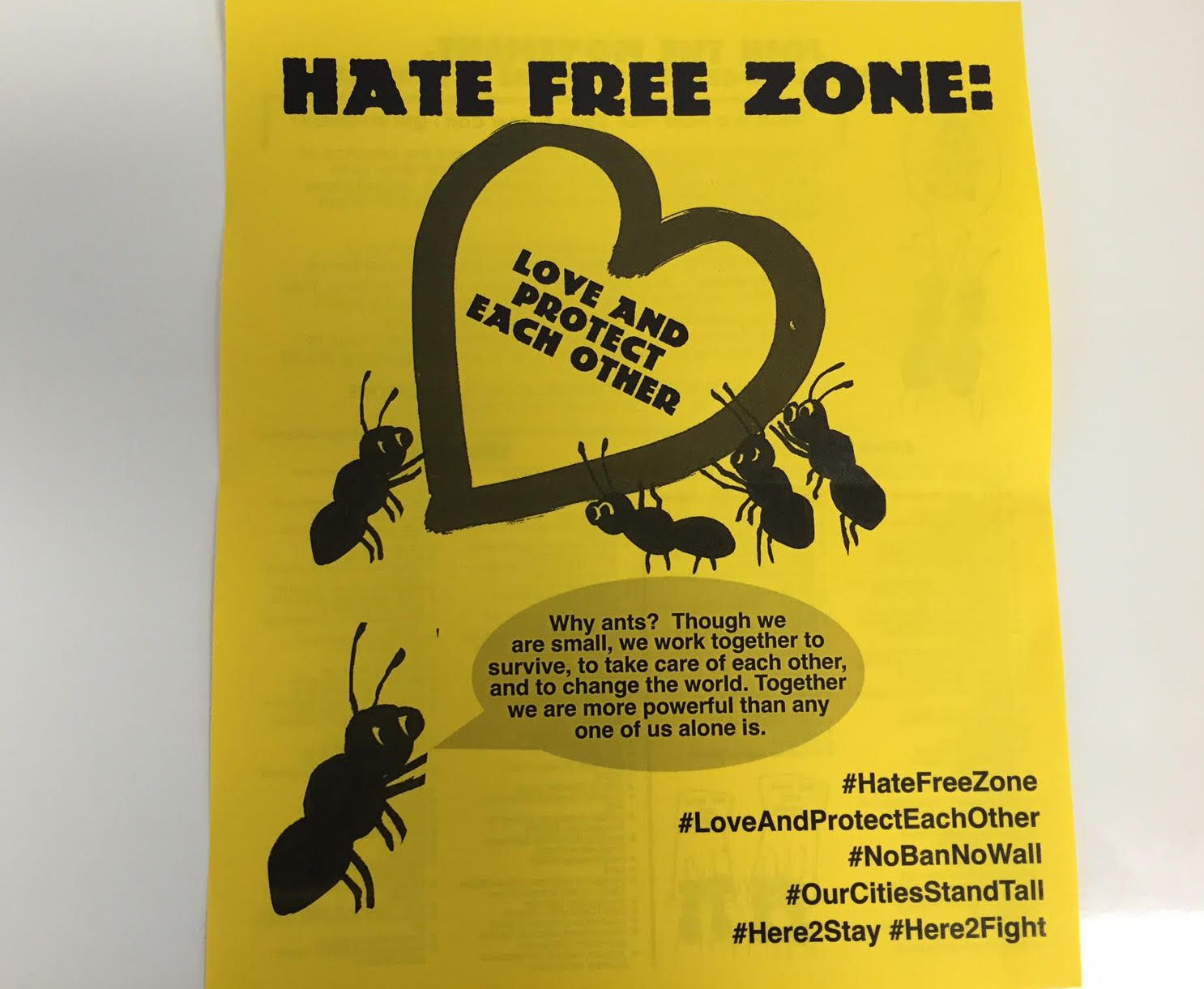 DRUM's "Hate Free Zone" and "Protect Each Other" signs and banners for the event used a pint-sized army of ants as symbols because, while small, "Ants are workers. They share their labor with each other…. They're resilient and can figure out strategies collectively to protect themselves," a DRUM member explained. "They are the perfect symbol of the collective strength of all of our communities and what we are capable of in difficult times."