Community Board Gives Green Light To Bay Parkway Sidewalk Cafe, Construction At Caesar's Bay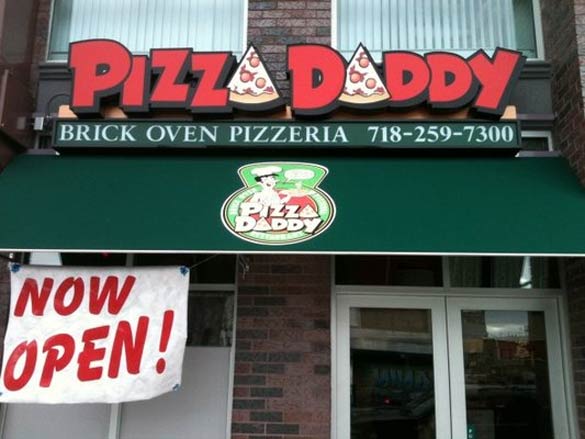 Pizza Daddy will soon class up the bustling 65th Street and Bay Parkway intersection with a new enclosed sidewalk seating area, after gaining Community Board 11's approval at the January 10 meeting.
Before a crowd of 50 or so, the Board discussed Pizza Daddy (6422 Bay Parkway)'s application for a "revocable and non-transferable" permit to construct and operate an enclosed sidewalk café with 10 tables. The café would not obstruct pedestrian traffic, according to the application.
There was some resistance from a 60-year-old woman who lives nearby, who claimed that expanding the restaurant might exacerbate an existing vermin problem on the block. But Chairman Bill Guarinello clarified that the woman's complaint about vermin was actually pertinent not to Pizza Daddy, but to the empty lot next door to it.
One middle-aged gentleman was for the café on the grounds that Pizza Daddy is a friendly spot in an otherwise desolate neighborhood at night, and its evening hours provides neighbors much needed refuge from would-be criminals.
"My kids duck in there on the way home from the train if they don't feel safe. There are some burly guys in there. It's a community business," he said. The Board approved the application, which will now go to the Department of Consumer Affairs for review.
The Board also considered an application from Toys 'R' Us in Caesar's Bay, which seeks to swap units within the shopping center. The toy store requested to tear down what used to be Strauss Discount Auto in Caesar's Bay and erect a new, two-story department building.
"It means jobs," Guarinello said. The vote passed unanimously.
Aside from the two hearings, Guarinello also spurred a long discussion about utilities resellers. Guarinello called these people "predatory," saying they come knocking on your door asking for a utility bill and are quite aggressive.
"They all look like they just came out of a work release program," Guarinello said. "Don't give them your bills. Con Ed will never ask you for identifying data."
— Batya Ungar-Sargon