Comfort Food in Park Slope: Favorites from Around the World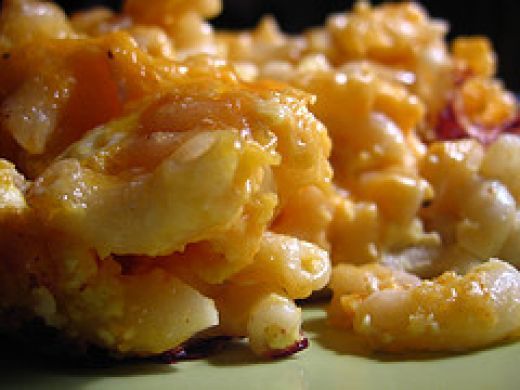 "Comfort food is traditionally eaten food which provides a nostalgic or sentimental feeling to the person eating it."
Comfort food holds personal meaning for all of us—whether we attach it to childhood memories of Mom's chicken noodle soup, or high holidays with Grandma's potato latkes and homemade applesauce. All over the world, people of every ethnicity, nationality, age, and gender have an intimate attachment to certain foods based on a blend of aroma, memories, and cultural upbringing. Regardless of our personal connection to it, comfort food makes us feel safe and taken care of.
With winter upon us, we all crave soothing, stick-to-your-bones dinner table favorites from childhood, and luckily we don't have to leave our neighborhood to indulge. Heartwarming classics from around the globe can be found right here in Park Slope at some of our favorite restaurants.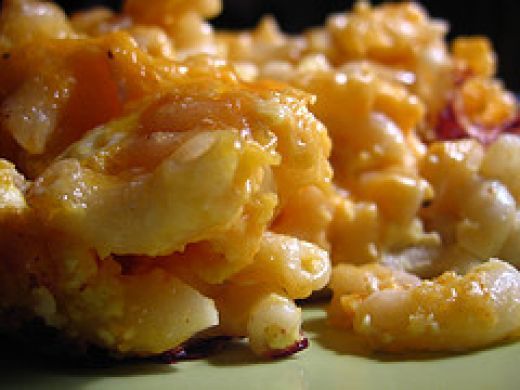 Macaroni & Cheese: Gooey, cheesy, warm, velvety—most of  us grew up on Kraft or Velveeta from a cardboard box. Fortunately for our taste buds and arteries, chefs have lifted the classic "mac n' cheese" to new levels with sophisticated versions of the original. Best when made from scratch, restaurants are incorporating elegant cheeses and toppings to add nuance and complexity to a once ordinary dish. Regardless of the recipe, nothing hits the spot quite like a warm plate of rich and creamy noodles au gratin on a cold day.
Where to eat it:
Park Slope:
Dram Shop, 339 9th Street (5th & 6th Avenue), 718-788-1444
Deep Fried Mac n' Cheese–With spicy ketchup or ranch $7
South Slope:
Thistle Hill Tavern, 441 Seventh Avenue (15th Street), 347-599-1262
Baked Mac & Cheese—Fontina, smoked provolone, grana padana, pecorino $13
(Photo via RAR)
Pad Thai: A celebrated dish in Thailand, Vietnam, and China, Pad Thai is generally everyone's go-to choice when ordering Thai food. A steaming dish of rice noodles, bean sprouts, vegetables, egg, tofu, and chopped peanuts, Pad Thai comforts us with its nutty, deep, and warming blend of textures, flavors, colors, and spices. Sweet and savory, salty and spicy, crunchy and soft—this traditional dish is healthy, filling, reassuring, and affordable.
Where to eat it:
Park Slope:
Song, 287 5th Avenue  (1st & 2nd Street), 718-965-1108
Pad Thai–Sautéed rice noodles with chicken or shrimp, bean curd, peanuts, egg and bean sprouts $7.95
South Slope:
Beet, 344 7th Avenue (9th & 10th Street) 718-832-2338
Pad Thai Noodles–With bean curd, turnip pickle, bean sprout, egg, scallion, red onion, peanut & tamarind sauce, add chicken $9
(Photo via Song/Yelp)
Falafel: A deep-fried patty of mashed chickpeas drizzled with tahini, falafel is a traditional and popular Arab favorite because of its versatility, affordability, and deliciousness. A satisfying vegetarian dish packed with protein, garlic and spices, falafel is flavorful, functional and indiscriminating. Patties can be eaten in a pita, topped on a salad, or served as a main dish with accompaniments. Tahini, babaghanouj, and hummus serve as complementary sauces to create a flavorful, bold, and zesty meal or snack.
Where to eat it:
Park Slope:
Olive Vine, 54 7th Avenue (St. John's & Lincoln Place) 718-622-2626
Falafel–Croquette of chickpeas mixed with garlic, onions, parsley and spices, then deep-fried with green salad, rice or hummus and babaghanouj $7.50 or Falafel Sandwich–With tahini sauce in a homemade pita $4.50
South Slope:
Schawarma Mediterranean Grill, 212 Prospect Park West (16th Street) 718-832-3100
Falafel Platter–With rice or French fries, salad and pita bread and choice of hummus or babaghanouj $7 or Falafel Sandwich $4
(Photo via Facebook)
Lasagna: With layer upon later of wide pasta ribbons, chunks of ground meat, savory tomato sauce, creamy ricotta, mozzarella, and parmesan cheese, lasagna is a warming, comforting and hearty meal baked to bubbling perfection in one deep dish. Although you can't go wrong with the traditional recipe, chefs have free reign to play with different sauces, cheeses, meats and vegetables to add creativity and boldness to a simple dish. Whether served on its own or with buttery garlic bread and salad, lasagna is a slam-dunk to hit the spot on a wintery day.
Where to eat it:
Park Slope:
Tutta Pasta, 160 7th Avenue (Garfield Place) 718-788-9500
Lasagne Di Carne $13.95
South Slope:
Anthony's, 426A 7th Avenue (14th & 15th Street) 718-369-8315
Lasagna–Layered with beef ragu, ricotta cheese and fresh mozzarella $12
(Photo via Seamless Web)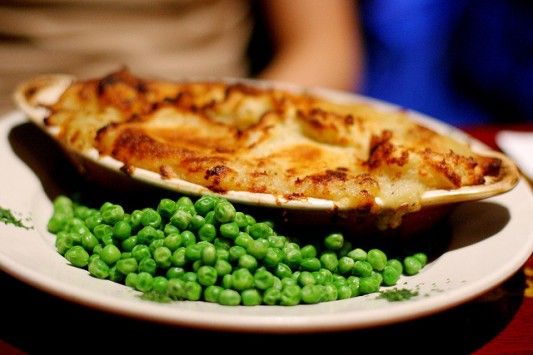 Shepherd's Pie: A traditional rural English dish dating back to the 1800s, Shepherd's (or Cottage) pie functioned as an easy way for farmers to create a substantial and delicious meal with leftovers. A combination of beef, carrots, peas, and gravy topped with a heap of buttery mashed potatoes and browned in the oven, this comforting stew-like dish is satisfying, heartwarming, and always a crowd-pleaser.
Where to eat it:
Park Slope:
Chip Shop, 383 5th Avenue (6th Street) 718-832-7701
Beef Shepherd's Pie–with Peas $12
South Slope:
Black Horse Pub, 568 5th Avenue (16th Street) 718-788-1975
Shepard's Pie $12
(Photo via roboppy)
Huevos Rancheros: Literally "Rancher's Eggs," Huevos Rancheros is a hugely popular Mexican breakfast dish consisting of fried eggs served with corn tortillas, refried beans, rice, guacamole and a tomato-chili sauce. Delicious, simple, packed with nutritious protein, and generally gluten-free, Huevos Rancheros can be served simply or dressed-up with spicy sauces and sausages. Substantial, hearty, and fun to eat, this comfort dish is a great option for Sunday brunch.
Park Slope:
Los Pollitos II, 148 5th Avenue (Douglass Street) 718-623-9152
Huevos Rancheros–Two fried eggs over corn tortilla topped with green or red salsa, cotija queso and crema fresca. Served with rice and beans $8
South Slope:
Fonda, 434 7th Avenue (14th & 15th) 718-369-3144 (Sat & Sun Brunch 11-4)
Huevos Rancheros–Two sunny side up eggs over a crispy corn tortilla and refried beans covered with salsa ranchera, toped with crumbled chorizo, queso fresco and crema $12
(Photo via Foodspotting)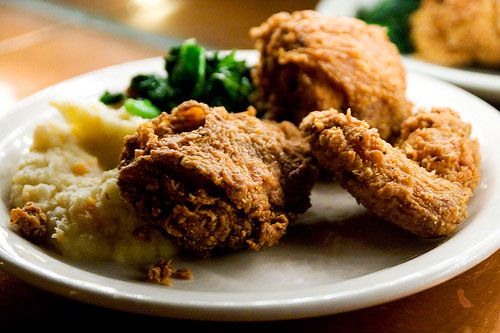 Fried Chicken: Crispy and crunchy on the outside, juicy and tender on the inside, Fried Chicken is the quintessential Southern dish. Whether chefs use buttermilk or brine, batter or dredge, pan or deep-fry, the traditional version delivers a satisfying contrast of dry and crunchy exterior with moist and succulent interior. Although sides vary, collard greens, cornbread, mashed potatoes, and gravy are popular accompaniments in southern and soul cooking. Hot or cold, it's finger-licking good!
Where to eat it:
Park Slope:
Melt, 440 Bergen Street (5th & Flatbush Avenue) 718-230-5925
Southern Fried Chicken–Bacon braised collard greens, white cheddar & jalapeno polenta $19
South Slope:
Sidecar, 560 5th Avenue (15th Street) 718-369-0077
Buttermilk Fried Chicken–Free-range chicken, root mash, sautéed kale & bacon $18
(Photo via Robyn Lee)