Colton's Anti-Waste Task Force Demands EPA Investigate Garbage Station Work Site
Assemblyman William Colton's Anti-Waste Task Force wrote a letter to the Environmental Protection Agency (EPA) last week, calling out violations at the construction site of the Gravesend Bay Waste Transfer Station.
The letter, which was signed by thousands of community members and delivered to City Hall by local politicians on August 26, calls attention to several violations of the Clean Water Act at the site, including a lack of protective netting and barriers to keep soil and debris from discharging into the surrounding water, and leaving the site uncovered, allowing rainfall to accumulate and flood the area.
Photos accompanying the letter highlighted flooding, uncovered debris, and lack of netting, and a video from May 26 displayed a slick that entered the water adjacent to the construction site. The letter calls on the EPA to take immediate action as pollution has begun infiltrating the environment around the waste station, threatening shorefront buildings and Southwest Brooklyn communities.
The trash processing plant, located at 400 Bay 41st Street, is being built at the location of an old Brooklyn incinerator, which was illegally been operated by the Department of Sanitation (DOS) for over 30 years. Colton, with the support of Councilman Mark Treyger and community activists, has been waging a years-long legal battle against the planned transfer station, citing fears that toxins found at the site may be discharged by during the construction process.
In April, Colton set up a Neighborhood Watch, overseen by District Leader Nancy Tong and Charles Ragusa, rallying neighbors who live near the the rising trash plant to take pictures and videos of the construction site and its operations. Colton's crowdsourcing efforts paid off, and at a press conference in May, he and Treyger highlighted evidence that sloppy construction practices at the location were exposing neighbors to potentially toxic dust and debris.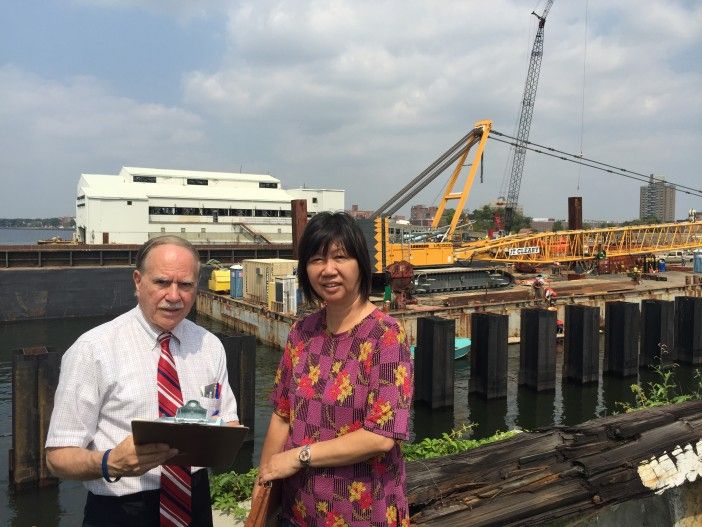 Neighbors can reach out to Colton's office with concerns or questions about the waste transfer station at (718) 236-1598. Colton is also calling on the community to email further photos or videos of violations at the construction site to neighborhoodwatch47@gmail.com.