Colton Blasts 'Imposter' Billy Thai For Misleading Leaflets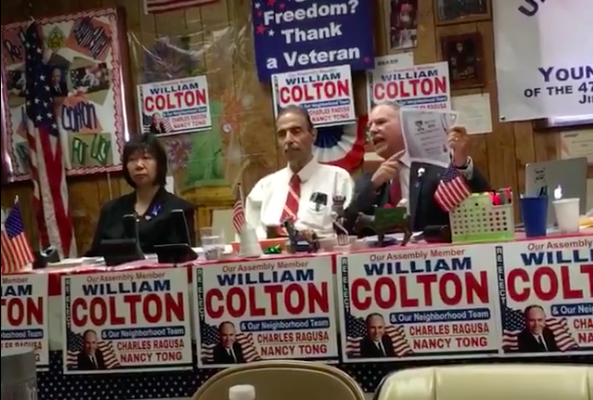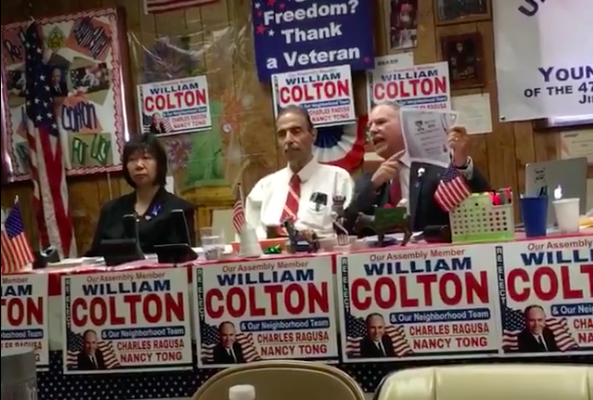 Mysterious leaflets associating Billy Thai — a challenger for the 47th Assembly District male district leader seat — with Assemblyman William Colton and Female District Leader Nancy Tong, has the assemblyman and his allies up in arms.
Colton and Tong joined current Male District Leader Charles Ragusa at a press conference Monday at the United Progressive Democratic Club clubhouse (live streamed by Bensonhurst Bean), proclaiming their support for the 30 plus-year political veteran and blasting Thai as an "imposter" who was using "dirty tricks" to mislead voters.
"I am personally outraged by this impostor who is using my name as a part of his team," said a fired up Colton. "I am certainly not on his team and he is not part of our team. This act only serves to destroy public confidence in government, rather than unite the community on issues in order to improve quality of life. I feel obligated to speak out against this act of deceit that is disgraceful to the community."
Accusing Thai of dividing Brooklyn's Chinese community by differentiating between Chinese American and American-Born Chinese, Tong also questioned Thai's experience and motives.
"In looking for elected officials, we often search for qualities that role models carry to lead and set the example. It is insulting to everyone in the community that an impostor has tried to use dirty tricks to get onto the ballot," said Tong, who also spoke a few words in Chinese. "We must have honest candidates who have a track record of helping people rather than just making promises and using dirty tricks to get elected."
In response, Thai's campaign has issued a statement, saying the pamphlets were not intended to mislead the public, but rather to express support for Colton and Tong.
"We thought we were doing Colton and Tong a service by supporting them and giving them exposure to the Chinese-American born community that is supporting Billy. Do they not want the Chinese-American born community's support? And this is America here; we do not need permission to support another person," read an email from the candidate's campaign.
Little is known about Thai's team, except that he is backed by Warren Chan — president of the social service agency Asian Community United Society (ACUS) and a community activist who has been pushing for more Chinese American political engagement and has launched an anti-Colton political campaign in the past — and a ragtag group of people who are unhappy with Colton and his entourage.
Chan said he was surprised by the harshness of Colton's rebuke.
"I will say that he is try to suppress the Chinese to run for office," said Chan. "We are only running against Charles. Not Nancy and Colton. They are more prominent in the Chinese community, all we want to see is a team of people who will be a service to the Chinese community."
Thai is an electrical engineer from Bensonhurst, with limited political experience. We attempted to reach the candidate Monday, but instead questions were directed to a man named John, who declined to provide his last name, and accused Ragusa of being absent at the trial of ex-Officer Peter Liang and failing to show up at local political events. In an emailed statement he said:
Yes, Billy does not have a political track record. While Billy has been very active in the Chinese community, he has never run or held political office before. What we do know about track records is that Ragusa's record is one of failure and pettiness. The fight on waste transfer station– — -it is being built.  How is that successful?  As for the Peter Liang trial, I didn't see him at the trial of Peter Liang, the only elected official I saw at the courthouse was Assemblyman Charles Barron who was comforting the mother and finance of Akai Gurley.  I did not see Charles Ragusa there.
John also charged Ragusa with failing to support the campaigns of past Democratic congressional nominees Domenic Recchia and Vincent Gentile, and floated a rumor that the district leader has been sick and homebound for the past four years.
"If this is true, he should just admit that he was ill and can't fulfill his duty as a Democratic District Leader.  But instead he has been the impostor claiming he has been on all these issues while he is home sick in bed," said John on behalf of Thai.
We were not able to confirm the status of Ragusa's health with Colton's office in time for publication.
Meanwhile, Thai's team launched its first fundraising effort Monday, calling for Chinese American voters in Bensonhurst to support the "historic" campaign.
State committee members, or district leaders, perform a variety of civic duties including selecting judges and helping to nominate who runs on the Democratic Party ticket. Each district has one male and one female committee leader. It is an unpaid, volunteer position.
The election for district leader takes place on September 13.
Update (June 16, 2016): An earlier version of this article misidentified the name of Assemblyman Colton's political club.