Coffee, Food, And Community Spirit Reign Supreme At Naidre's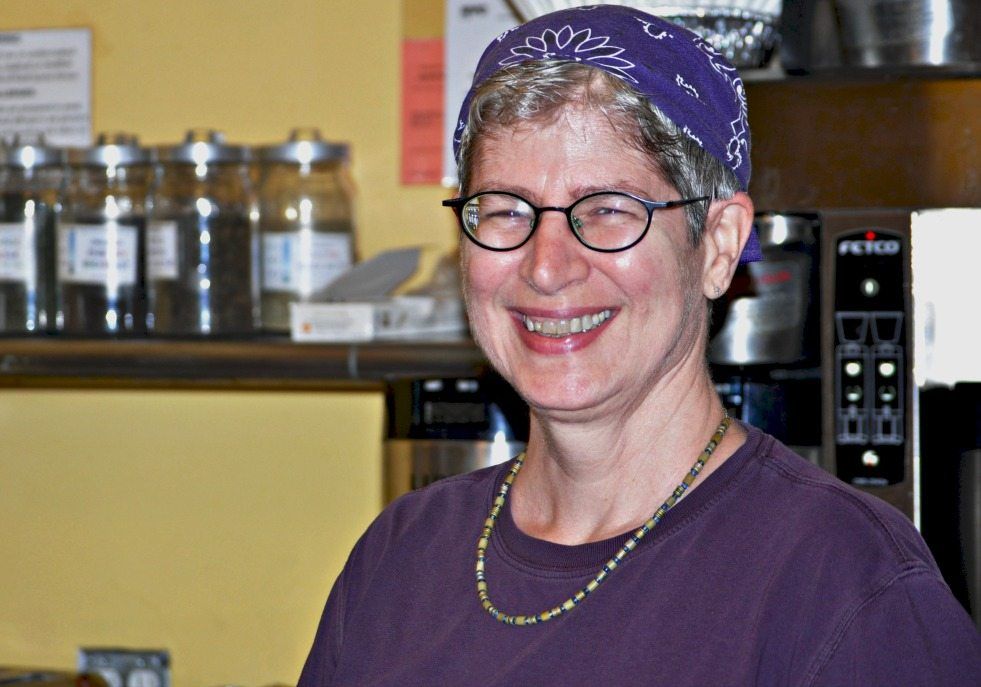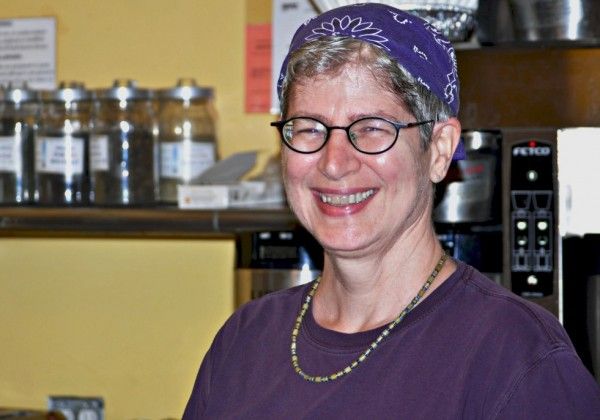 We already know that Naidre's (384 7th Avenue, between 11th and 12th Street) produces one of the finest breakfast burritos this side of the Mason-Dixon line, but it's time to go beyond the burrito and get to know the woman behind one of South Slope's cafe staples.
Local artist Janice Pullicino purchased Naidre's six years ago, and along with a team of colorful baristas, chefs, and bakers, has developed a haven of quality food and drink that area residents and beyond swear by.
We sat down with Janice to learn a bit more about the cafe owner, the history of Naidre's, and of course, their food.
SSN: Tell us a bit about yourself.
JP: Well, besides owning a cafe, I am primarily an artist. You can view my artwork (recent sketches mostly) on my personal Facebook page, or my website (older works). I've done many things in my life, from owning an internet-based media company back when it was something new, to painting tromp l'oeil murals on the outsides of buildings. I've had a wonderful and varied career history. I've pretty much gone where life seems to lead, and in this stage of my life, it led me to the cafe business and baking.
Do you live in South Slope?
I do live in the South Slope, as of last June. I lived in the South Slope for a few years around 1990 on Prospect Ave near 8th Ave, when there were basically no businesses beyond 3rd Street. My partner Nancy Rodrigo has lived most of her adult life in Park Slope, and raised her son on 12th Street. It was our dream to move back, and we were lucky enough to find a great place on 10th street last year.
Have you always had aspirations of opening a cafe?
Since I was a kid, I always dreamed of owning some kind of small retail business. Growing up in Jackson Heights, every business was a small business except things like the supermarkets or the few chain stores that existed then. I was never drawn to the corporate world, though I've had my forays into it with different jobs. Back then obviously it was not a cafe I dreamed about, since cafes as we know them now did not exist when I was a kid. Before owning Naidre's I used to go cafes a lot, and loved the vibe of many of them. When this opportunity came up, it just seemed the right thing to do.
Did you have your eyes set on a business in South Slope, or were you looking at other neighborhoods?
I wasn't searching out a cafe, this adventure came up a bit out of the blue, and I immediately loved the idea of it. So I did not shop around. I would however really like to open another shop in the near future (not a cafe), but I'm keeping that idea under wraps for now. I would prefer to find something in the South Slope, I just love it here, and it is wonderful to live where you work.
How did you come up with the name Naidre's?
Naidre's (now in it's 13th year) has been around since 2000. The name is the first name of the original owner. I didn't change the name as it already had 7 years of recognition in the neighborhood, and it's kind of fun to see how many different ways people try to pronounce it. After all this time, I don't see how we could call it anything else.
What's a typical day in your life like?
Wow, I wish I could say any day was typical! This is a very fast paced business, and it's been one of the biggest learning curves of my life. I mean, who even knew what a backflow preventer was (it's a plumbing thing)? Nevermind that you need to have them, and keep them functional! So I had a lot to learn besides coffee and food, and I do everything from working in the cafe serving my customers, as well as the paperwork, to baking and decorating cakes (my favorite part of my job), repairs, ordering supplies, checking inventories, and watching over all aspects of the business. My main job though is to ensure great customer experiences and that the quality and consistency of the food and drinks remains amazing. It's a lot of work, and never typical. I think except for when things break, my day to day being so varied is one of the things I truly enjoy about owning a small business.
How has the neighborhood changed since Naidre's opened?
Well, I can only comment on the prior 6 years, but the biggest changes I see in terms of food are that people's dietary requests have become very specific. Allergies, vegan diets, gluten-free, and we are proud to provide a varied menu (including our baked goods) that has something for everyone. The neighborhood seems to be growing, is more densely populated, and there's many more kids. In recent years I have seen a lot of big chain stores coming into Park Slope. I hope that this trend slows down so that small businesses may continue to thrive and provide the kind of personal service and maintain its unique neighborhood charm, which is why so many people have moved here in the first place and want to raise their children here.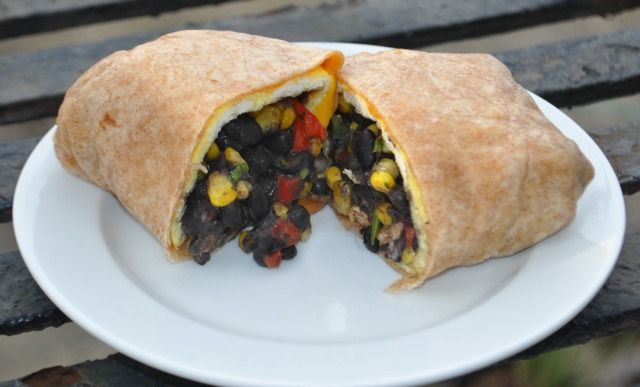 What sets Naidre's apart from the other neighborhood cafes?
The primary difference is that we are a cafe restaurant, and I think that is where we shine. There are many fine places to get coffee, and our coffee is right up there with the best of them! We serve Counter Culture Coffee exclusively, as I think they are one of the finest roasters in the business today. However, no other cafe serves the quality and scope of food that we serve. The size of the cafe would have you think otherwise, but just about everything we serve is made from scratch, as are all of our baked goods.
Our sandwiches and wraps/burritos for example… we do not use deli meats or other canned/prepared foods. Instead we marinate and roast our own chicken and turkey breast, which are then hand-carved when you order a sandwich. We slow-cook black beans, roast fresh sweet potatoes and beets, fire-roast tomatoes for salsa roja, make our own roasted red pepper hummus, pico de gallo, all of our dressings, etc. Unless there's no other choice (obviously, we don't catch our own tuna, but we do add fresh herbs and serve a fantastic herbed tuna salad), everything we serve is crafted from scratch and made in small batches. If we do have to outsource ingredients, we get the best possible (Tom Cat Bread, whose products you'll find in other large South Slope fine dining restaurants) and we always try and support other local businesses (ie: Barry's Tempeh and Everybody Eats for our gluten free bread).
Anything else that you'd like to share with the world (okay, South Slope) that we've left out?
Well just a shout out to my crew of baristas and cooks, because I sure as heck couldn't do any of this alone. My team consists of 4 cooks, 4 baristas, and 1 baker (shown above, left to right, are Willy Perez Ortiz, Janice, Crystal Hernandez, and Chris Buckridge). They are wonderful, friendly people, who sincerely enjoy the day to day interactions with our customers (since isn't that what a neighborhood shop is all about?). I like that they are funny, and have great taste in music. Each person, a professional in their own right… whether crafting a latte, creating an artisinal sandwich, or arriving at 5am so that our morning muffins are still hot when the first customers of the day arrive. I also feel blessed to have such wonderful customers. It's especially nice when they bring their out of town family and friends to the cafe, as an example of what living in Brooklyn is all about. We know their kids, dogs, cats, parents, life events, etc.. I walk down the street, and my neighbors are my customers, and many I consider friends. I don't think it gets much better than that!
The original owner, Naidre, came up with this simple slogan: Eat. Drink. Smile. We think she had the right idea, and intend to uphold it for many years to come.
Interested in joining the team at Naidre's? Janice is looking for a new barista, and provided us with a few details on the position. Candidates should have at least two years of recent cafe experience, be local residents, have the ability to legally work in the US, and (preferably) have a NYC Food Handlers Certificate. The position requires a commitment of 4 to 5 shifts per week, with flexibility as to days and hours, but two part-time additions will also be considered.
Naidre's is located at 384 7th Avenue, between 11th and 12th Street. Hours are Monday – Sunday, 7am to 8pm. For more information, call (718) 965-7585.