City Halts Concrete Plans On Coney Boardwalk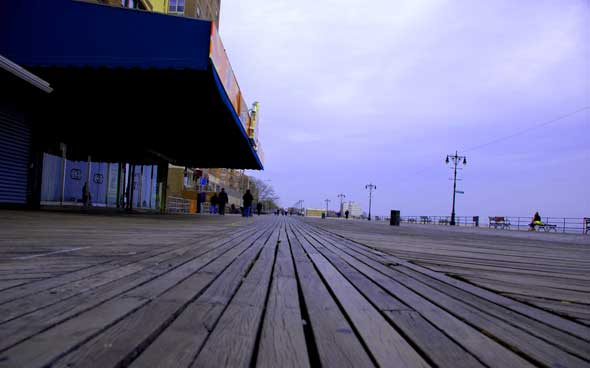 How does this sound: "Take a lovely stroll on the Coney Island concrete-walk!"? Well, hopefully you won't be hearing that anytime soon.
Plans to convert wood planks on the famed Coney Island boardwalk into concrete have been halted by a city panel, reports NY1.
The City Design Commission turned down the New York City Parks Department's proposal of a concrete strip down the middle of the boardwalk, with recyclable plastic lumber on each side, during a hearing this Monday, citing the need for further study.
"I think that it's great that the Design Commission has come to the conclusion that more environmental and engineering studies are required before this project goes forward," said Todd Dobrin, of Friends of the Boardwalk.
There has been a concern raised by many local residents that concrete will break down easier and won't allow sand or water to seep through, unlike the current boards that are there. Some residents brought to the hearing pictures of the disfigured concrete and even actual pieces of it.
Park officials said that the section residents used as an example was rushed, and they will further evaluate the issues.