City Council Announces Funding For Gowanus Houses And Wyckoff Gardens Community Centers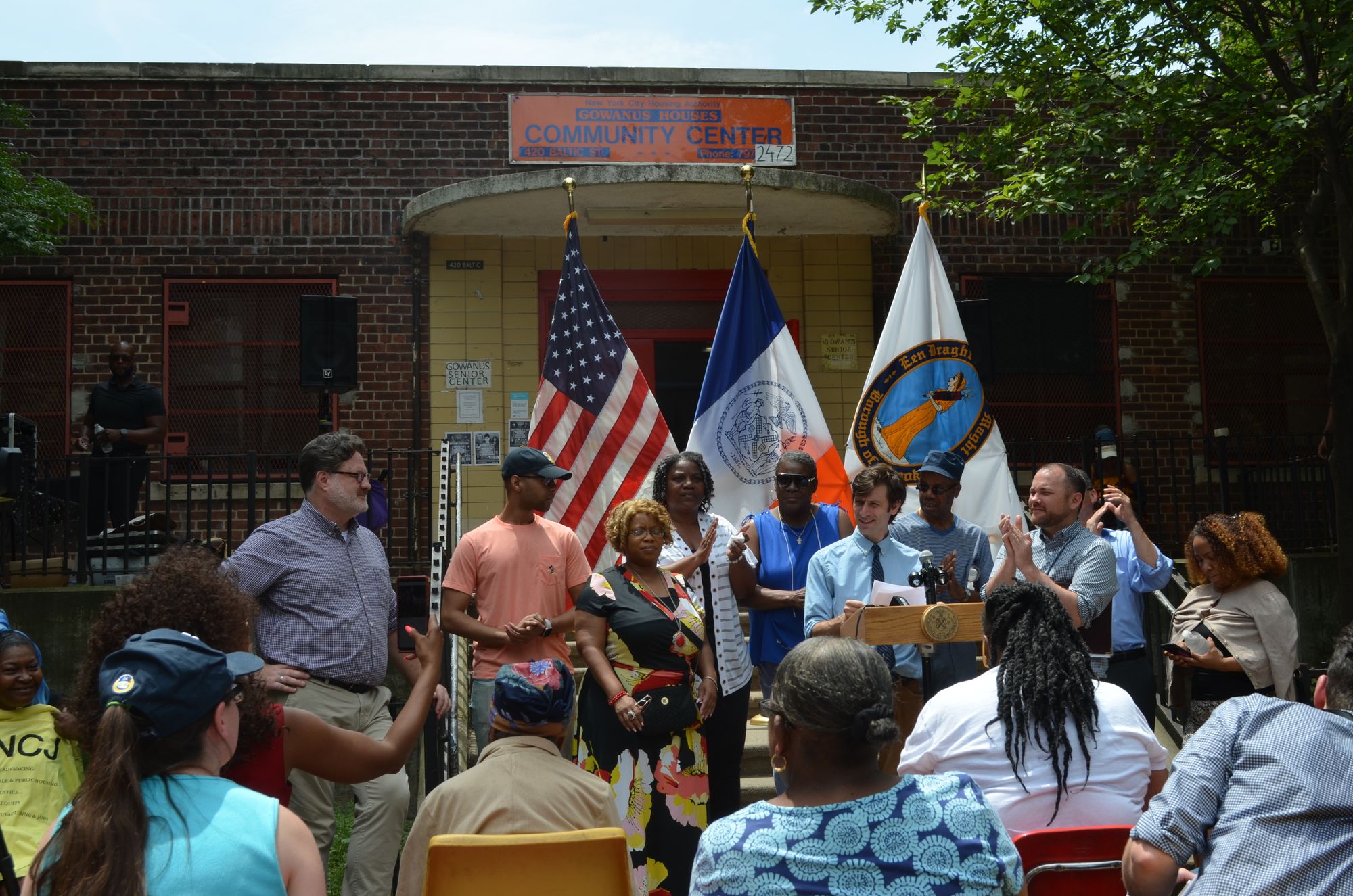 GOWANUS – City Council Speaker Corey Johnson was in Brooklyn on Thursday to announce funding to repair two NYCHA community centers in Gowanus.
"Today we're announcing that in the City's budget, that we just voted on a couple of weeks ago, we are designating money to finally reopen the Gowanus Community Center. And we are designating money to renovate and expand the Wyckoff Gardens Community Center," Johnson said to cheers from the audience.
"At the City Council we know, and I know that you all know, that community centers are one of the backbones of our communities and of our neighborhoods," he continued. "We need them for afterschool programs, for senior gatherings, for socializing, and for so much more."
Johnson was joined by NYCHA residents, community leaders, and Council Members Stephen Levin (District 33), Brad Lander (District 39), and Alicka Ampry-Samuel (District 41) at The Gowanus Community Center (240 Baltic Street) where he announced that the City Council is allocating $947,000 of its Fiscal Year 2020 budget to the Gowanus Houses Community Center for renovations needed to reopen the facility to the public. This funding includes $475,000 awarded to the Gowanus Community Center from Council Member Levin's 2014 Participatory Budgeting (PB) process. On top of the nearly $1M from the City Council, Mayor de Blasio has also committed $3.5 million for the rehabilitation of the center.
Johnson also announced that the City Council is allocating $2.5 million of its FY2020 budget to go toward revitalizing the Wyckoff Gardens Community Center. This funding is being provided on top of $2.4 million previously dedicated to the expansion of the facility. The Wyckoff Gardens Community Center currently offers after-school youth programming and senior services.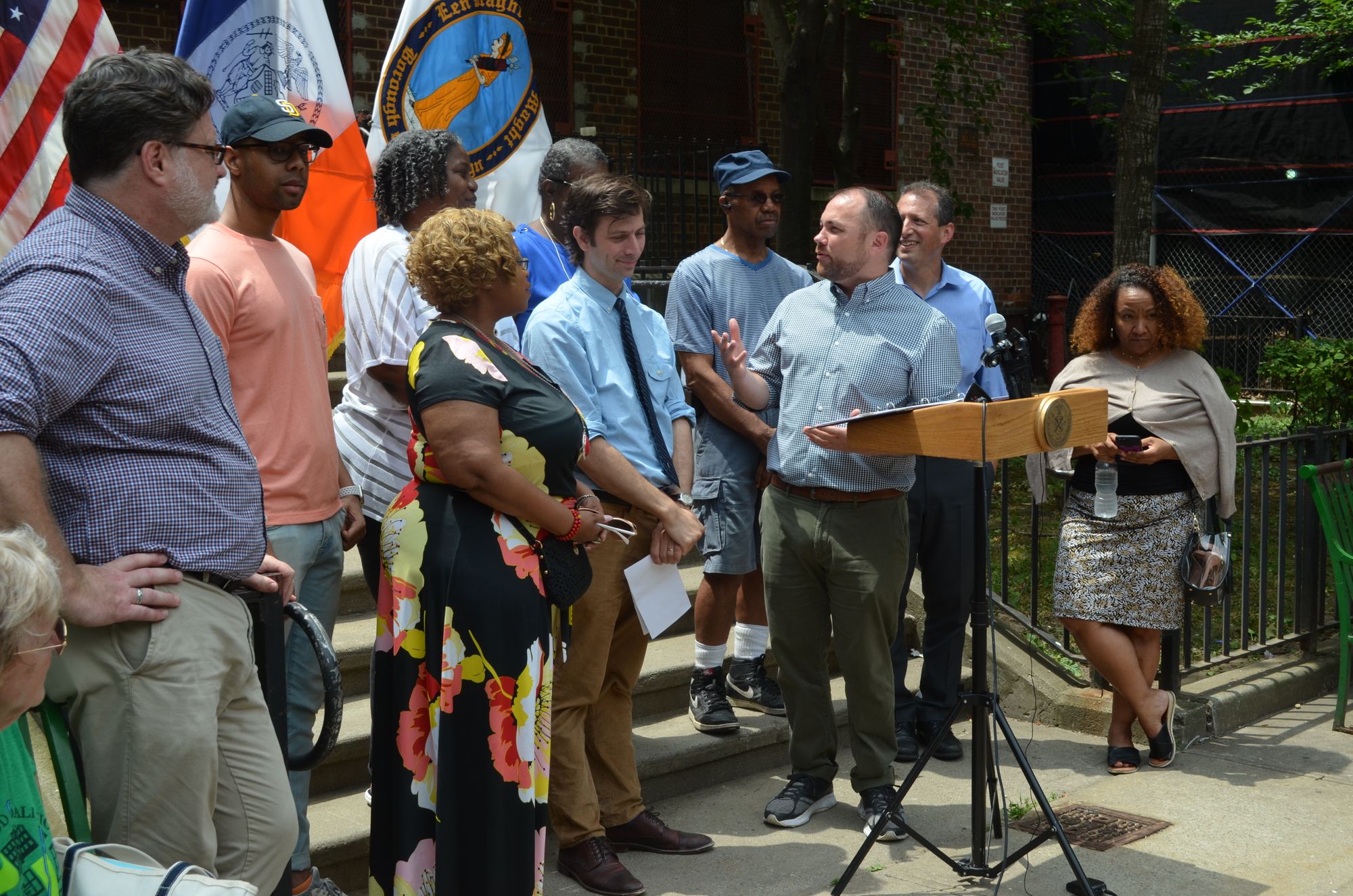 "We're here today to make good on a promise that the city made to residents here at Gowanus and Wyckoff years ago, before I became a Council Member almost ten years ago," Council Member Levin said. "Commitments to upgrade and reopen the Gowanus Community Center and to upgrade the Wyckoff Community Center with real 21st century facilities."
Aside from offering limited hours for senior service programming, the Gowanus Community Center has been closed for 14 years, after NYCHA could no longer afford to run community centers and transferred the operation of the facilities to the NYC Department of Youth & Community Development (DYCD).
The funding will go toward full renovations of the Gowanus Community Center, allowing the space to reopen to provide residents with cultural, artistic, and educational programs, as well as youth programming through DYCD's Cornerstone Program.
"Our neighborhood in Gowanus, as you all know, has been changing rapidly for a long time, and it's important that everyone feels like their voices are heard and today is really us saying, 'the City Council heard you loud and clear, and we didn't just hear you, we acted,'" Johnson said.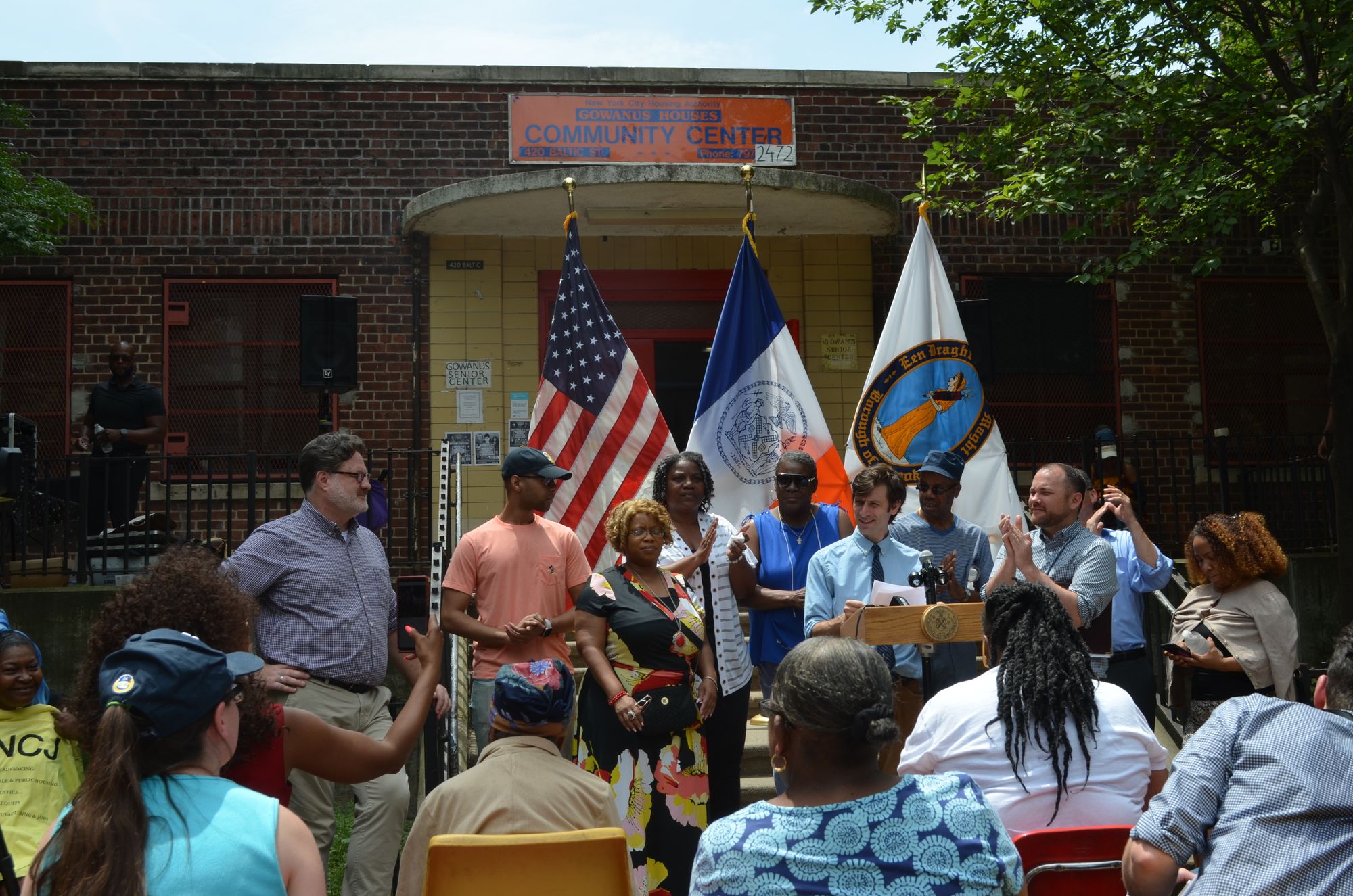 The speaker acknowledged the members of various neighborhood organizations who fought long and hard for their community centers. "This day is happening because of your ongoing advocacy, the advocacy of community leaders, and tenant association leaders, and resident leaders, and local organizations, and NYCHA residents. You fought tirelessly for these community centers and for these services and you never, ever gave up."
"I grew up in public housing, and in the town that I grew up in in Massachusetts, there were 12 units of public housing, and my family lived in one of those 12 units of public housing from when I was 9 years old until I graduated high school at 18 years old, so I am aware of how important it is that our city not just talk the talk, but also walk the walk, and do right by public housing tenants and residents," Johnson said.
"I know that NYCHA residents, of course, first and foremost deserve safe and affordable and inhabitable homes, but they also need places for the community to gather, and that's what this investment is about," he continued. "After 14 years, the Gowanus Center will be fully renovated and reopened to provide residents with cultural, artistic, and educational initiatives as well as youth programming. The Wyckoff Gardens Community Center will have a new kitchen and classrooms for job training and other classes when renovations are complete," he said to a round of applause.
The City Council also dedicated $50,000 this year to provide additional programming at the Gowanus Community Center while the renovations get underway. Once the center reopens, Council Member Levin's office will work with NYCHA, residents, and the community on determining what services will be offered at the facility along with the senior services that are currently being provided.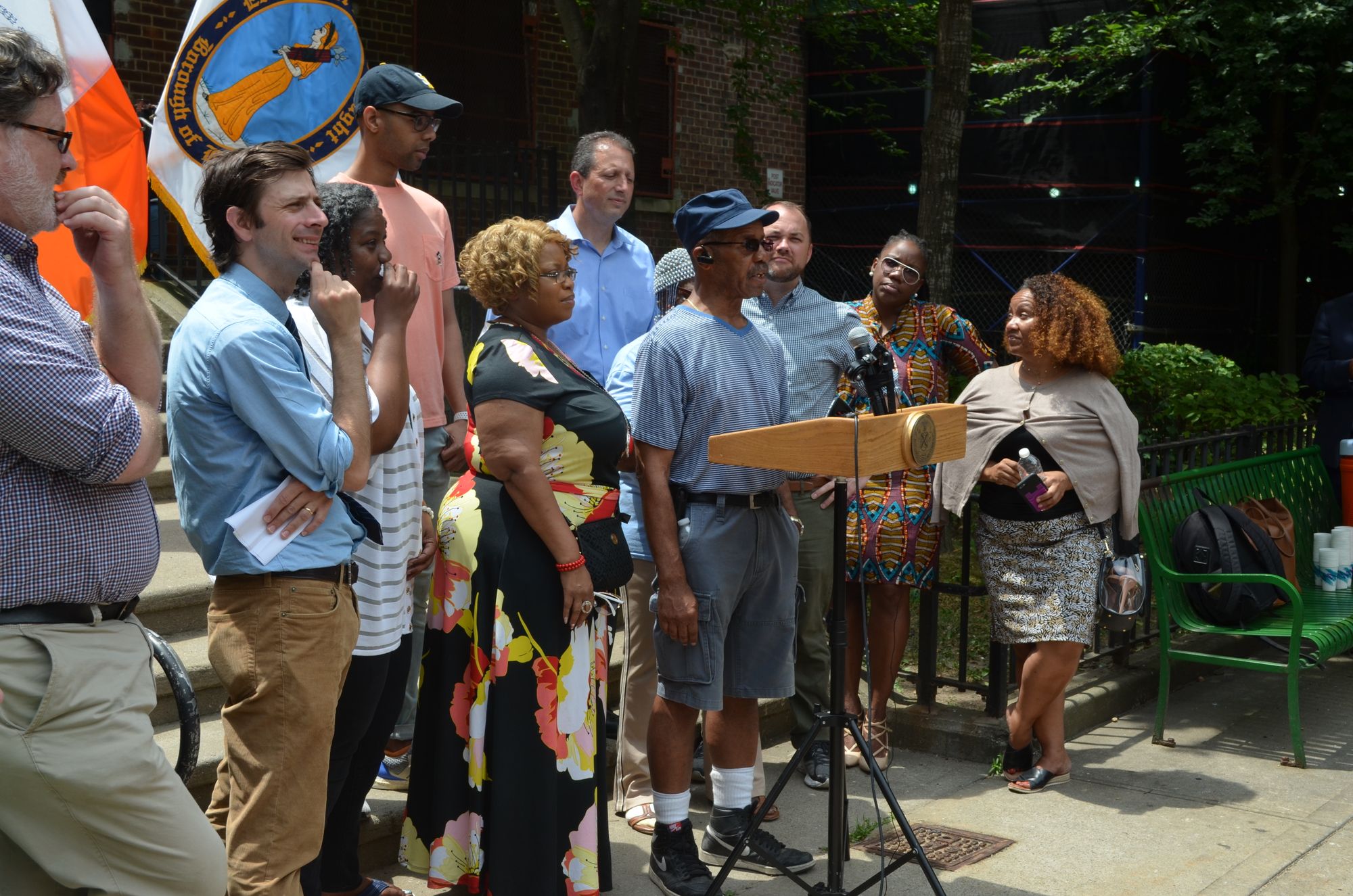 "Brooklyn Community Board 6 has supported, and advocated for, the proper funding of these two community centers and it's great to see it become a reality and be here today with our very own board member Joe Anne Brown, Councilman Lander, Levin, and the Speaker," said CB6 District Manager Michael Racioppo after the press conference.
"It's a good milestone," Michael Higgins, Jr., an organizer for FUREE (Families United for Racial and Economic Equality), told Bklyner. "Our goal for this center is a fully functional center that not only has senior programming, which it has right now, but also programming for youth, and also a space to organize residents around a number of different issues that are happening in this very specific geography," including the Superfund cleanup and the Gowanus neighborhood rezoning, he said. "One of our goals of the GNCJ (Gowanus Neighborhood Coalition for Justice, which FUREE is part of) is really getting concrete wins, concrete public benefits for public housing residents in this area."
"I'm glad it finally happened, but like everyone is saying, we need a starting time," said Edward Tyre, President of the Gowanus Resident Association. "Once we get a starting time, then it happens. Right now, it's talk, and we've heard a lot of talk for a lot of years, so now we need to see action."