Citi Bike Public Hearing Scheduled; Local Expansion Strikes Raw Nerve In Community
The Transportation/Public Safety Committee of Community Board 6 will be holding a hearing on Thursday, October 20 for members of the public to provide feedback concerning the recent expansion of the Citi Bike program into the Community Board 6 area.
Docking stations have been installed throughout Park Slope, Gowanus, Carroll Gardens, Cobble Hill, the Columbia Street Waterfront District, and Red Hook as part of the second wave expansion of Citi Bike. Last Fall, Community Board 6 unanimously approved Citi Bike expansion to the area.
CB6 released a notice yesterday, stating the goal of the hearing is to "gather public comment on the deployment of the bicycle docking stations, and any other aspect of the bike share program, for the primary purpose of reviewing and evaluating the density, location, placement, and size of the district's docking stations with the Department of Transportation."
Civic leaders, local activists, and many community members have championed the expansion, as evidenced by a ribbon cutting ceremony on August 25 which featured a virtual "who's who" of program partners and proponents.
However, the recent expansion has not been met with unilateral community support.
In a striking and at times bizarre CB6 General Committee Meeting on September 14, some members of the public who attended expressed extreme frustration concerning the placement of Citi Bike docking stations.

80-year-old neighbor Joseph Igneri shouts at the CB6 board over the Citi Bike expansion on September 14, 2016. (Video by Amy Holiday/Park Slope Stoop)
The meeting was significant by what is already an infamous moment when 80-year-old neighbor Joseph Igneri shouted at the board members. A tense verbal battle took place between Board Chair Sayar Lonial and residents who demanded answers about the bike share program – why it had expanded, why the Department of Transportation had not been more transparent, and why Citi Bike couldn't be discussed formally during the meeting.
The atmosphere became so heated that police were called to the scene.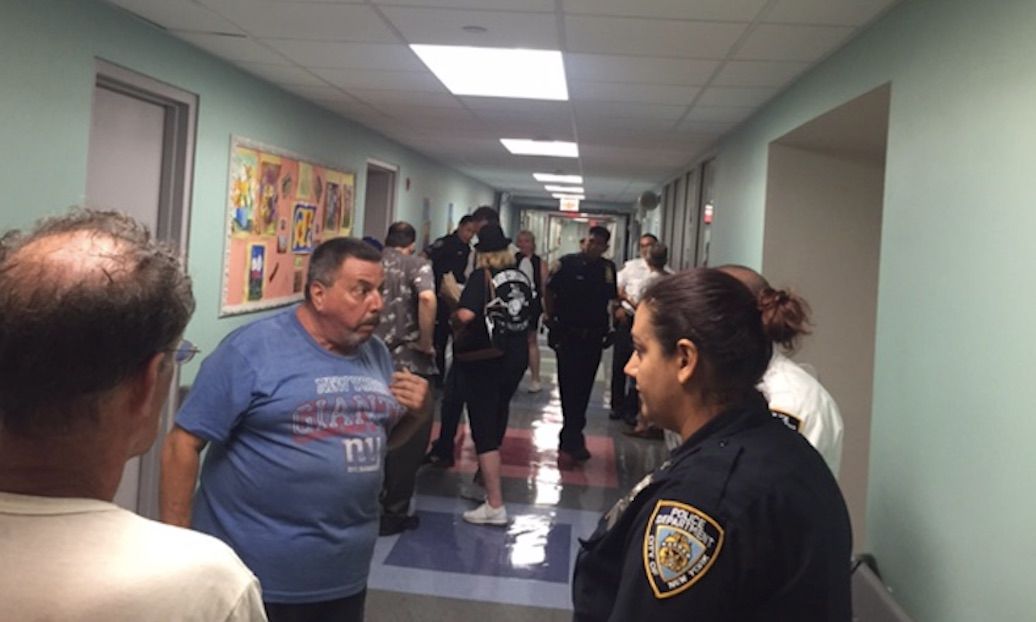 "The issue of tonight's meetings is to recap what [CB6's] committees reviewed over the summer," Lonial told the room. "The Transportation Committee did not hear anything about Citi Bike over the summer. The board will not be discussing these matters tonight."
This upcoming public hearing is scheduled sooner than originally planned. "This was prompted by the events of the last general board meeting," Eric McClure, CB6 Transportation/Public Safety Committee co-chair, told the Stoop via email. "I think Sayar Lonial, our chair, felt like people should have an opportunity to speak out, for or against, aspects of the Citi Bike program."
"It was always our intention to have a follow up meeting to gather feedback once Citi Bike was fully deployed so we could see where further tweaking might improve the system further," CB6 District Manager Craig Hammerman told the Stoop via email. "The outpouring of immediate public comment suggested a need for us to conduct this hearing sooner rather than later so we could review and evaluate how the new service is being used and pass that feedback along to DOT for their consideration."
McClure detailed the most effective feedback that those speaking at the meeting can provide:
"I think the hearing will be most productive if people who have concerns about specific dock locations bring evidence of issues and suggest reasonable alternate placements. There certainly may be a nearby wide sidewalk that could accommodate a dock currently located in a streetbed, and I think the board and DOT will be open to constructive comments.
On the other hand, if people just come out to tell us that they hate Citi Bike and the program should go away, they're likely to continue to feel frustrated. It's clear after three-and-a-half years and system expansion and continued growth in usage that Citi Bike is a part of the city's transit system that is here to stay, and it's not going to be wished away. It's certainly someone's right to not like it and to tell us that, but I don't think they'll ultimately feel satisfied."
While community members have complained they were not originally consulted about Citi Bike plans, planning workshops were announced and held in June 2015.  After that meeting, Council Member Brad Lander provided a preliminary map for members to comment on and preview after those workshops.
McClure remains positive about the community support for the program.
"I also expect that there will be a number of people who show up at the meeting to tell us that they're big fans of Citi Bike and want more docks or one in front of their home," he said. "Based on my anecdotal observations around the district, the bikes are getting a lot of use."
The Meeting Rundown: Public Hearing On Citi Bike Expansion to Community Board 6 Area
When: Thursday, October 20 at 6:30pm
Where: NYPD/78th Police Precinct, 65 6th Avenue, 4th Floor (Between Dean and Bergen Streets).
If you plan to speak: Members of the public will have the opportunity to testify up to 3 minutes. Speakers must sign-in at the meeting to testify.
If you cannot attend: Written comment may also be emailed to the district office at info@BrooklynCB6.org or mailed to 250 Baltic Street, Brooklyn, New York 11201-6401