Chris Torres On Tattooing And Knowing The Rules Before You Break Them

Brooklyn native and internationally known tattoo artist Chris Torres opened Red Legged Devils tattoo shop on Flatbush Avenue in January. Torres, who grew up nearby in Midwood, is a diehard Brooklynite. This is reflected in the name of the shop, which is an homage to Brooklyn and a reference to the Red Legged Devils, a volunteer militia which was active through World War I in the borough.
Torres characterized growing up in Brooklyn as "not the same place it is today." Although Brooklyn as a borough has changed immensely since Torres' childhood, he has managed to remain ahead of the game on many levels. This is evident from the impressive tattoo shop Torres opened, and also from his outlook on life.
"Growing up in Brooklyn, I was exposed to a lot early on," he says. "A big part of that was realizing as long as you work hard for what you want, and keep your head on straight, anything is possible."
Having grown up in the area, then becoming interested in the arts, and eventually gaining commercial and international success as a tattooer, Torres has done exactly that.
As a child, Torres was always drawing and painting. This interest was encouraged by his parents, who took him to museums and galleries, further exposing him to the art world. As he got older, he recalls being in high school, when his interest in art continued to grow.
"My mother, at the time she worked at a Jewish school in Brooklyn, would bring yarmulkes home before the holidays for me to decorate," he says, adding that he'd adorn them with various images, designs, and lettering that would eventually get him known within the tattoo world. While Torres distinguished himself early on as an artist, it was his father who first suggested he get into tattooing. The idea stuck, and Torres has been in the business for 19 years.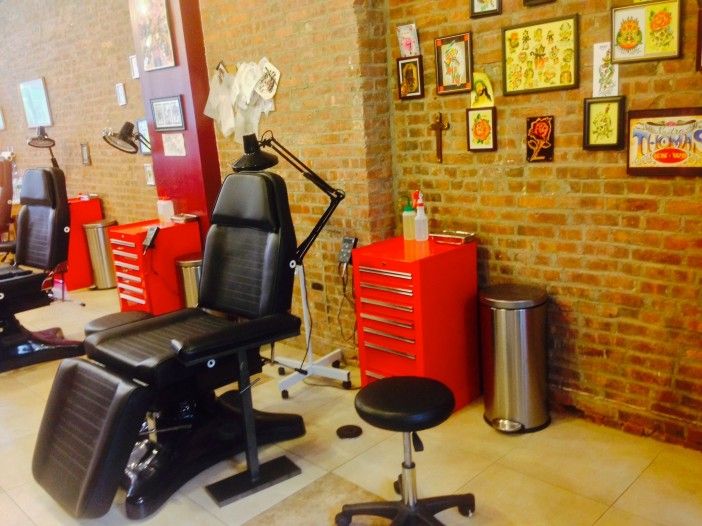 He came to stardom in 2012 after appearing on TLC's now-canceled reality television show NY Ink. Since then, despite some of the negative press he received as a result of the show, Torres has come back strong and is now better than ever with his own place — which, he says, when he was originally scouting out locations for it, this area was his first choice.
"I wasn't looking in other neighborhoods, and knew this was the area I wanted to be in," he says, noting that a big reason for choosing this particular part of Brooklyn was the Barclays Center, and also because this specific part of Flatbush Avenue is, he says, "the heart of Brooklyn." Even so,
Torres says it's still a challenge.
"Although I got in at the ground level here, it's turning out to be tougher than I thought," he says.
Red Legged Devils opened during a terribly snowy winter, and now with the warmer weather, the foot traffic has not been what they were expecting. Although business has not been as busy as Torres had originally anticipated, things have started to pick up.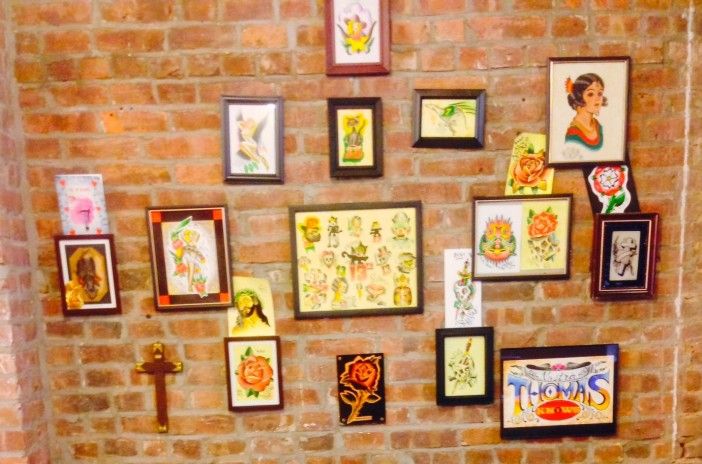 As for the tattoo scene in New York City, Torres feels it's still developing.
"There hasn't been anyone who has really defined New York City tattooing," he says. "There are many great tattoo artists who came before me. It is important to know this history, to know where you come from as an artist, and to understand what these pioneers went through. It is kind of a patchwork of different styles here, and it's important to know the rules of the game before you break them."
Although the tattoo scene in New York is still coming into its own, Torres is helping to define it with his own shop. Red Legged Devils currently has five tattooers on staff, including Torres, as well as two apprentices. The shop aims to elevate the body art of people, and also the overall experience they have. They specialize in custom tattoos, and given the amount of talent on Torres' rooster, they can create almost any kind of work a customer might want.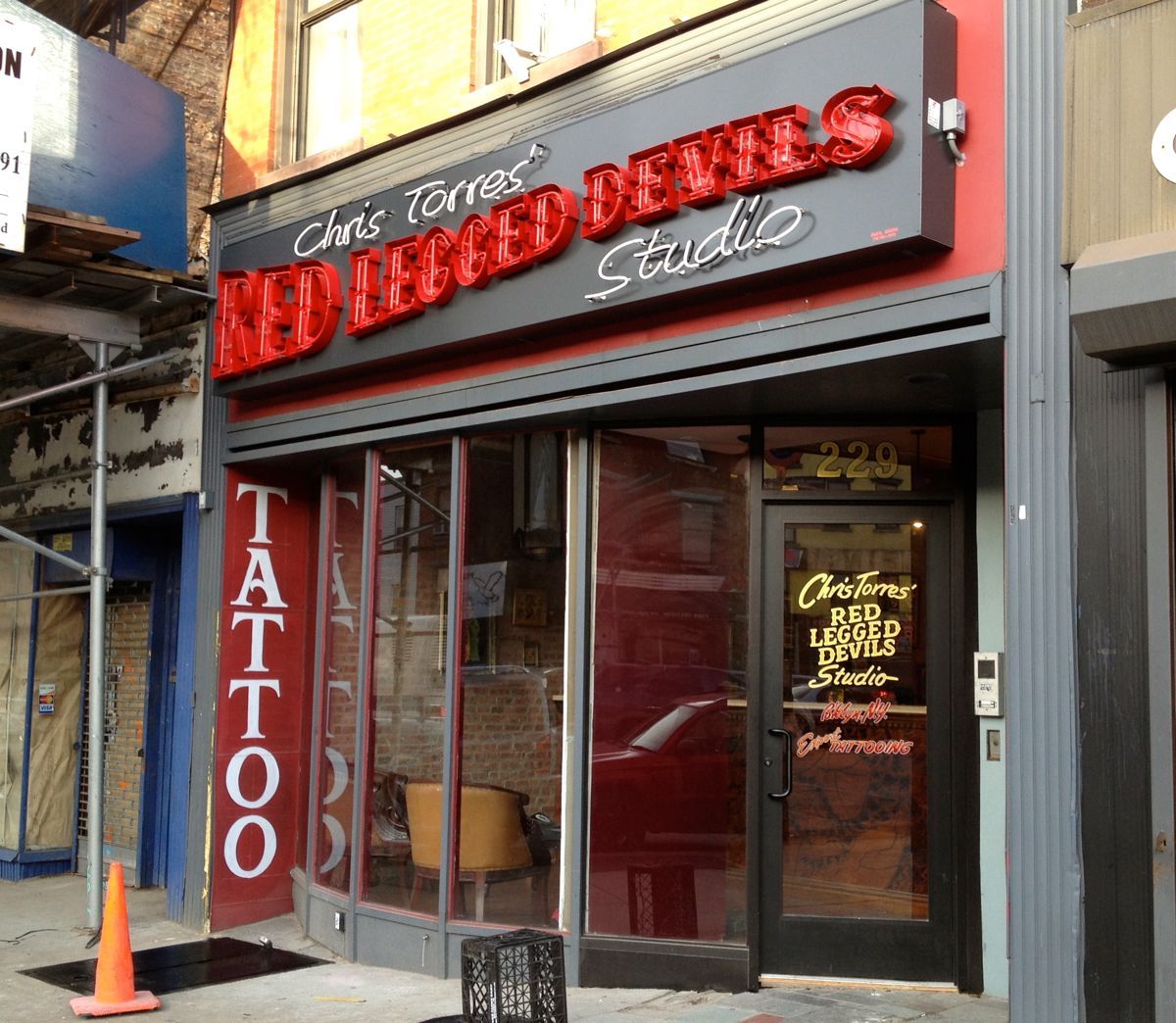 In addition to owning a business here, Torres has lived in the Park Slope area since 2009. In this time he has seen a tremendous amount of change in the neighborhood, and now with Red Legged Devils open, it's also contributing to the changing face of the area. To continue his own growth, Torres has several projects in the works, and will be featured on an upcoming episode of the Esquire Network's White Collar Brawlers. He also hopes to be attending more tattoo conventions and focusing on growing his business here. While Torres may have broken some rules to get where he is, he certainly knows where he comes from.
Red Legged Devils is located at 229 Flatbush Avenue, between Dean and Bergen Streets, and opens up daily at about noon. You can stop in to talk to the artists, or contact them at 718-576-3819 or redleggeddevils@gmail.com to make an appointment. To get an idea of the kind of work they're up to, you can follow the shop on Instagram, Facebook, and Twitter.
Lead photo via Red Legged Devils