Chow Champ: Jimmy's Famous Heros Seeks Competitors For Eating Contest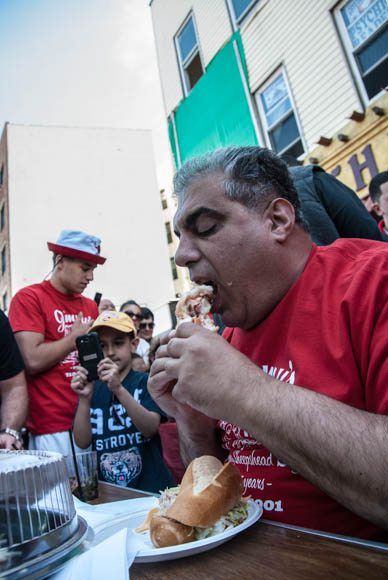 Get ready! Get set! Get gluttonous!
Sheepshead Bay's staple deli, Jimmy's Famous Heros (1786 Sheepshead Bay Road), is looking for competitors for a sandwich eating contest to take place this Sunday at the Sheepshead Summer Stroll.
Owner Victor Spadaro said he was looking to crown a new chow champ after a four-way tie broke out earlier this year during the first Summer Stroll.
And there will be cash prizes. The person who crams the most sandwiches into his or her ravenous maw in just a few short minutes will win $100 cash. Second place will take home $50, while third place will get $25.
There are 20 seats to fill at the contest this weekend, and it's open to men and women aged 21 and up. There is no entry fee and water and sandwiches will be provided by Jimmy's.
The competition was one of the banner events at the first Sheepshead Summer Stroll in June, and it's looking to be even larger this time around with a dedicated stage. The Stroll will see Sheepshead Bay Road packed with games, giveaways, live entertainment and food from local restaurants on Sunday, September 7, from noon to 5 p.m. The event takes place from Emmons Avenue to East 15th Street, turning the entire walk from the subway to the water into an action-packed pedestrian mall.
To register as a contestant in Sunday's eating competition, call the store during business hours at (718) 648-8001. The registration deadline is Friday, September 5.