Chipp Neapolitan Pizza Puts Business Up For Sale!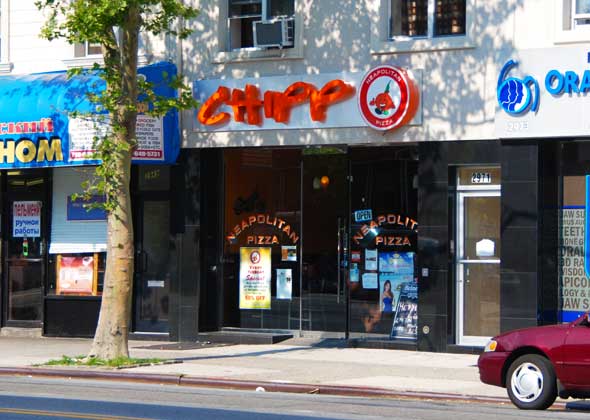 Chipp Neapolitan Pizza (2971 Ocean Avenue) is up for sale just seven months after it opened, courtesy of a dispute between the owners that made offloading the property a priority.
The pizzeria, which specializes in cooking thin-crust pizza in a wood-fired oven at 800 degrees in just 90 seconds, turned up on Craigslist not too long ago with an asking price of $189,000, stating an "Owner's Disagreement is your gain."
We checked in with Rus Gor, one of the owners, who confirmed that it was on the chopping block – but not at that price. They're asking for $250,000, which includes a 10-year lease, equipment and furniture. The Craigslist ad has since been removed.
Chipp first gained notoriety through its other owner, former The Apprentice contestant Lenny "The Russian" Veltman. When they first opened, Veltman boasted it would be the first in what he hoped to be an empire of classed-up pizza joints across the nation. Oh, and let's not forget the trash-talking.
"Grimaldi's is crap. DiFara awful. Totonno's garbage," Veltman told Sheepshead Bites after they opened. "You can't cook pizza using coal. It burns too hot and dries out the ingredients."
Gor was mum about the nature of the disagreement with Veltman, but did say that it hadn't hurt the friendship between them. He did emphasize, though, that the business isn't going anywhere soon, and they'll continue to vend their 90-second pies for as long as it takes.
"We're not closed yet," Gor said. "We're still working. We're still optimistic. We hope it's going to go up."
Here's a screenshot of the Craigslist ad before it was removed: