Five-Year-Old Injured After Falling Off Coney Island Kiddie Coaster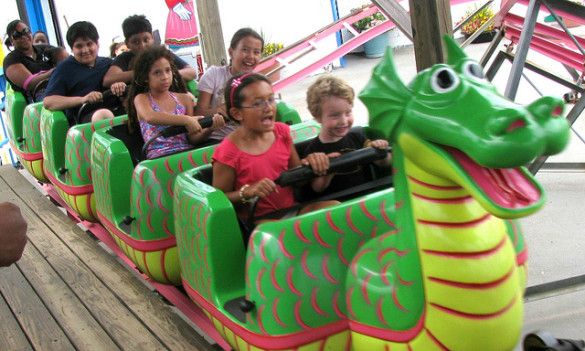 A 5-year-old boy and his 7-year-old sister were hurt riding the kiddie Sea Serpent Roller Coaster in Coney Island last night. The New York Daily News is reporting that while the sister's injuries were minor, her brother's leg was badly injured.
The accident occurred at 7 p.m. at Deno's Wonderwheel and Amusement Park (Bowery Street and West 12th Street) in full sight of the children's horrified mother. According to the park's vice president, Dennis Vourderis, the boy wanted to hop off the ride before it finished. Apparently, the boy leaped out of his seat and got his leg stuck between the car and the track.
"He climbed out of the car at the top of the hill and fell in between the cars," Vourderis told the Daily News.
The Daily News described the serious and scary scene:
"He was on the inside of the tracks. He had cuts all over and he wasn't moving," said witness LeRoy Mace, 40, of Brooklyn. "I don't think he was conscious. He was on the tracks for at least 20 minutes before they pulled him off."
At first sight, witnesses feared the boy would lose his leg. But Vourderis said the injury looked worse than it turned out.
"Preliminary reports are (he suffered) a large cut to his left leg and he began receiving treatment immediately from staff on premises while medical attention was summoned," Vourderis said.
It was unclear how the boy's sister hurt herself on the ride but she also suffered a leg injury, the extent of which is not yet known but is believed to be minor. The brother was treated for multiple injuries at Bellevue Hospital while the sister was treated at Lutheran Medical Center.
Vourderis defended the safety of the ride, blaming the situation on the boy's height.
"A young rider on the Serpent coaster who met the height requirement unfortunately crawled under the lap retaining bar tonight, and jumped off the ride before it had stopped," Vourderis told the Daily News. "The ride is an inspected, approved ride and there has never been an incident before in its 15-year history here at Coney."