Chicken Masters Building Up For Sale, But Owner Says The Restaurant Will Stick Around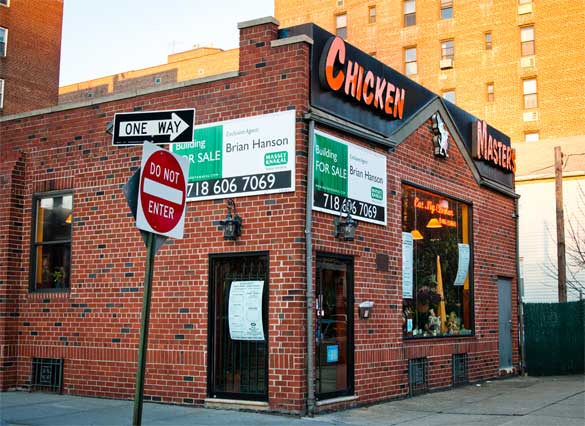 The building that houses Chicken Masters at 1201 Avenue Z is on the chopping block for a cool $1.295 million, and the fried chicken man himself, Vinnie Mazzone, is plotting out his next move.
The building – better known to locals as "the ol' sweatshop" for the ladies' garment company that used to occupy it – went on the market in early January. It's a 4,000 square foot lot, buildable up to 8,000 square feet, according to the listing.
Okay, okay, enough about the building. We know what you're really thinking: "But what about Chicken Masters? What about Vinnie?!"
Worry not, kiddos. It's not the first time the neighborhood staple has moved. In fact, Mazzone may have rented so much real estate for his various eateries over the years that he could secretly sport his own broker's license.
So here's the deal: we spoke to Mazzone, who also owns the building. He's considering selling the business if anyone is interested in buying them together, though it's not included in the $1.295 million price tag.
Mazzone noted that if the building sells and not the business, he'll just pack up and set up shop elsewhere. He's in no rush, is happy with his business, and, in the case of a new owner, hopes to work with him or her to ensure the long-term stability of the business.
So, gluttony willing, we'll continue to have the community staple around the 'hood for many more years, regardless of who owns it.