Bensonhurst Resident Forms "Checkmate, Cancer!" Walkathon Team To Tackle Childhood Cancer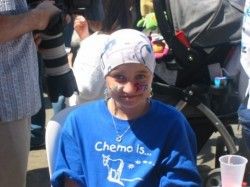 Childhood cancer is the number one cause of non-accidental deaths among children, with 12,000 diagnoses each year. Elona Karafin, a 19-year-old Bensonhurst native, has started "Checkmate, Cancer!", a team participating in the annual Pediatric Cancer Foundation (PCF) walkathon, in the hopes of ending this deadly disease.
When Karafin was 10 years old, she was diagnosed with Ewing's sarcoma, a type of bone cancer. For two years, she suffered through chemotherapy and countless surgeries, but she refused to let the disease win. Since then she has been involved with various charities to help the cause.
"As a cancer survivor, I want to dedicate a portion of my life giving back to the people and institutions that save children's lives every day," said Karafin.
Karafin has participated on a number of PCF teams over the years, but decided to start her own, "Checkmate, Cancer!"
The team is mostly made up of college students working hard to reach their goal of at least $2,000 to donate to the PCF by late April, as well as raising awareness of the cause. So if people aren't able to donate money then Karafin urges them to like and share their Fundly.com page on Facebook. It's a small step that can make a big difference, Karafin said.
The Baruch College student is encouraging people to join her team to walk in the 19th annual Pediatric Center Foundation Walkathon, April 28 in Riverside Park. The event is a fun and healthy way to spend the day, with entertainment, food and lots more. Plus, it's for a great cause to help sick kids.
The PCF is a non-profit charity with the goal to cure childhood cancer and raise money for research, equipment and patient care.
"The PCF walk made me realize how many people are out there to do good for others, not just by collecting money, but by really creating a comfortable and happy environment for young patients and their families. I may have been young, but I remember like it was yesterday how hard it was to feel comfortable in public being bald and stick thin." Karafin said.
Karafin is also hosting a fundraising luncheon this April.
To learn more about "Checkmate, Cancer!" and how to be a part of it click here.