Check Out the New Bike Racks at P.S. 10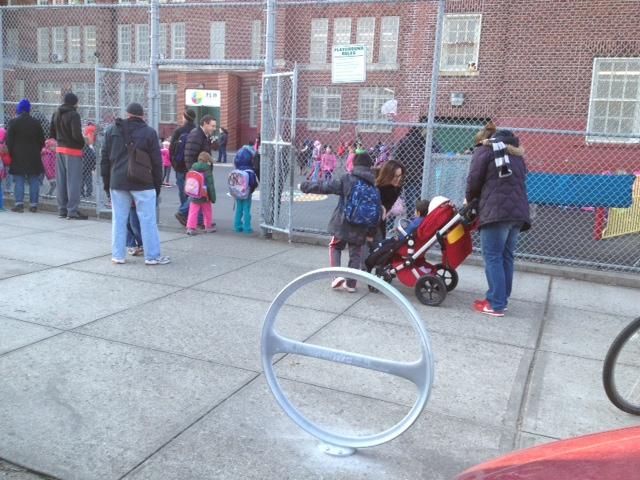 Parents and students from P.S. 10 returned to school this morning, to discover that some snazzy new bike racks had popped up over the weekend. If mom, Grace Freedman, is any indication, the new additions will be welcomed with open arms:
CityRacks, designed by  Ian Mahaffy and Maarten De Greeve (Bettlelab), have been placed around the five boroughs for the past few years, in an effort to encourage commuters to hop on their bikes, instead of in cars.
Know of somewhere else around South Slope that might benefit from some new bike racks? Send the Department of Transportation a suggestion on their website. As long as the following general guidelines are met, suggestions will be taken into consideration.
• CityRacks must be on city-owned property.
• CityRacks must be on wide concrete sidewalks (minimum sidewalk width 12 feet)
• CityRacks must be away from the natural flow of pedestrians, usually at the curb and always away from crosswalks
• City Racks must be a minimum of 6 feet from street signs, mailboxes, benches or telephones
• CityRacks must be up to 13 feet away from fire hydrants, and 15 feet from bus stop shelters and newsstands
• CityRacks can not be installed on pavers, cobblestone, brick, stone/slate slabs, custom/patterned concrete or metal gratings.
It should be noted, that the DOT's website says that they receive a "high volume of requests" for bike rack instillation, and that it might take "six months or more" to investigate, so don't expect one to appear overnight.
A possible way to bump up your request, is to go through your community board or business improvement district. Depending on where you live, organizations that might be able to help are Community Board 6, Community Board 7, Park Slope 5th Avenue BID, Sunset Park BID, and Concerned Citizens of Greenwood Heights.