Chase: Resistance Is Futile, A Cabbie Rants Again…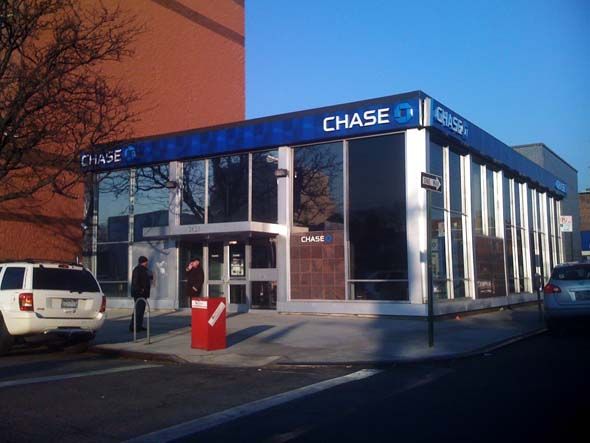 What is up with Chase Bank? Is it just me or is it spreading like a virus through the city?
Everywhere I turn in Sheepshead Bay and the surrounding area is another Chase Bank. Normally this might be considered a good thing, but I don't think so. It was bad enough that Chase took over every Washington Mutual location when the FDIC handed the company to them. The logical assumption was that Chase would consolidate all their accounts, merge the staff together, and close locations that overlapped with another store. Boy was I wrong! Not only did they assimilate every location, they're opening new ones!
It wouldn't be so bad if their customer service didn't go down the toilet at the same time. Not only are they keeping all the old branches open, and not only are they opening new locations, but each spot only has a skeleton staff and they closed nearly all the drive-through services.
Coney Island Avenue and Avenue V had a perfect drive-through teller. First they claimed it was closed for construction. Then they decided not to re-open it at all. In fact, if you look around the area Chase has a history of closing their drive throughs. The Chase on East 18th Street and Avenue U, and the Chase near Coney Island Avenue and Avenue Y both had windows for drive-through tellers, but those were phased out. The only nearby Chase with a drive-through is at West 3rd Street and Avenue X. Meanwhile other banks like Valley are opening branches with drive-throughs like the one on Nostrand Avenue and Avenue U.
If you're wondering just how many Chase Banks we have, here's a list. It includes all the Chase banks in Sheepshead Bay and those just at its border.
2623 East 17th Street and one block away…
1519 Sheepshead Bay Road .
2500 Coney Island Avenue (@ Avenue V) and…
2730 Coney Island Avenue (between Avenues X and Y) which line up with…
1002 Brighton Beach Avenue and…
722 Brighton Beach Avenue, both on the corner of Coney Island Avenue, which leads to another new Chase on…
105 Brighton Beach Avenue (Brighton 1st Street) seven short blocks away.
1100 Kings Highway, which is another new branch, also on Coney Island Avenue, and lines up with…
1521 Kings Highway (East 16th Street) and one block away…
1663 East 17th Street (between Kings Highway and Quentin Avenue).
1722 Avenue U (@ East 17th Street) and…
2560 Ocean Avenue (@ Avenue U) and…
2512 Avenue U (@ Bedford Avenue). There's a Dr. Chase on Bedford Avenue but I don't think he's a bank so I'll let him slide.
Nostrand Avenue has a lone branch on it's strip at 3804 Nostrand Avenue, but they have a Home Finance Office next door at 3820 Nostrand Avenue.
For kicks and giggles, I'll toss in West 3rd Street and Avenue X since it's the only Chase left with a working drive-through teller.
Man, I don't think any other bank comes even close to blanketing the area as much as Chase. TD Bank might come in at a very distant second.
What do you guys think? Are there too many Chase Banks in Sheepshead Bay and the surrounding area?