Catch Charizard On Church Avenue At The Lure Party Flatbush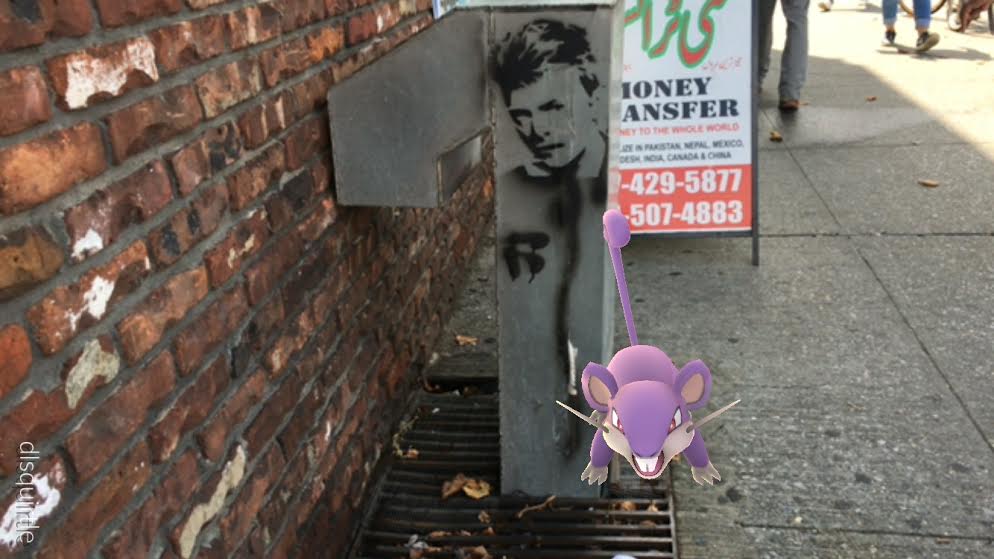 It's hard to walk down the street without bumping into someone with one foot (and two hands) in augmented reality, trying to catch 'em all. Pokemon Go, the digital game that plays on the nostalgia of every 90s tween, has officially taken over the neighborhood.
But never Fearow, because here in Flatbush we are working hard to give our local trainers an Eelekrik edge-up on the competition.
Sound Farfetch'd?
Wipe the Muk from your eyes, because on Thursday August 4, the Church Avenue Business Improvement District (BID) is hosting the "Lure Party Flatbush" on Church Avenue for trainers of all ages from 3pm to 6pm.
For the noobs: a Lure is like a Pokémon magnet in the digital world, attracting extra creatures to designated locations so they can be caught and added to a player's Pokemon roladex. Lures are special because they can only be opened by advancing levels or paying a fee (100 Pokecoins for one 30-minute Lure Module — steep!)
And for all the trainers out there — hold on to your Pokeballs, because…
Thanks to the BID's cyberspace stylings, Lures will be activated for three hours from 3pm to 6pm at four locations on Church Avenue: near the intersections of Stratford Road, Westminster Road, Argyle Road, and on Ocean Avenue off Church Avenue.
To keep you battling for all three hours, local businesses are set to keep your Electrodes charged all afternoon. The BID is encouraging local Pokemon Go-ers to explore delightful frozen treats on Church Avenue as they catch new and rare Pokemon.
Refresh: Keep you and your pokemon from fainting in the blistering summer heat with iced drinks and frozen desserts along Church Avenue, like Fried Ice Cream at Am-Thai (1003 Church Avenue); Lemonade and iced drinks at Lark Café (1007 Church Avenue); horchata and tamarind drinks ladled out at Fiesta Food Market (1920 Church Avenue) and at newly-opened Angelito's Grocery (Church Avenue & Ocean Avenue); and 50 varieties of milkshakes at Buffalo's Famous (1111 Church Avenue) — The inside scoop: Arber, Buffalo's Famous manager, loves the Strawberry/Raspberry Mixer, but admits that Cookies & Cream with Caramel and Coffee with Caramel would make a sweet battle at the gym.
Recharge: Buffalo's Famous will offer electrical outlets and power strips, open to all trainers (BYO charger.)
For families seeking non-augmented reality activities during Lure Party Flatbush, Kettle and Thread (1219 Church Avenue) has stacks of board games to play; and community-run Q Gardens (East 18th Street at the Church Avenue B/Q station) will be be open for garden watering, compost turning, and other greenthumb fun.
Hit your sweet tooth and Poke-goals with the BID's Lure Party Flatbush map below: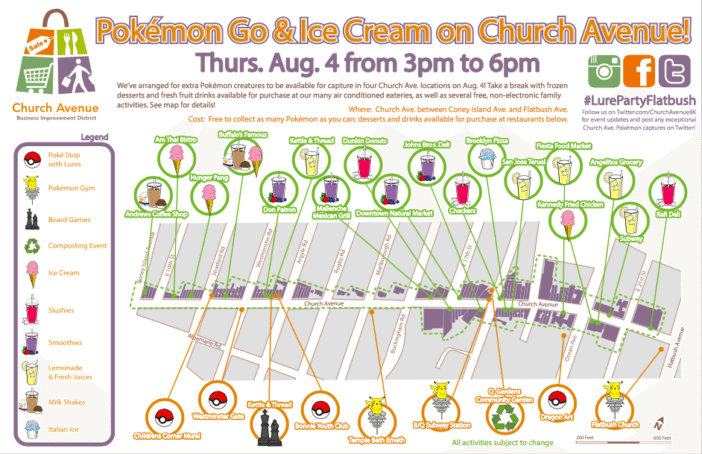 See you all on digital Church Avenue!