Ćevabdžinica Sarajevo II: Ćevapi – The Bite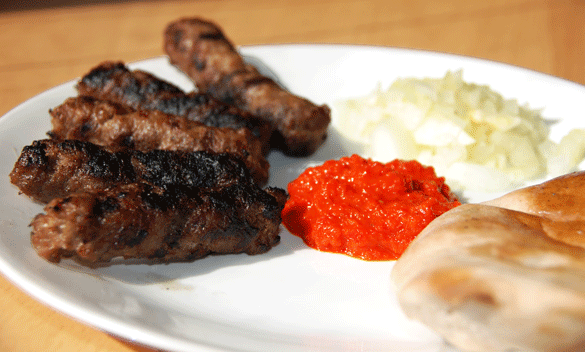 THE BITE: I have to admit that when I saw this restaurant being built, I wasn't too pleased. Just what we need, I thought to myself, another kebab house. I watched as it came together and finally wandered in this week.
Ćevabdžinica Sarajevo II, 2556 Coney Island Avenue, has been open for about two weeks, and now I say, "Welcome to the neighborhood!"
Before I get into the Bite, let me tell you a little bit about the restaurant. It's not fancy. Change the menu and this nondescript restaurant could be any take-out joint in the neighborhood. As you enter you are greeted by a glass display case, housing the raw meats, vegetables and various desserts to your left and about four tables to your right. There is one large booth located near the back. The place is brightly lit and clean. The staff is helpful, very friendly and communicative.
Almost immediately upon entering, the owner's son asked me if it was my first time in the restaurant. I told him yes and he asked if I was familiar with Bosnian food. He then explained that the restaurant specialized in "home-style" Bosnian cuisine. As he was speaking, I perused the take-out menu and found that almost all the dishes listed had an English translation.
The owner's son then asked if he could recommend a dish. I've learned a long time ago if a chef asks to recommend a dish, grab it if you can afford it. He recommended Ćevapi and showed me a picture of what appeared to be sausages sticking out of "lepinja" – or Serbian flat bread.
His obvious pride in his version of Ćevapi, which is considered to be Bosnia's national dish, had me convinced.
At Ćevabdžinica Sarajevo II the Ćevapi is "home-made from an old family recipe." This sausage is a mix of what tasted like a combination of beef and lamb, and heavy on that lamb. It is grilled to order.
For $6, Ćevabdžinica Sarajevo serves five pieces of Ćevapi along with the lepinja, chopped raw onions and a large portion of ajvar, which is a sweet pepper sauce. While the Ćevapi may look like Banquet's Brown and Serve Sausages, they are worlds apart in flavor and texture.
Mild, juicy and tender, the Ćevapi on its own packs just the right amount of flavor to tease your palette. But the picture on the menu shows it served as a sandwich. I cut open the lepinja, spread a thick layer of the ajvar, sprinkled in the onions and topped it all off with the Ćevapi.
Biting in, I was in heaven. The combination of the bread, sauce and onions somehow amplified the flavors of the Ćevapi. Never overwhelming it, the sandwich raised what could easily pass for a snack to a sumptuous gourmet meal.
So, welcome Ćevabdžinica Sarajevo II. It looks like we did need another kebab shop after all.
The Bite is Sheepshead Bites' weekly column where we explore the foodstuffs of Sheepshead Bay. Each week we check out a different offering from one of the many restaurants, delis, food carts, bakeries, butchers, fish mongers, or grocers in our neighborhood. If it's edible, we'll take a bite.