Celebrating Church Avenue's New Murals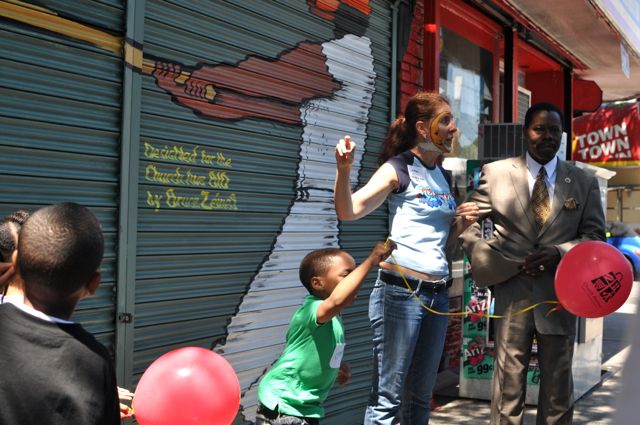 Five artists, lots of help from the city and neighbors, and the participation of several local businesses, and we've now got a much brighter Church Avenue. A big thanks to the Church Avenue BID for creating this Uncover Church Avenue project–the murals look great!
Church Avenue BID Executive Director Lauren Elvers Collins spoke about the project as she introduced Councilmember Mathieu Eugene.
Bruce Zeines and his mural on the Bonnies Youth Club.
Nu Ryu touches up her mural on Children's Corner.
Rudjessy Secours with her mural on Richie Rich.
Catherine Rutgers points out the colors in her mural-in-progress. This is the one mural that's not finished yet, because the roll-down gate here is up more often in the summer–the space is partially used by The Farm on Adderley for prepping food for its Celebrate Brooklyn menu.
Melissa Skolnick of the Church Avenue BID presented the mural by Sherry Ginsberg Davis, who was not present, at the Iglesia Pentecostal Church.
Assemblywoman Rhoda Jacobs was also on hand to congratulate the artists.
There was also some face (and other body parts) painting, with designs inspired by the murals:
And finally, thanks to NYCTrust for providing the music, and El Acuario for feeding everyone.