Celebrate 10 Years Of 826NYC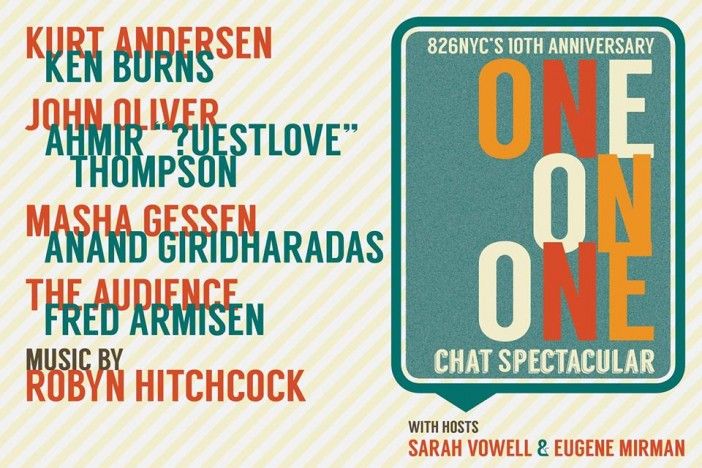 Celebrate all the great work 826NYC has done over the past decade while helping ensure they can continue that work in the future at One-on-One: 826NYC's Tenth Anniversary Chat Spectacular this Wednesday, March 5.
826NYC is a nonprofit that supports students ages 6-18 with their creative and expository writing skills, and helps teachers inspire their students to write. You know the excellent storefront at 372 5th Avenue, and what's happening in there includes tutoring, writing workshops, and much more. Originally started in San Francisco, 826 organizations can also be found in Boston, Chicago, Los Angeles, Seattle, Washington DC, and Ann Arbor.
This week's event takes place at The Town Hall, 123 West 43rd Street in Manhattan, is hosted by author Sarah Vowell and comedian Eugene Mirman, and will feature artists in conversation including:
Documentary filmmaker Ken Burns interviewed by author Kurt Andersen
Musician and journalist Ahmir "?uestlove" Thompson interviewed by comedian John Oliver
Russian author Masha Gessen interviewed by journalist Anand Giridharadas
Actor Chris O'Dowd interviewed by author Jon Ronson
Portlandia's Fred Armisen will interview the audience
Musical interlude by Robyn Hitchcock
There are still a few tickets available, and at the moment it looks like just the $50 and $250 levels remain — a $250 ticket includes a backstage reception after the show, and $100 is tax deductible.