CEC 13 Votes 6-3 In Favor Of Supporting School Rezoning Plan For PS 8 And PS 307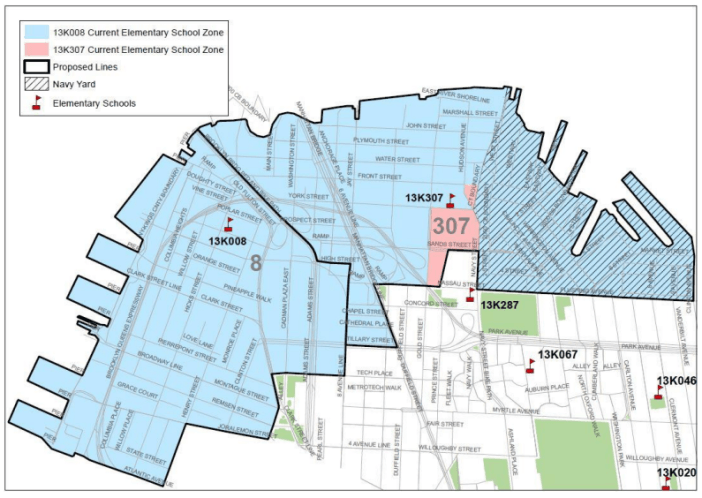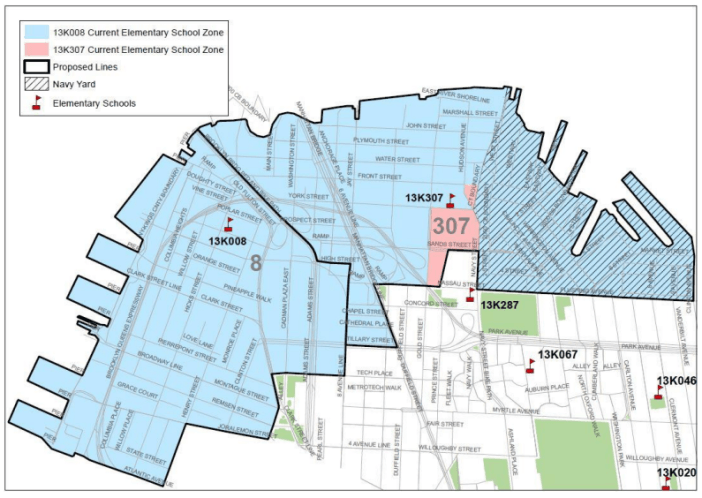 Community Education Council District 13 (CEC 13) voted 6-3 in favor of supporting the city Department of Education's (DOE) plan to rezone school boundaries for PS 8 and PS 307. The plan has been controversial due to parent and community fears about gentrification, overcrowding, distribution of resources, too-fast changes, and losing a sense of school community.
The vote took place Tuesday night, January 5, during CEC 13's January meeting and included comments from dozens of residents from all perspectives.
In the New York Times, PS 307 PTA co-chair and CEC13 board member Benjamin Greene said he opposed the plan because he felt the rezoning was rushed and "too flawed" and "I will not stand by for 307 to become an experiment" in integration, he said. "We want at P.S. 307 people that want to come, that want to be a part of our family."
To address the worries of P.S. 307 parents, the Education Department said in November that, starting in 2017 or a later year, students receiving free and reduced-price lunch would receive admissions priority for half the seats at P.S. 307. That, however, would likely have a limited effect, because students in the zone would be given seats first, regardless of their economic status. Currently, because of the school's small zone size, most of the students come from outside its boundaries. In the future, the department estimates, roughly 70 percent of students will come from inside the zone.
Last fall, Reverend Dr. Martin VC Taylor of the Church of the Open Door at 201 Gold Street, explained his concerns by stating that "this presentation recognizes that we have a merger of two different communities, motivated by demographic changes, but there is a tension that needs to be addressed and well thought out. This plan assumes there won't be tension and it will be seamless and we'll all sing kumbaya.
The CEC 13 vote had originally been planned for November, but was postponed due to the community outcry and push for more time to deliberate.
PS 307, at 209 York Street in Vinegar Hill/Fort Greene, serves primarily the residents of Farragut Houses public housing project, with a 95 percent minority student population. PS 8 (37 Hicks Street), meanwhile, has a 34 percent minority population and primarily serves students of families who can afford to live in Brooklyn Heights, Downtown Brooklyn, and DUMBO.
Both school communities have expressed concerns about the rezoning plan: PS 307 parents because of fears of being pushed out of their own school and losing their programming in favor of the interests of families from the more affluent Brooklyn Heights, where PS 8 families often hail from; and PS 8 parents because of a worry about whether their children would get the same type and level of support and resources available at PS 8.
As the Wall Street Journal notes, PS 307 students are more than just "predominantly poor minority students who have struggled on state tests, [with] 12% of students passed in English, while 20% passed in math last spring."
But those numbers belie a raft of enrichment programs led by a new principal, including dual language classes in Mandarin for early grades, a federally funded science magnet program and extensive after-school activities, families say. Nearly a third of the student body has disabilities, including autistic students enrolled in an acclaimed program. Their test scores have been factored into the school's overall numbers, according to the department of education.
Parents at P.S. 307 said they feared that the rezoning could derail the school's recent progress and upend its sense of community.
Local elected officials are also a bit split on the issue.
Councilmember Stephen Levin of Brooklyn Heights stated that "we can use this opportunity to say to the world that we believe in diversity in our schools [and]leave school segregation in our past and move forward together, and we owe that to our children."
Meanwhile, Councilmember Laurie Cumbo qualified her support for the rezoning plan with a promise to fight to ensure that PS 307 remains a community school with at least 65 percent of students meeting low-income/free-or-reduced lunch thresholds.