CB6 Approves DOT's 4th Avenue Bike Lane Proposal With Adjusted Timeline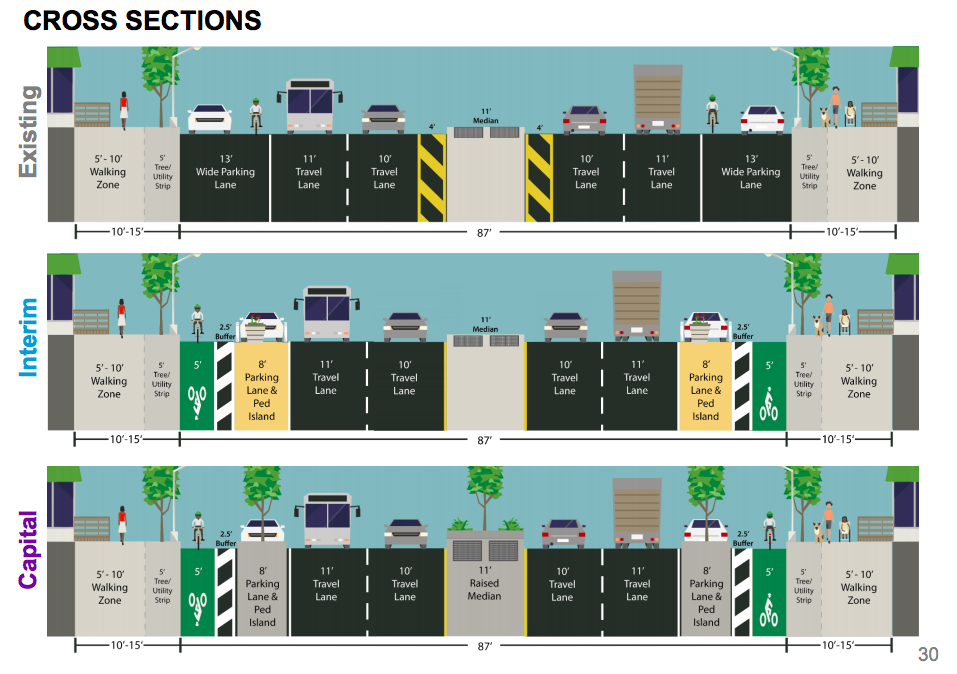 PARK SLOPE – At the Brooklyn Community Board 6 General Meeting Wednesday evening, the board voted to pass the NYC Department of Transportation' s (DOT) proposal to install four miles of protected bike lanes, and other improvements, along 4th Avenue from 65th Street in Sunset Park to Atlantic Avenue in Boerum Hill following amendments to the project's schedule.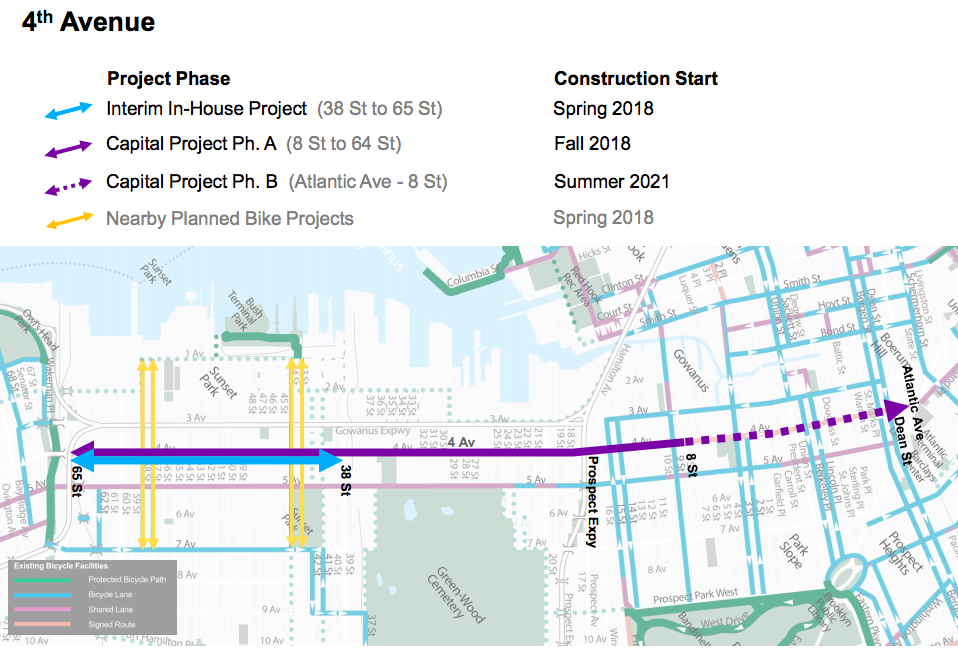 Back in December, DOT presented the plan to the board, explaining that the work would be completed in segments, with the installation of bike lanes from 65th Street to 8th Street scheduled for Spring and Fall 2018 (Phase A) and the remaining stretch from 8th Street to Atlantic Avenue scheduled for Summer 2021 (Phase B).
CB6's Transportation and Public Safety Committee, along with Council Member Brad Lander, supported DOT's proposal, but urged the agency to expedite the process for the Park Slope/Boerum Hill (Phase B) part of the project.
DOT responded to the board's request quickly and committed to extending interim improvements to Atlantic Avenue by Fall of 2019, using temporary, in-house materials, such as painting stripes and installing flexible posts, until permanent materials are installed in 2021.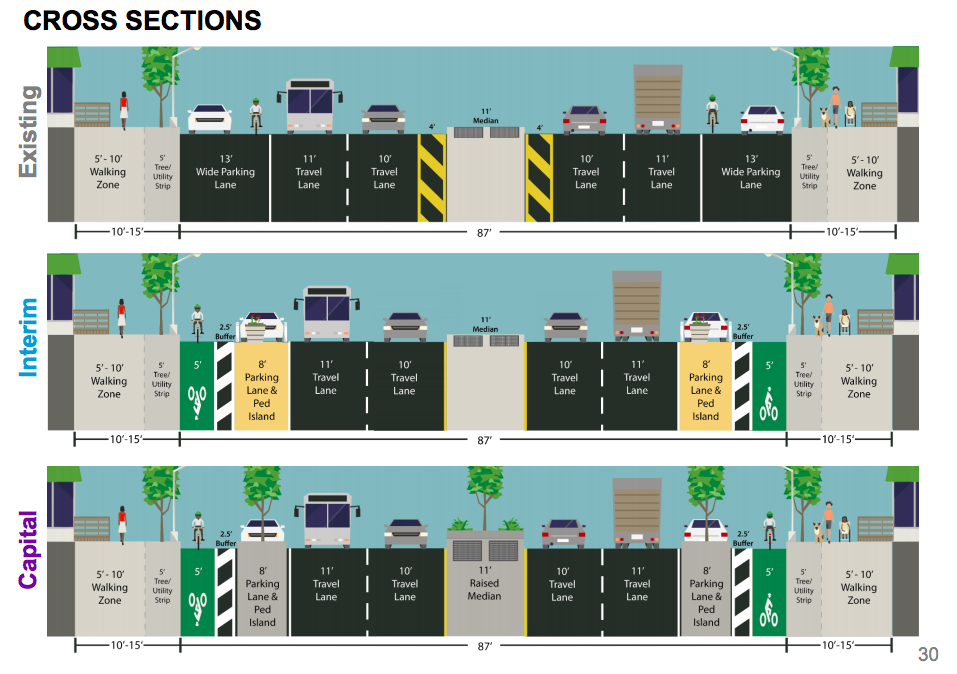 "Though we were enthusiastic about the project, were surprised by the slow timetable of implementation," Lander said at the start of yesterday's meeting.
"They moved quickly to accelerate it [but] I think it should be accelerated even further," he added. "I don't exactly understand why do the southern half this year and the northern half next year…everybody benefits from a whole bike lane more than half a bike lane. If you ride along the 4th Avenue bike lane from 65th Street to 38th Street, you're just going to keep going, so it's a lot safer if they extend it."
The number of daily bicycling trips in NYC has increased by more than 80% between 2010 to 2015, according to a New York City Mobility Report.
"I'm certainly on board for the project and would love to see it all implemented with the temporary, interim materials…as soon as possible," the Council Member concluded.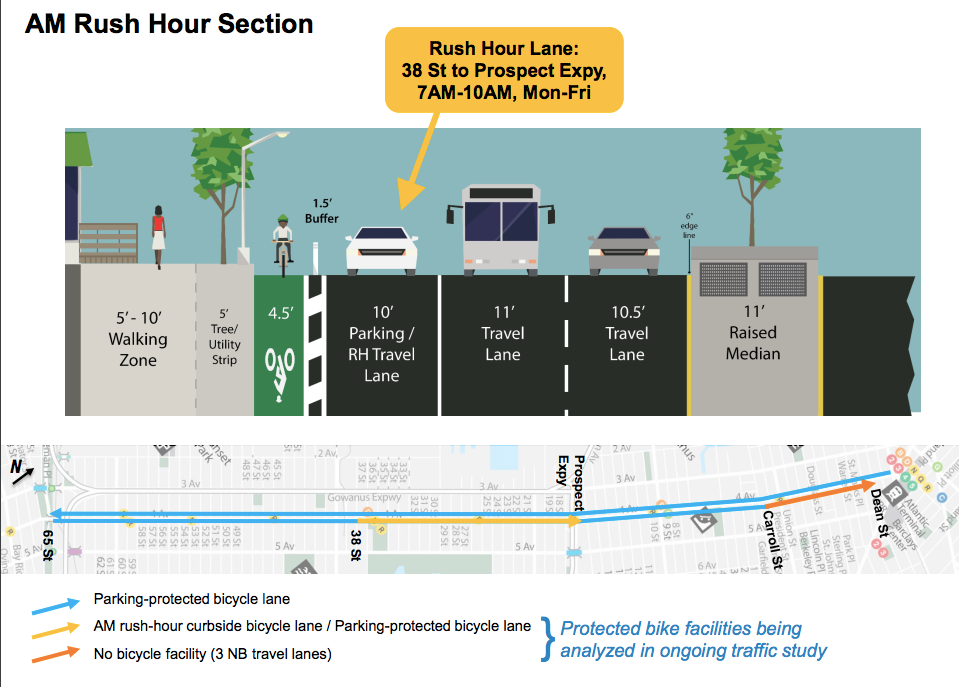 Along with the protected bike lanes, DOT's 4th Avenue proposal includes new pedestrian refuge islands, maintaining left turn bays, maintaining high visibility crosswalks, retaining the existing number of car lanes and including a rush-hour lane in CB7 (from Prospect Expressway to 38th Street), adding loading zones and potentially expanding metered parking (to reduce double parking on blocks with most active commercial uses/frequent double parking/transit connections), planting trees, and adding wayfinding signs, benches, and public art along the avenue.
The Community Board voted to pass the motion with an amendment. It reads:
"A motion to support NYC DOT planned 4th Avenue redesign as presented while strongly encouraging NYC DOT to prioritize extending the project northward during Phase A, encouraging DOT to use temporary materials to extend the projected bike lanes to Bergen Street and Dean Street pending Phase B Capital Project and that DOT come back to the board for discussion during the planning phase prior to starting the creation of loading zones and changes of on-street parking to metered parking."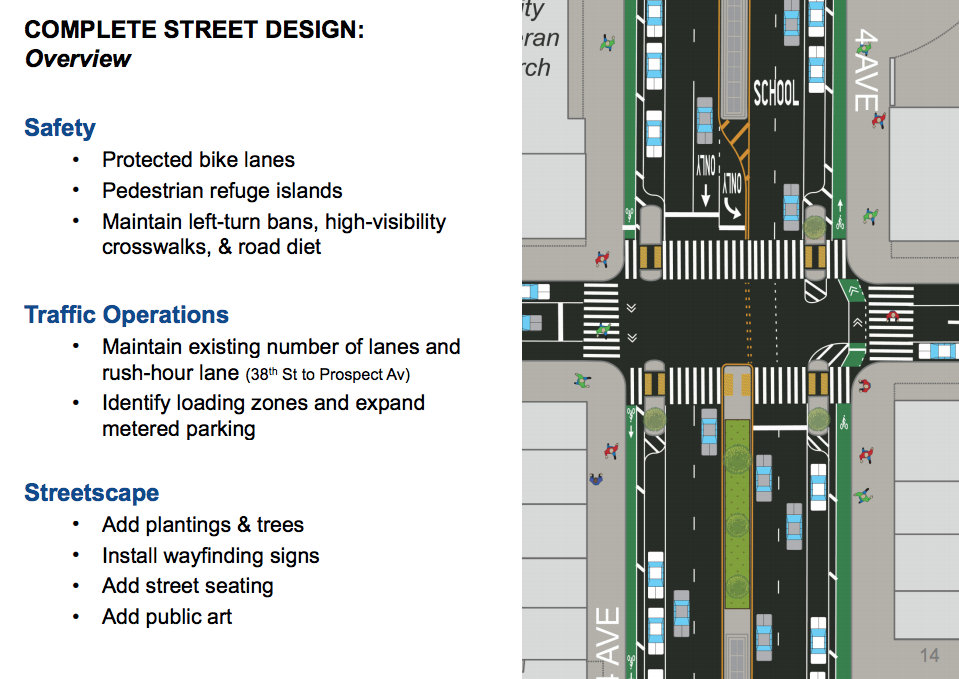 Approximately four parking spots per block (approximately 225 spaces in total) will be lost to accommodate the pedestrian refuge islands in Community Board 7, according to the DOT presentation.
CB7 will vote on DOT's proposal at its monthly board meeting scheduled for next Wednesday, January 17 at 6:30pm at 4201 4th Avenue (entrance on 43rd Street).
See the NYC DOT 4th Avenue proposal here.