Casa Azul Brings Authentic Oaxacan To Park Slope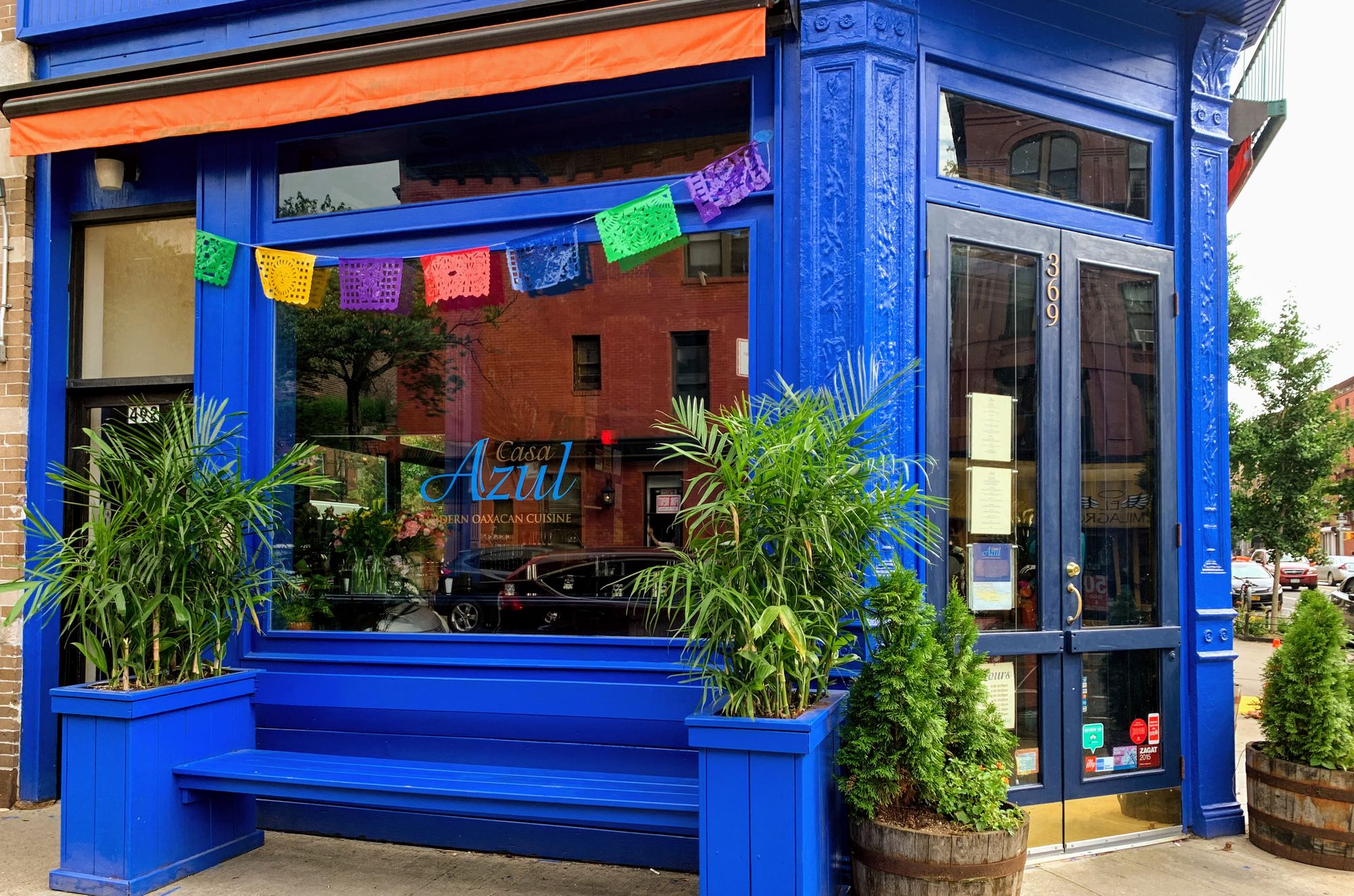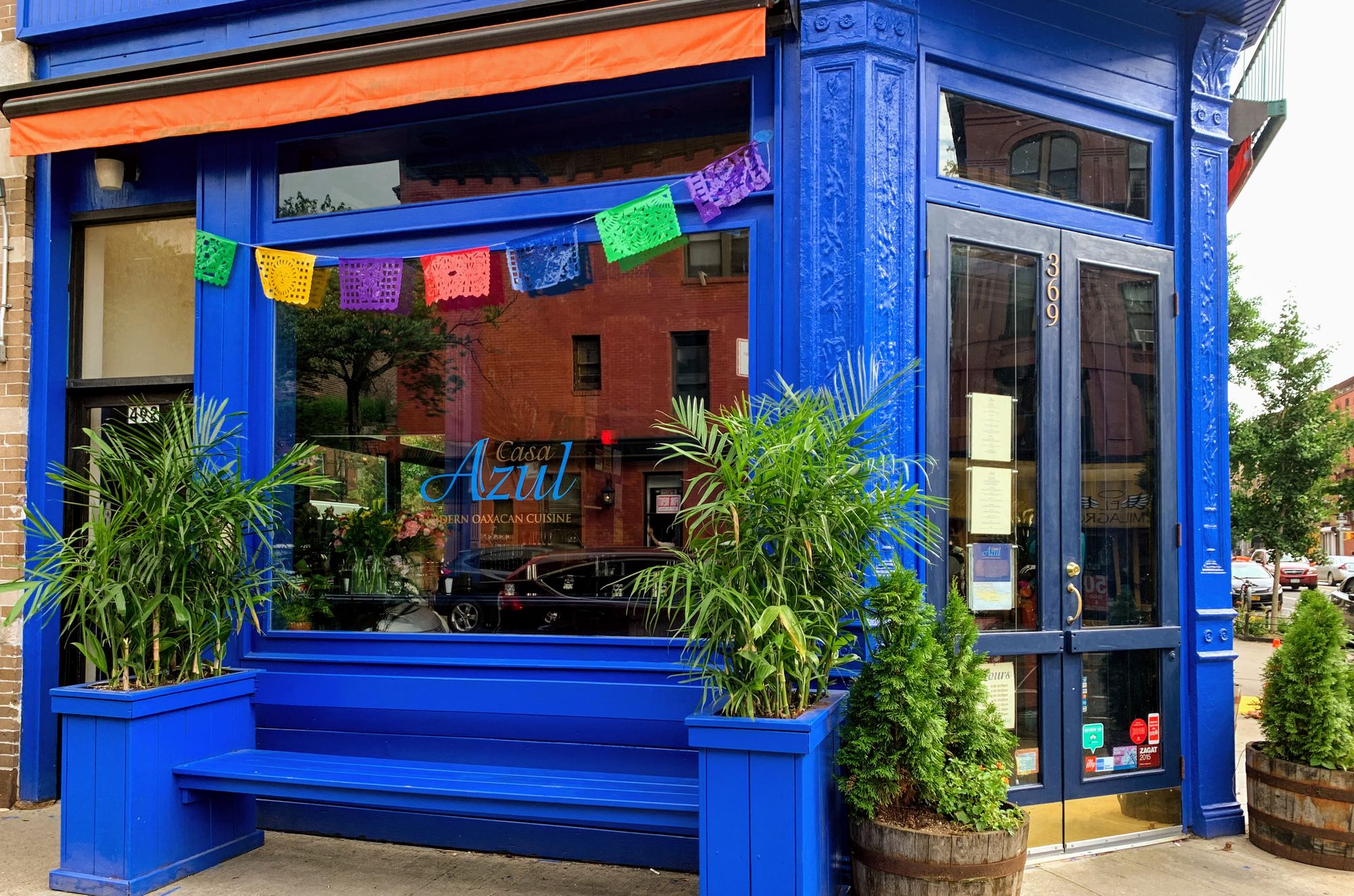 PARK SLOPE – The bright blue facade of Casa Azul is hard to miss. This brand-new Park Slope spot, in the space previously occupied by Talde, softly opened Friday, June 14th, and as of Sunday the 16th is ready to serve the neighborhood.
Located on the corner of 7th Avenue and 11th street, Casa Azul is branded as "modern Oaxacan cuisine". This is something co-owner Emilio Sanchez says has gotten them a lot of attention in the time since they've been open.
"So far everybody is so happy that finally, we have an authentic Oaxacan cuisine, and we heard amazing comments about how the food was," Sanchez said. "Something that people didn't expect to have, I mean, a lot of people have never had it before, is a tlayuda. Tlayuda is like a crispy tortilla but big, it has refried beans. Usually, no restaurants have it in the area, so everybody was excited about the tlayuda." This dish, along with classics like mole, fish, and dolce tamale, are what Sanchez thinks have done most well.
Casa Azul is co-owned by six partners, all related through either blood, marriage, or long-time friendship.
There is Lourdes Leon, married to Eduardo Tercero. Rufina Lopez, the chef, is a sibling of Roberto Lopez, who works with Sanchez, a self-described "friend from a long time" or the family. The other partner is Valente Leon.
"Pretty much this dream comes because Lourdes, she was a manager of a restaurant in Brooklyn called Alma, and Eduardo, he was a runner, Valente has been working all the time cleaning, and Rufina is the chef. Roberto and I, pretty much, we are the ones working on the staff as well, and finances and ideas," Sanchez said.
This is not the first restaurant venture for several of the partners, who once owned the now-closed Chiles and Chocolate on 7th Avenue between Lincoln and St. Johns Pl.  They also own El Milagro, the furniture and jewelry shop across from Casa Azul.
Sanchez says that the group enjoys being in Park Slope, and is working to be more family-friendly.
"We are working right now on the kids' menu as well, by the time it's going [to be ready]  we are going to open for brunch on the weekends and probably during the week as well," Sanchez said. He estimates that this will happen possibly as soon as next week.
While Casa Azul does not yet have a liquor license (Emilio says that it should get approved by the end of August or early September), they are embracing BYOB, and are more than happy to serve you from your own bottles of beer or wine with no corking fee.
Casa Azul is at 369 7th Avenue, has a capacity of 75 and is currently only accepting reservations for parties larger than six. Other size parties are welcome to walk in.  They are open from 4pm to 10pm Sunday-Thursday, and until 11pm on Friday and Saturday.