A Car Dealership Grows In Brooklyn: The Evolution Of Benson Chevrolet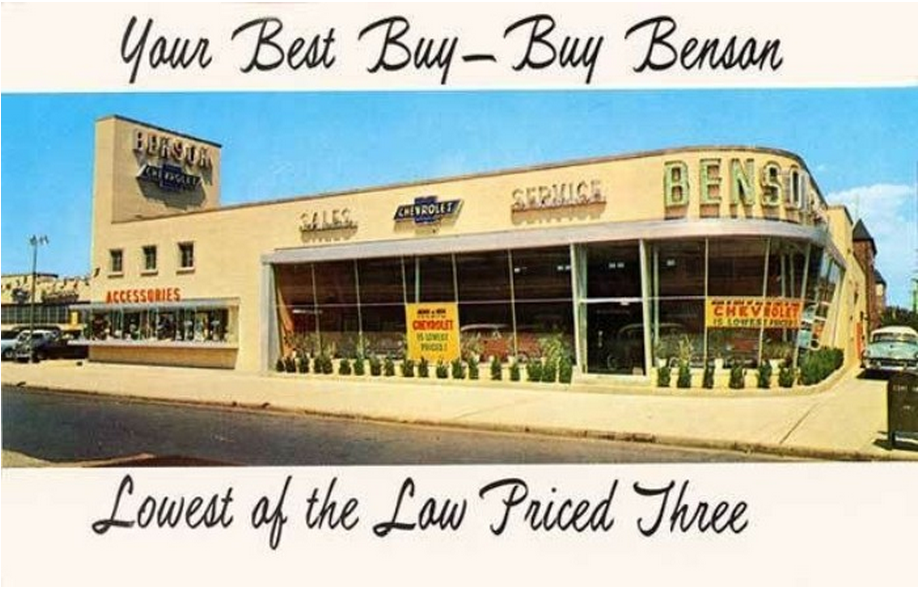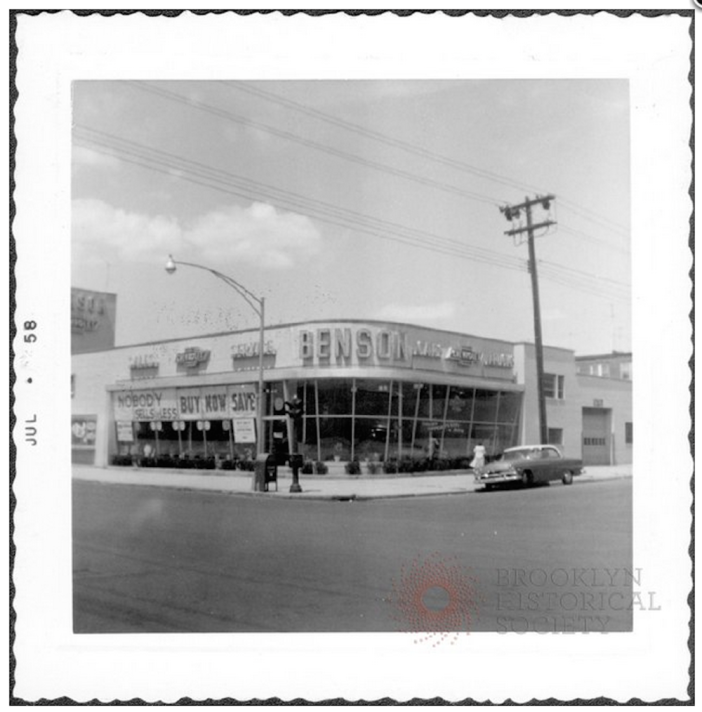 Our neighborhood Chevrolet dealership has been around for as long as most residents can remember.
A few months ago, we were surprised to learn that 86th Street Chevrolet's classic, 1950's-style building would be torn down and renovated by its new owner. But the truth is, the car dealership has gone through several reincarnations since it first opened its doors as Benson Chevrolet in 1933.
Here's a little history of our beloved Chevy dealer and how it came to be such a neighborhood fixture.
1933 – The dealership was first located at 1810 86th Street, near 18th Avenue. As Brownstoner writes, the timing for a neighborhood Chevrolet dealer was right:
Everyone liked Chevrolet, it was one of the "people's cars" along with Ford and later, the Chrysler spin-off, Plymouth. They were called the "low price three." In 1933, Chevrolet introduced the Standard Six, which was the cheapest six-cylinder car on the market. That same year, Benson Chevrolet opened up for business on 86th Street in Bensonhurst.
As we all know, it's long been possible to live in New York City without a car. But southern Brooklyn has never been well served by subways, trolleys didn't always go where you needed to go, and were slow and often crowded. Robert Moses was in the process of ringing the city with new highways, and the American love affair with the automobile was as great in Bensonhurst as anywhere. Benson Chevrolet was set to do well.
1936 – Just a few years after its grand opening, Benson Chevrolet moved to a larger building on 1818 86th Street – a more central, commercial area near the subway, with plenty of foot traffic.
The dealership took up 4,000 square feet on the ground floor of the two-story building, which it shared with Benson Music School and the Bensonhurst Good Government League on second floor. Since all three businesses moved in around the same time, some speculate that there may have been a connection between them.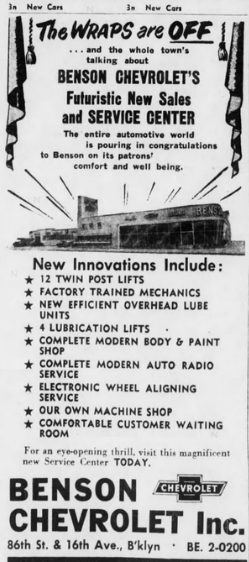 The 1940s and 1950s – This decade marked a period of expansion for Benson Chevrolet, as it moved to 8314 18th Avenue, near the New Utrecht Reformed Church. The dealership also opened a second facility at 18th and New Utrecht Avenues, for their new Chevrolet truck lines and their "original owner pedigreed used cars," according to Brownstoner. The new lot boasted 9,500 square feet, had seven full-time salesmen.
1953 – The company moved to its current location on 86th Street and 16th Avenue. Here are some newspaper clippings from the Brooklyn Eagle in the winter of 1953, celebrating the new location and bragging about the dealership's "futuristic" showroom and fancy new central air/heating system.
As you can see, the 1950s-style architecture has not changed very much since then: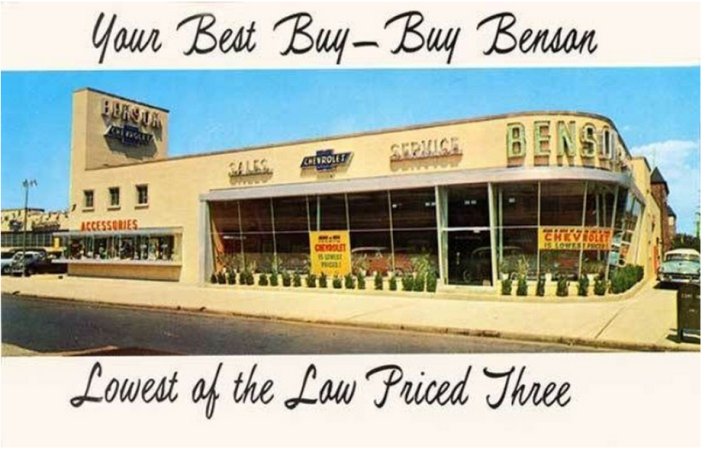 1985 – Still in the same sleek, rounded building from the 1950s, but now painted white, Benson Chevrolet becomes 86th Street Chevrolet.
2016 –  The 86th Street Chevrolet will have a more contemporary design, plenty more floor space, and rooftop parking when it reopens in two years: