Car Crash On Ocean Parkway Kills One And Injures Two Others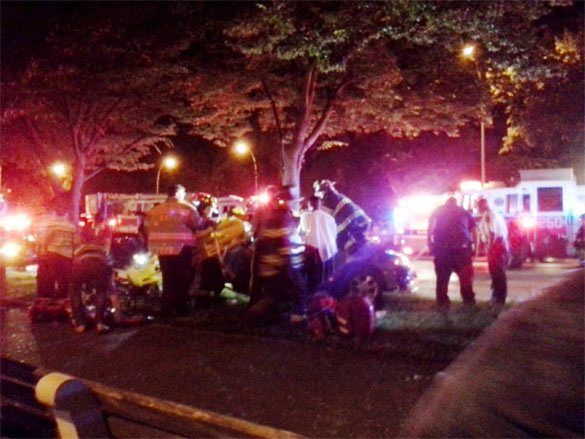 A car crash in Midwood turned fatal when Zahurul Alam lost control of his Lexus and slammed into a tree early Sunday morning. The New York Daily News is reporting that Alam lost his life and injured his two friends who were along for the ride.
The accident happened at 2:45 a.m. Sunday, as Alam headed north on Ocean Parkway near Avenue J. Alam, who was 20 years old, died instantly, with witnesses saying that his body was barely visible in the wreckage.
"It was bad … You couldn't even see the driver, he was killed right away … I don't know if he was wearing a seatbelt," witness Benny Uzilov told the Daily News.
Uzilov went on to describe the visible condition of the other passengers.
"The passenger in the back didn't have a scratch. The guy in the front passenger seat was moving his legs a little but his head was back. (Responders) were talking to the guy in the back, but he was just looking around," Uzilov said.
The friends of Alam were transferred to Lutheran Hospital in critical condition but have now been upgraded to stable.
Alam was believed to be speeding, according to reports.