Candlelight Vigil Remembers Cyclist, But Also Seeks Justice And Safety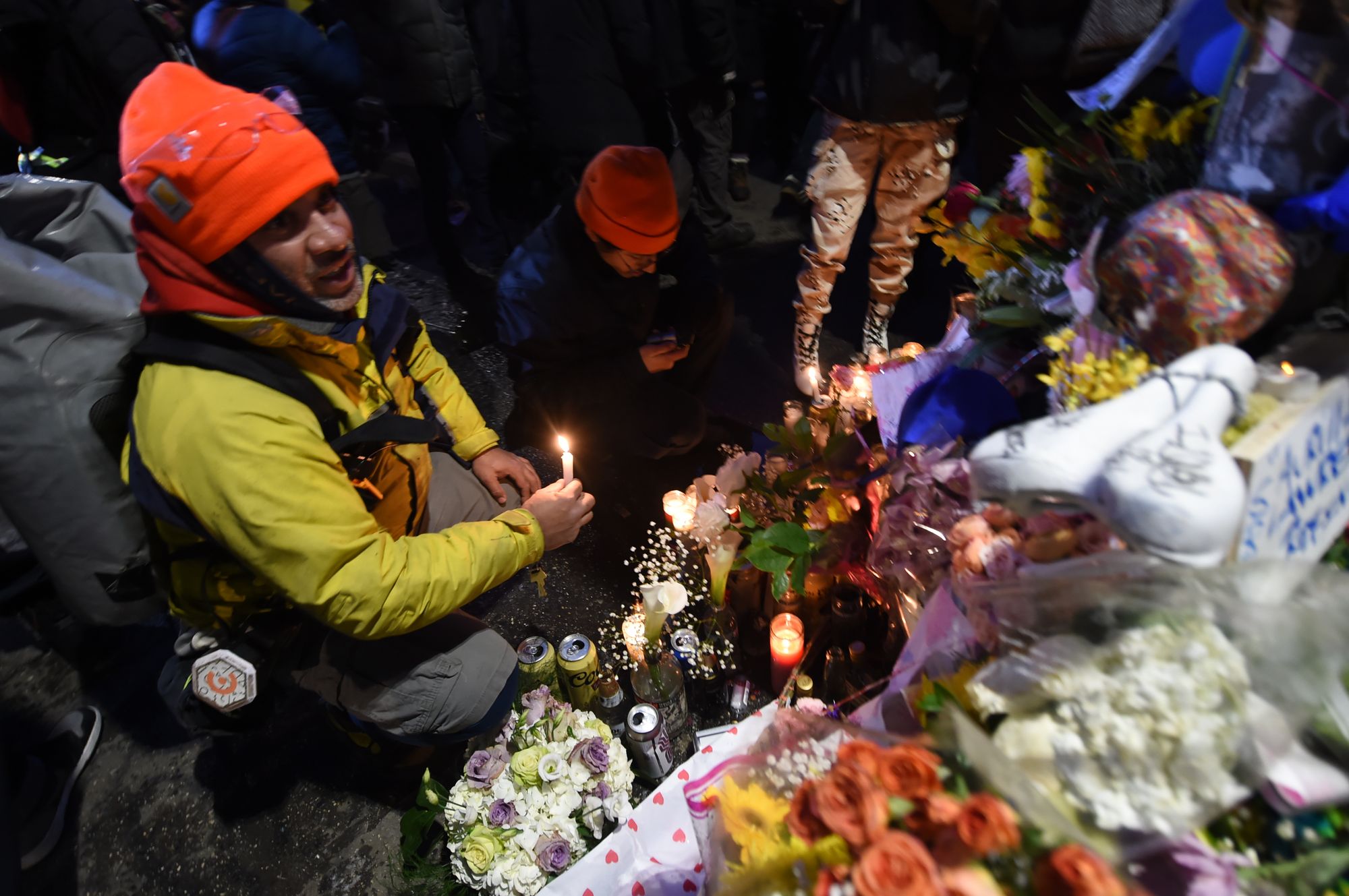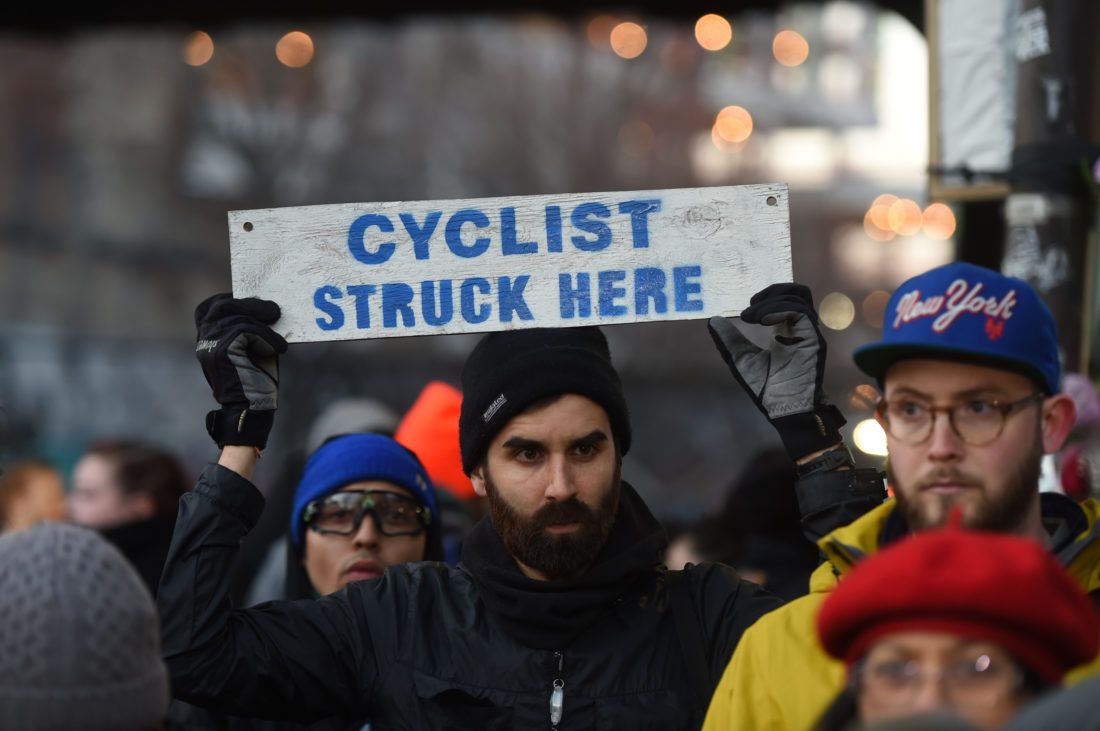 WILLIAMSBURG – "A ray of sunshine in a dark world." That was the message at a memorial gathering of tearful bike messengers from throughout the city on Broadway near Marcy Avenue in Williamsburg. They were there to remember their friend and fellow messenger Aurilla Lawrence, 25, who was killed on Thursday night while riding her bike, struck by an 18-wheeler who then left the scene.
Scores of candles – some adorned with the Virgin Mary, flickered next to cans of beer and flowers.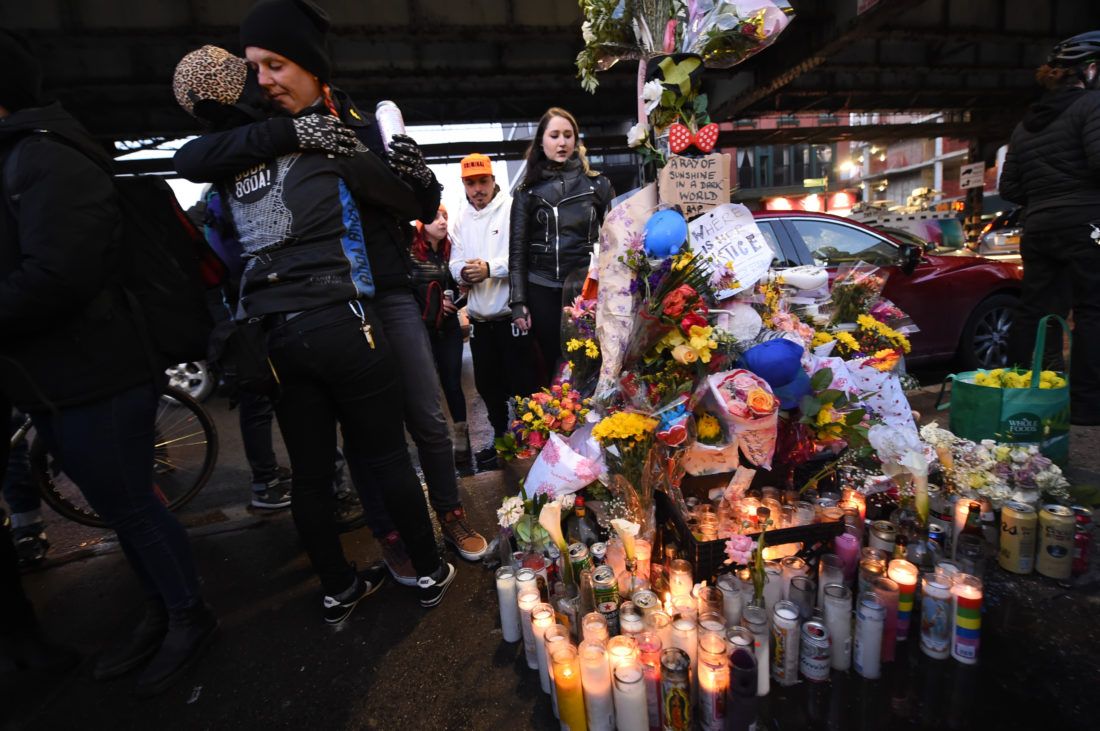 They encircled the ghost bike, painted white and chained to a pole – a reminder that a cyclist was killed at this spot as it does around the city.
A ragged piece of paper pinned to the memorial cried, "Where's the Justice?"
The cyclists were joined by activists and elected officials last night, March 4, as they expressed anger and frustration with the dangers of riding a bike in the city – five people have been killed on bikes since the beginning of the year.
They called on the city to create a bike lane on Broadway and to find more ways to make their jobs safer.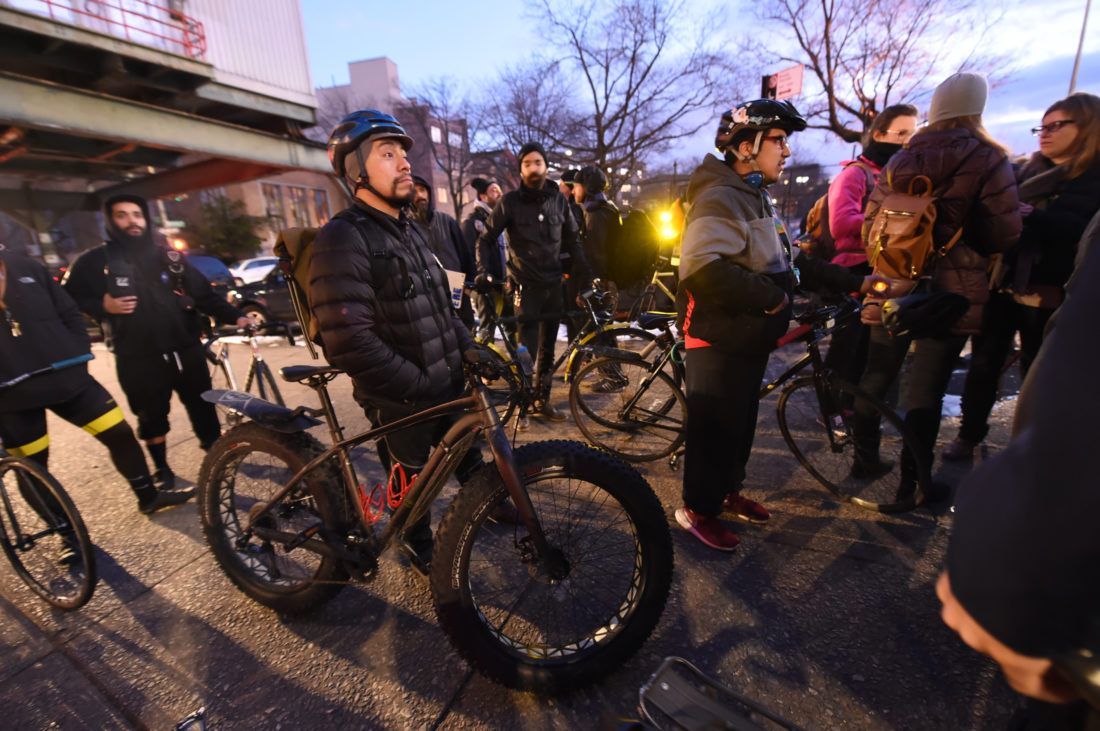 They also wanted 'justice,' though most admit it was possible the driver didn't know he had killed a cyclist.
The driver of the 18-wheel tanker truck who drove away without stopping after crushing her under its wheels, was only this morning identified by police, who had set up an alert asking the public for information on the fatal crash. No charges had been filed as of this morning.
Activists called for the creation of a bike lane on the very crowded and congested Broadway and requested that these bike lanes be connected and integrated throughout the city.
"Mr. Mayor,(Bill de Blasio), where ever you are, what is the excuse, why aren't we making the proven changes to our streets, why aren't these changes happening, and why aren't they happening now," said Phillip Leff, chair of the North Brooklyn Transportation Alternatives. He called on the city to move more quickly to establish the bike lanes, especially on Broadway.
The death marks at least the fifth cyclist killed this year — compared to 10 cyclist deaths in all of 2018—and the fourth killed in Brooklyn. According to data from the NYPD, there have been 379 cyclist injuries in 2019, compared to 351 at this point last year.
"It's a tough moment for them as one of their own was hit and killed on this street," said Juan Melendez, a Brooklyn born bike messenger. "We believe these types of deaths are preventable and until we get to zero deaths we haven't succeeded. We seen increase of people getting killed by vehicles since the beginning of the year –so we need to match the crisis with some level of initiative – I don't think that we are there."
Omar Perez, a city-wide bike messenger who gathered at the memorial with many others, said riding in the city is a constant danger.
"It's a real thing that happens -I'm pretty new to this since 2016 and I know that it's common and this has happened to a few people," Perez said. "What happened to her is scary because if you ask anyone with a bike beneath them, they will tell you how close they come to nearly losing their life. It seems like the city has something against cyclists –it just seems like it doesn't get the proper investigation it needs to get."
But like many others at this candlelight vigil, he preferred to talk about the woman they called, "Aurilla Gorilla," for her fearlessness. She was part of a tight-knit community of bike messengers, many of whom remembered her as a "bright light in a sea of darkness."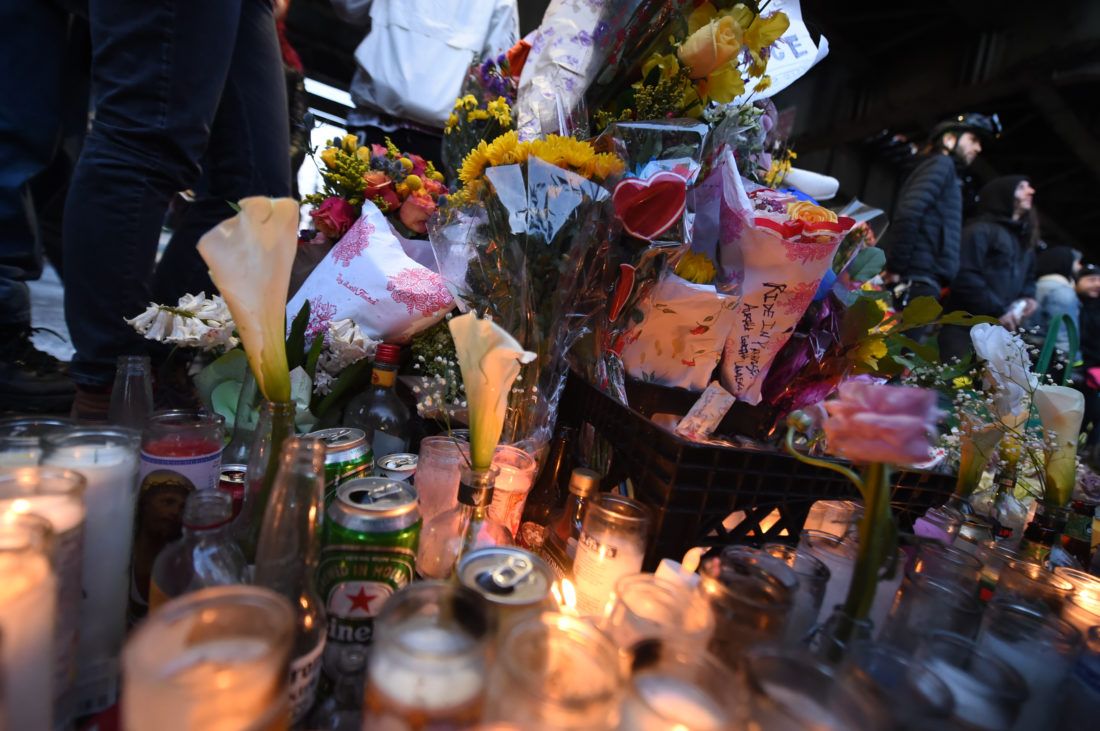 "I knew her for only a few months. But in that time, it felt like you knew her for a lifetime," Perez said. Many very close friends were on hand for the memorial.
Her close friend Danielle Dusnic stood at the memorial and hugged friends. She said she and Lawrence had just returned from a vacation, where she was pictured happily riding in the tropics, on a deserted road "heaven on earth" for a biker.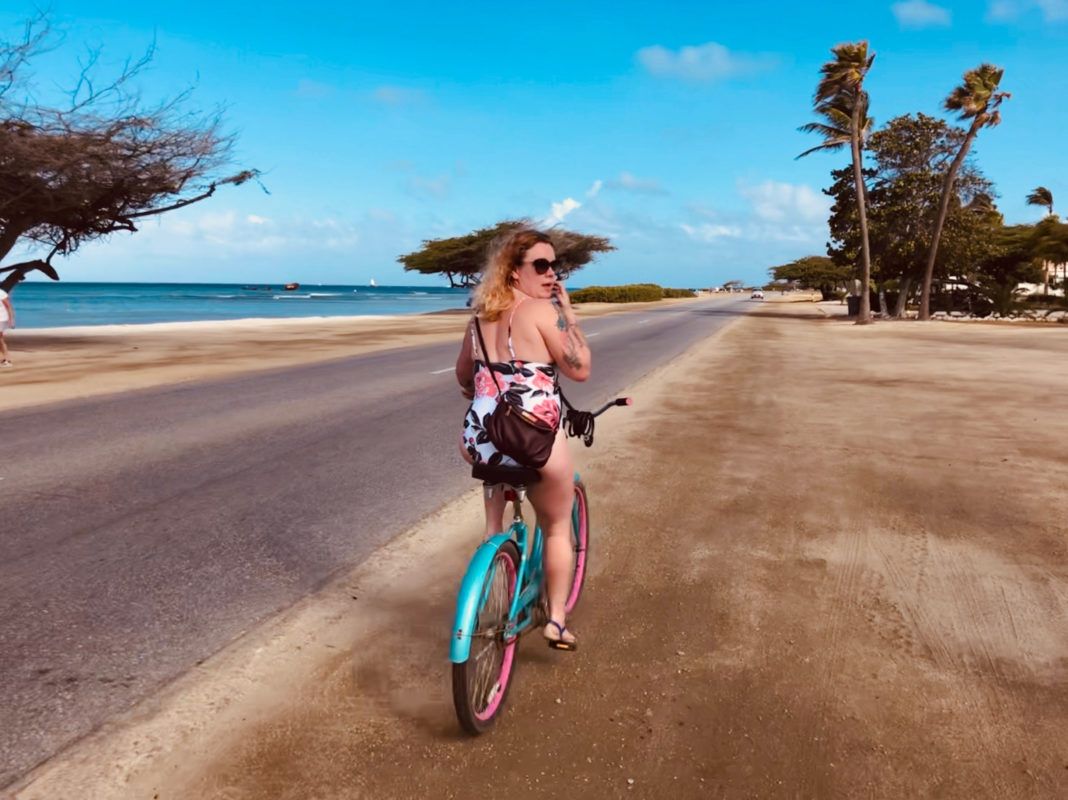 She was right back doing her bike messenger job the next day on the more dangerous streets of the city, where she lost her life in a city her friends say she loved.
"We had just come back from Aruba-we had the best time," Dusnic recalled. "Of course, we rode our bikes there – it was something she loved to do and she worked so hard to make her own money – she was so proud to pay for this herself."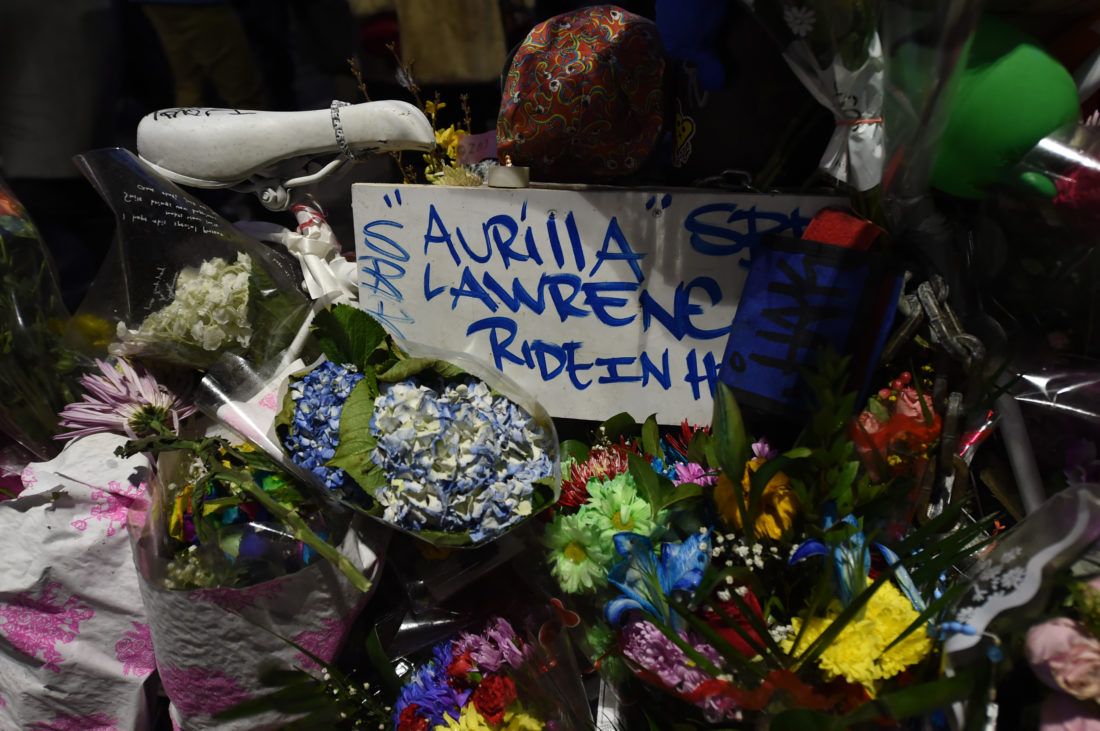 Most of the cyclists preferred to talk about the goodness Lawrence brought to the streets. "I used to get a text message from her every morning – she would say "school teacher, get up and teach your kids," said Manny Miancin of the Bronx.
"I would only ride to Brooklyn because of her –and I hate riding to Brooklyn, but any other reason except for her – I used to live in Parkchester and she called me because she was having a horrible day. She'd say, 'please meet me in Brooklyn, I need to have a drink with a friend.' I came all the way from the Bronx for her, you know how far that is."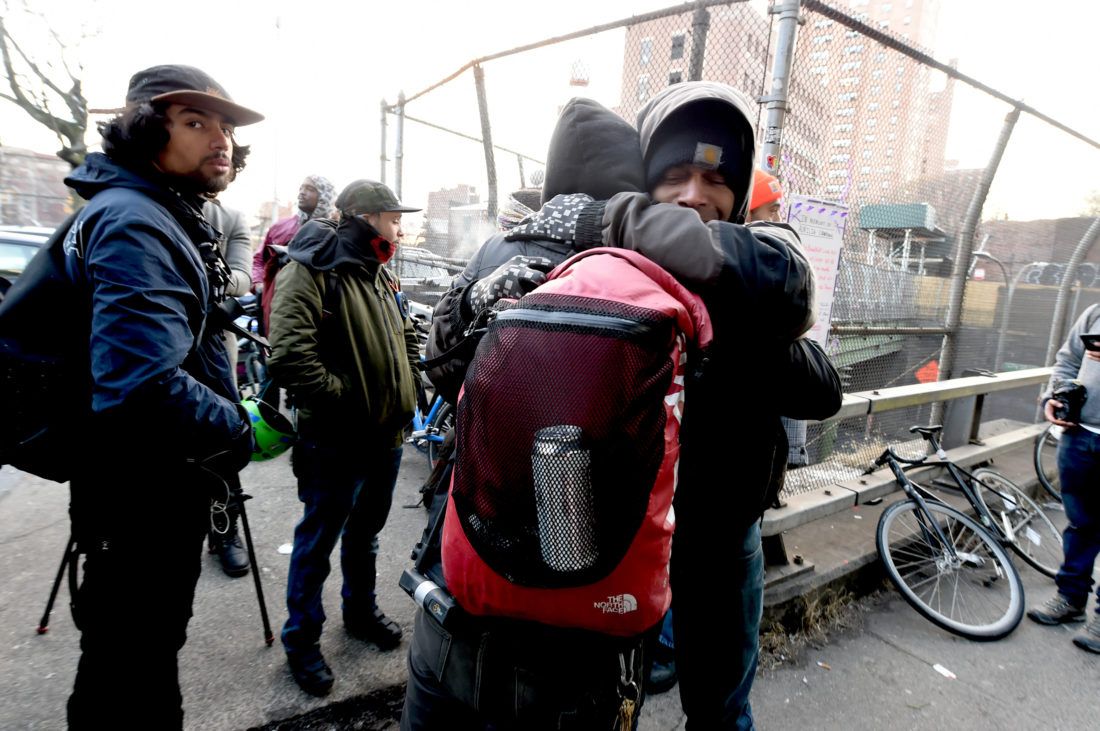 Tony Monroe of Queens remembered working with her to organize the Three Blind Mice Bike Race in Canada. He met her when he used to run a bike shop on the lower east side. "She used to come in to have her bike serviced, a flat fixed, or bearings for her wheels. She used to run a bike race, I helped her out with that – she was a breath of sunshine."
Her friend "Genesis M" led a moment of silence for their close friend.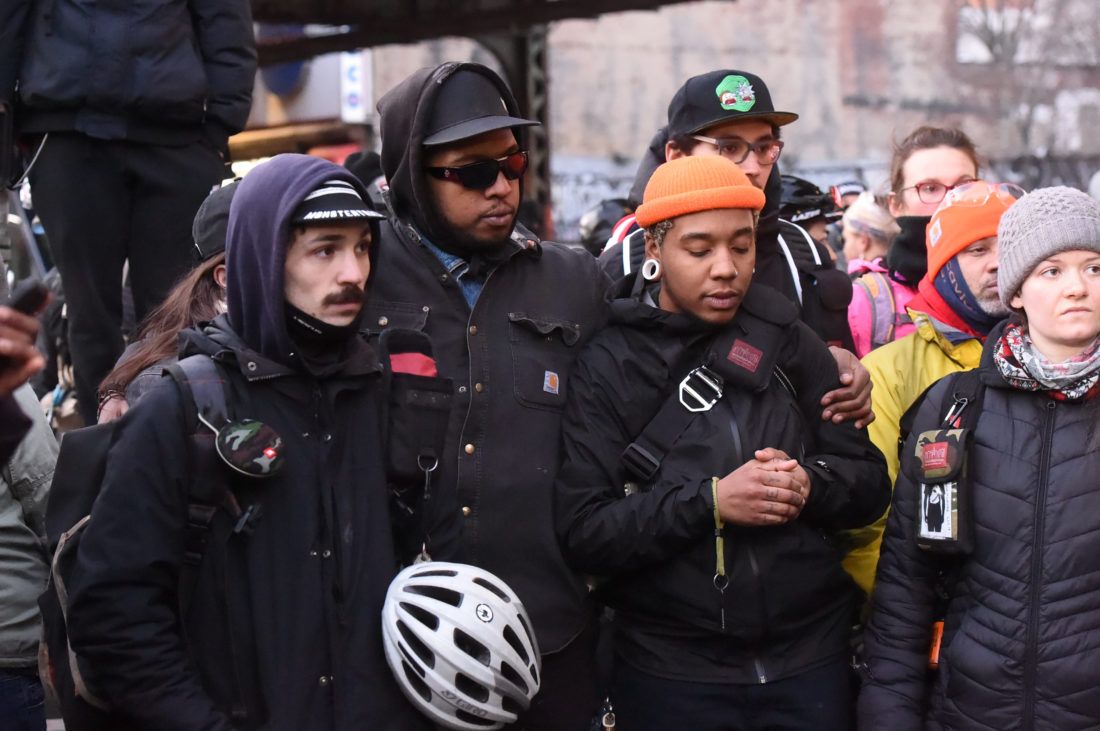 "We used to hang out every day after work, go to the bar, drink and relax – she gave us so much light – she was always singing and writing – it's hard to be a bike messenger and she made our lives a little bit better. Yes, I'm so upset and I'm now angry at every driver–almost irrationally upset – but the city needs to do better. It's just so much."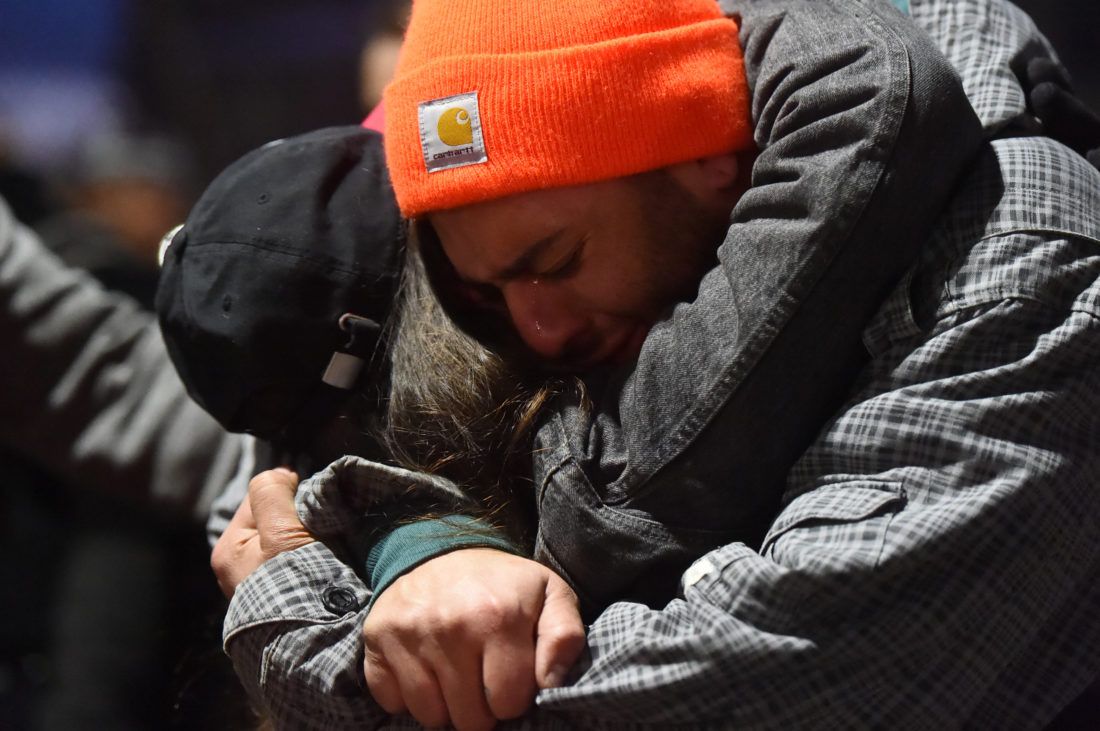 Francisco Frankie Garcia, a friend with her for seven years, met her before she was part of the bike community."She thought I was a cute guy on a bicycle," he joked."We were going to see the Rockefeller Center Christmas tree on our bikes, and I asked her if she wanted to join me and my friends, and it just ended because she hadn't gotten off the bike since," Garcia said. "She called us a bunch of idiots, but she wouldn't have had it any other way. She was great light upon all of us – good energy."
Lizi Rahman was more stoic about the death of Lawrence as she lost her son Azif to a similar crash with an 18-wheeler. She wore a button with his picture, recalling the day as though it happened yesterday. She said she is on a mission to make it safer for cyclists.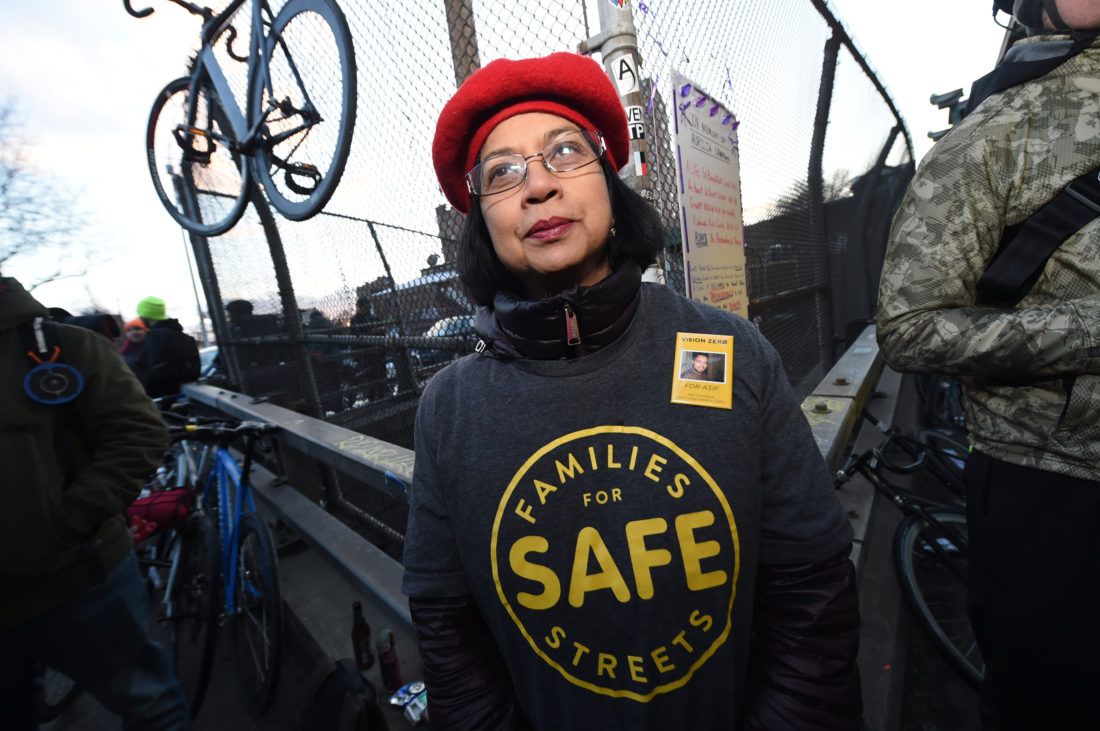 "I'm here because my son would love to ride bikes and he too was hit by a big truck, that driver didn't stop, and kept going. The street was crowded so they were able to stop the driver after two blocks," she recalled.
"He was only 22 years old – he was just riding to his job at a public school as a teacher assistant – it was his third day on the job. I'm here to show support and we need a bike lane here, I fought for it on Queens Blvd and finally, we got it. A bike lane here would create some sort of awareness and drivers would be at least more cautious."
It was unclear as of press time whether the driver would be charged.