Calisthenics Competition Braves Cold in Bed-Stuy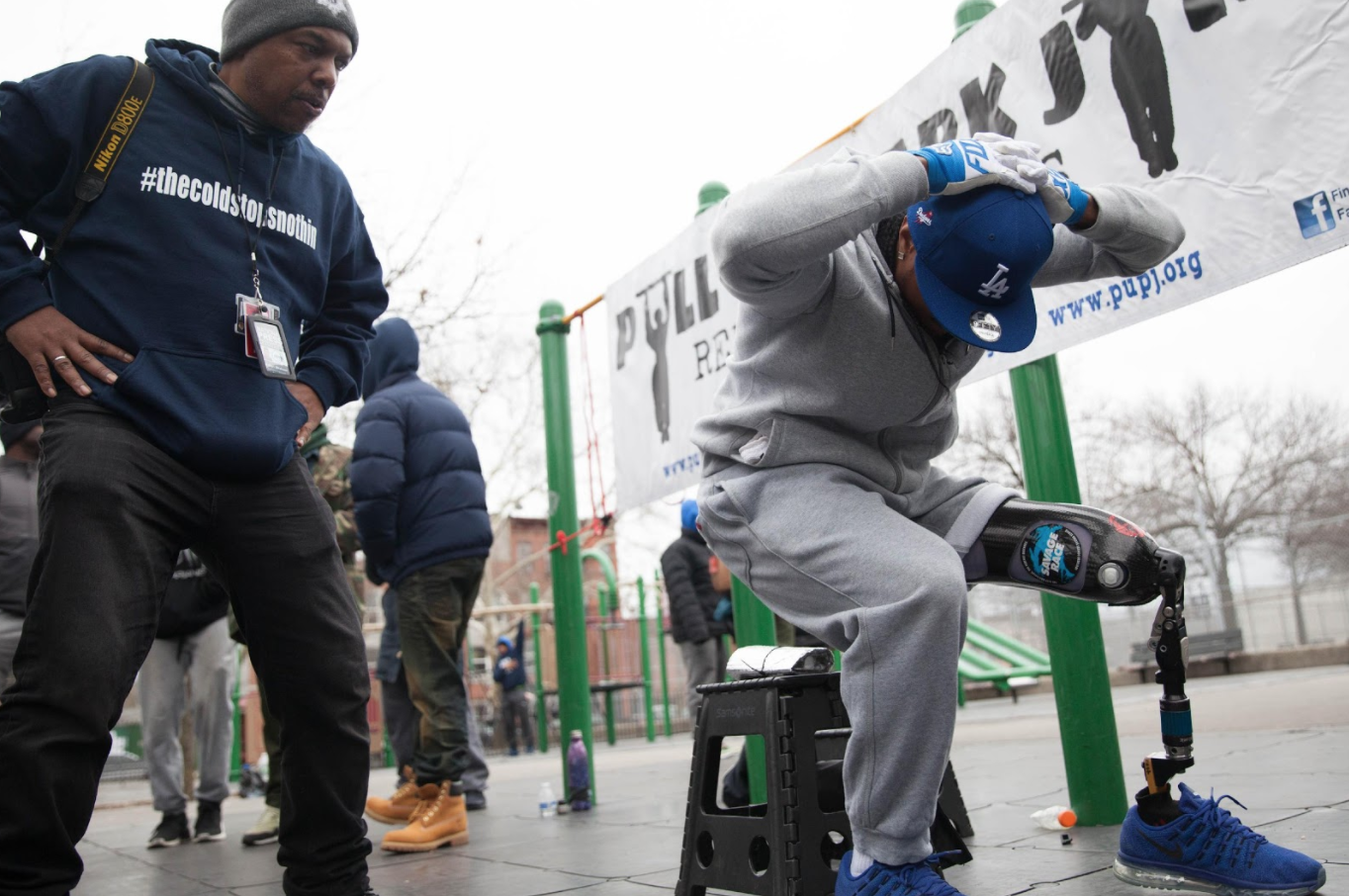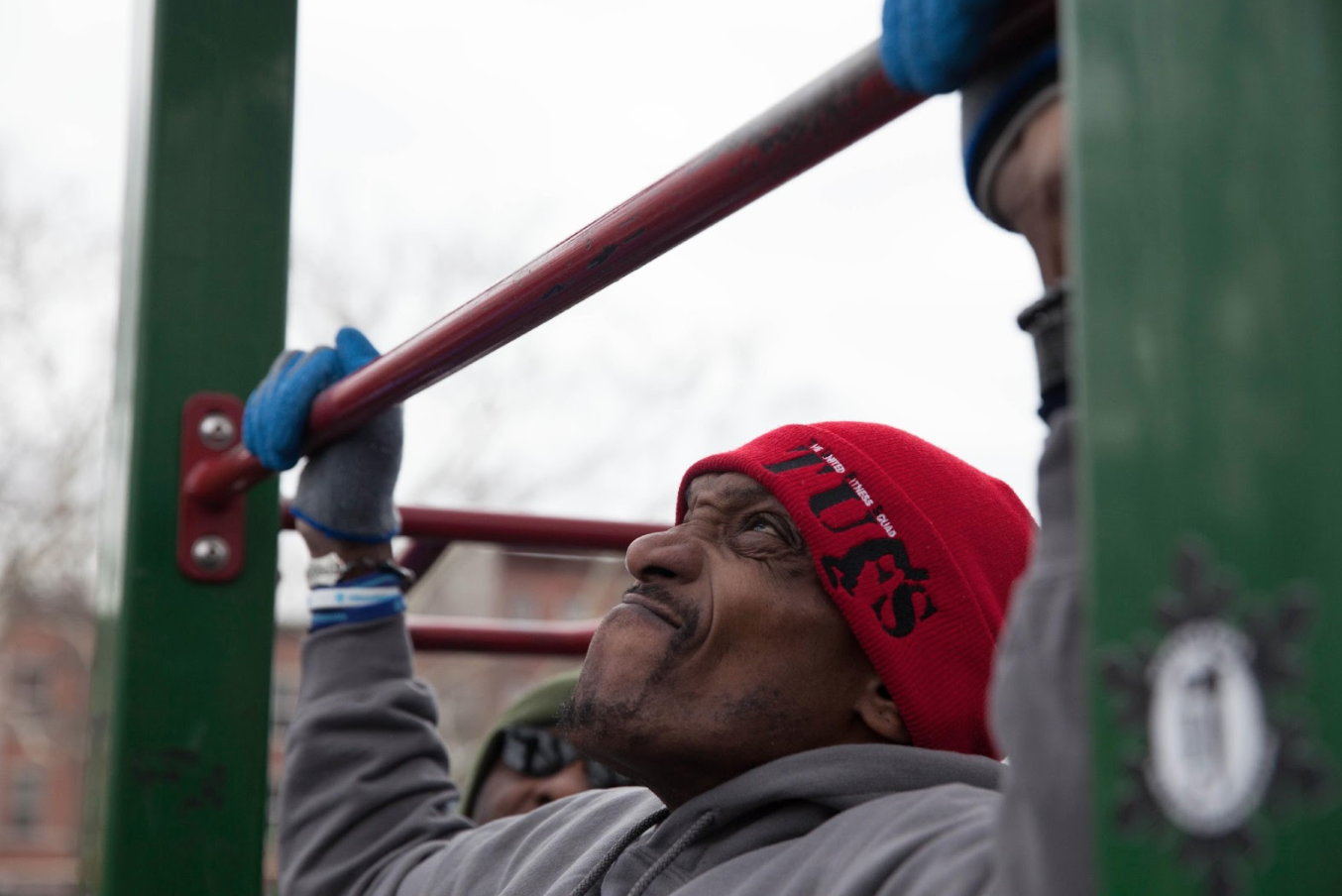 BEDFORD STUYVESANT – An outdoor calisthenics competition brought a burgeoning online subculture back to its Brooklyn roots as Pull Up Park Jam held its Winter Reps competition on Saturday at Jackie Robinson Park in Bed-Stuy.
Pull Up Park Jam, formerly known as 5Bs for Body Built Beautiful By the Bar (and, alternately, 5 Boroughs) is an annual summer competition that first began in Bed-Stuy in 1998. Since then YouTube, Facebook and Instagram have made outdoor calisthenics into a worldwide phenomenon. The crowded field drew a diverse range of competitors–some from down the block; others from as far away as Florida and Michigan.
This was the fourth iteration of a winter contest and its growth provided an opportunity for its founder to reflect on how far the culture has come since the competition began in 1998.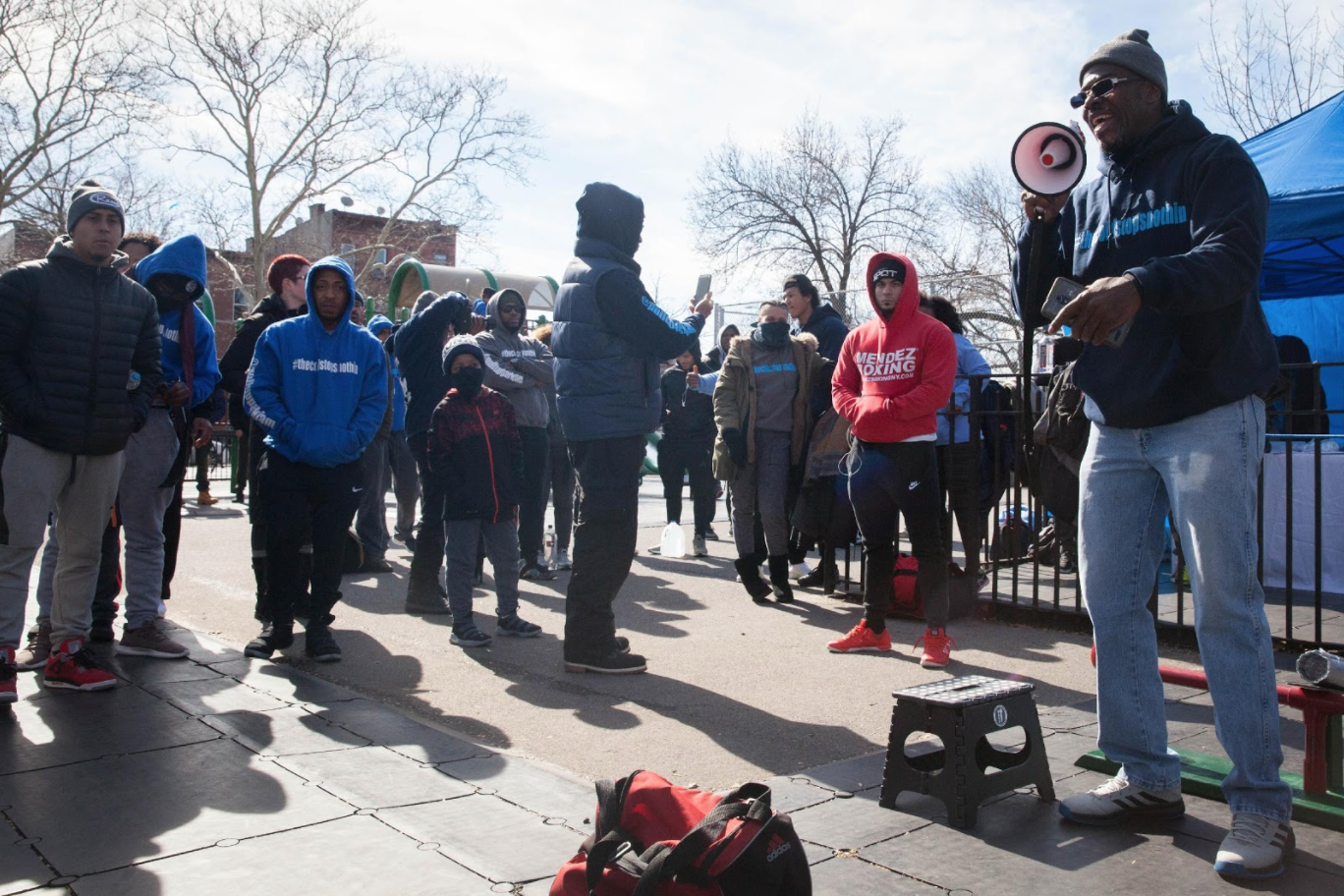 "None of the stuff was here like this," said Pull Up Park Jam founder Keith Fields, as he gestured towards the park's well-maintained pull-up and parallel bars and incline benches.
"We had just monkey bars and they had a string hanging down with a tire on the end," he said. "Guys used to bring their pit bulls and they used to grab the tire and swing them around locked on the tire."
Along with the February chill, the contest had the air of a pilgrimage to the place where it all began.
Competitors, split into four divisions by weight and gender, kept the cold at bay by doing a circuit of pull-ups, squats, and push-ups with 90-second sets of each exercise. When they weren't competing, they stayed warm by encouraging one another.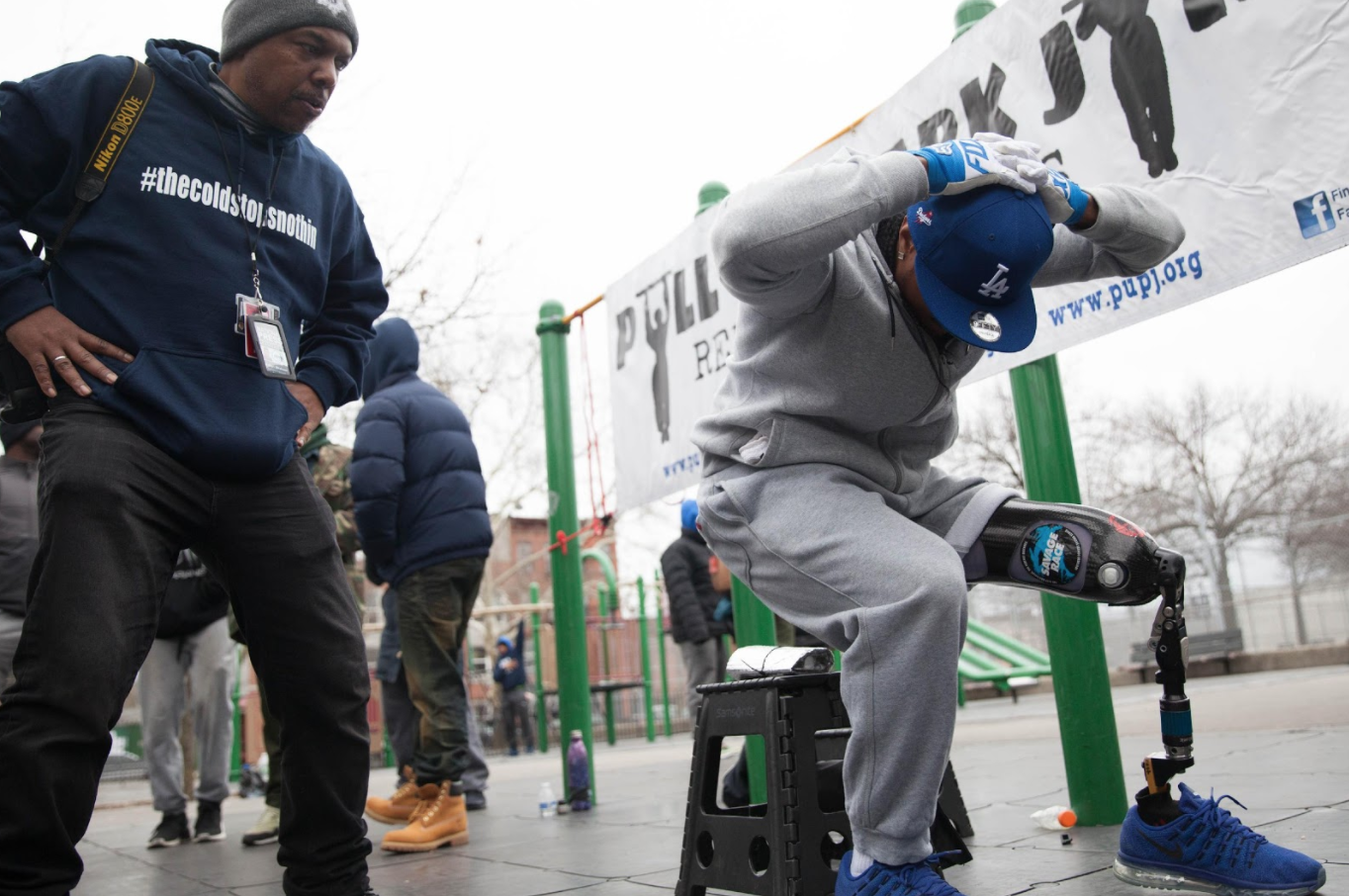 "It motivates you to improve and become the best you can," said Brian "One-Leg Beast" Ross, who came from Kissimmee, Florida to compete in the heavyweight division. "I'm never competing versus nobody, I'm competing against myself."
Ross had his left leg amputated after a motorcycle accident in May of 2016. Before the crash, he had already been doing calisthenics. Afterwards, it became an integral part of his recovery.
His performance in the competition, particularly while doing squats on his prosthetic leg, inspired raucous chants of encouragement from the crowd.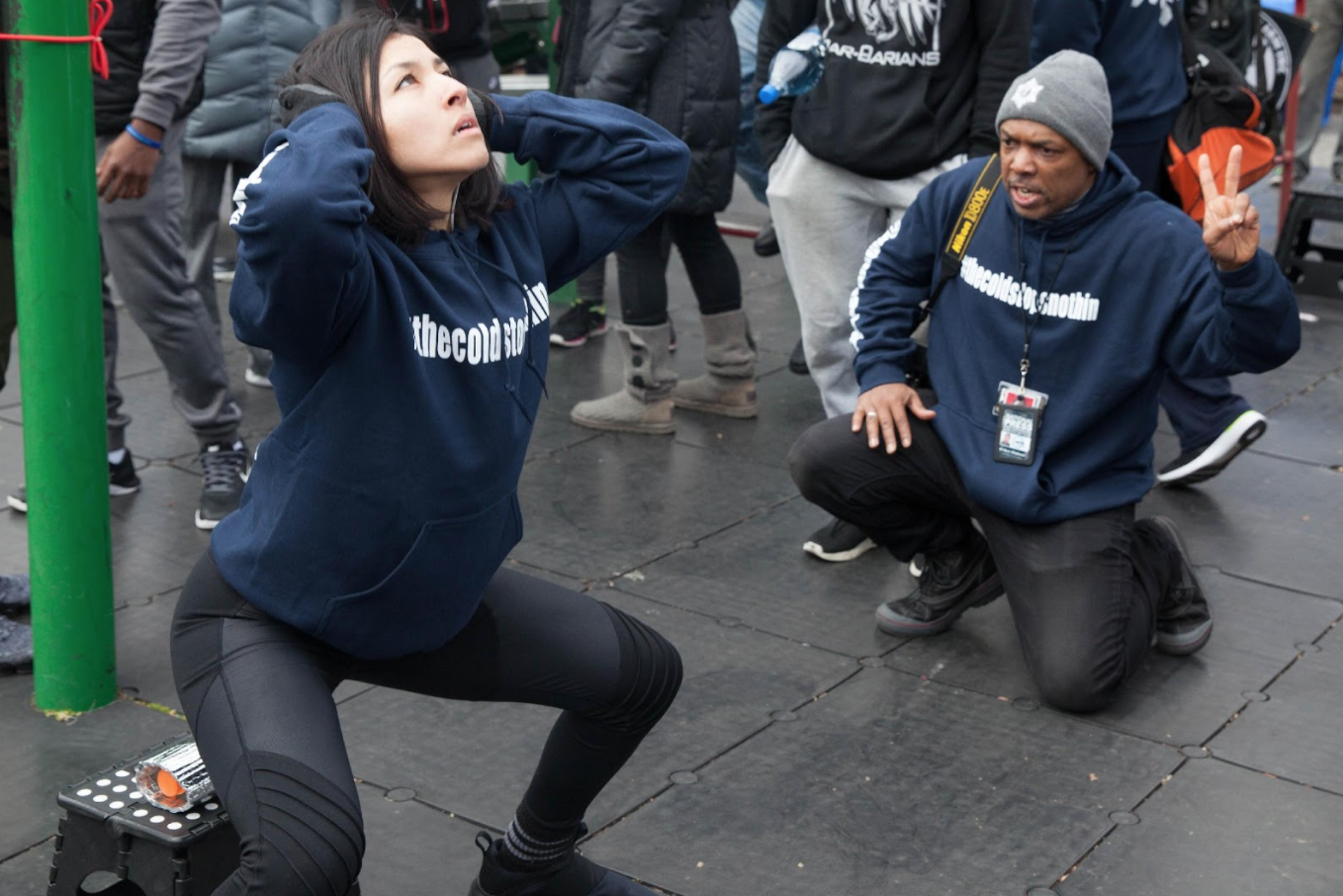 "For a lot of people, this is kind of like our therapy," said Leticia "Letty" Duran, who came from Jamaica, Queens to compete in the women's division. "This is something that you yourself can control, no one can tell you whether you should or shouldn't do it or you can't do it."
Quincy France, a trainer and motivational speaker who works out at Macombs Dam Park in the Bronx (home to the Brotherhood team), was adamant that anyone can do it.
"Research your closest park or whichever park you're interested in and reach out to them," he said. "The worst that could happen is you get a good workout."
Andrew Dixon, Dave Sullivan and Jake Juillet were finding that out. Back in Cheboygan, Michigan, they had been looking for CrossFit competitions in New York City online when they stumbled on a listing for the Pull Up Park Jam. They booked plane tickets and a hotel in Midtown, expecting a more routine CrossFit competition.
"We didn't realize it was a calisthenics community—I've never seen anything like it," said Sullivan. "Now I just want to challenge myself and see if I can even come close to what these guys have."
After his turn on the grueling circuit, a panting Sullivan was asked how he felt. "Horrible," he said, smiling.