Bushwick Bodegas Exhibit Art in Living Advent Calendar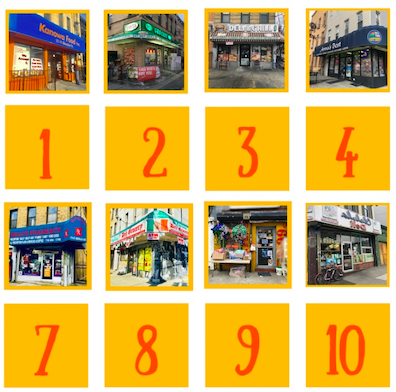 BUSHWICK – In bodegas across Bushwick this holiday season, neighbors and shoppers will find something new among the quick-stop staples they shop for: art.
The Bodega Advent Project, a joint undertaking between Bushwick Abbey and Iglesia de la Santa Cruz, will be creating a living advent calendar in 24 shops across Bushwick and Ridgewood, displaying art from 24 local artists, exploring themes of "welcoming and working for a better world."
On each day leading up to Christmas, the program will highlight a new artwork displayed in the window of a participating bodega.
While the project will be highlighting the works as a countdown to Christmas day by day, all the artwork is currently installed, so if you're traveling for the holidays, you can swing by and see all the pieces before you go!
Visitors are encouraged to patronize the bodegas they visit and chat with employees, creating community around the art in spaces that are "frequently the last citadels against the sweeping tide of demographic change and displacement in communities," according to a project statement.
"In the face of incessant pressure from advertisers to consume beyond our means, the season of Advent presents an opportunity to resist consumer culture and to reflect on the systems that distort our relationships with one another and the earth," said Rev. Nell Archer, Vicar of Bushwick Abbey and Iglesia de la Santa Cruz.
"The Bodega Advent Project encourages the community to use Advent as a time to engage our imaginations in the work of creating a better world where all are welcome and all can flourish."
Visitors can pick up their own advent calendars and stickers for each artwork at Kanowa Food, located at 1711 Bleecker St. Ridgewood, Queens. There will also be guides to the bodegas and artworks.
Artwork will be displayed until the new year. A map of the participating bodega locations can be seen below, along with a list of the locations and addresses: