Meet The New 'Established Gallery' In Prospect Heights
PROSPECT HEIGHTS – A leg, truncated from the knee up, nervously treads. Disembodied hands point and prod. Gears spin, colorful lightbulbs blink, and a hammer slowly taps away. This odd assortment of moving parts makes up Stuart Lantry's nine quirky kinetic sculptures currently on view at Established Gallery.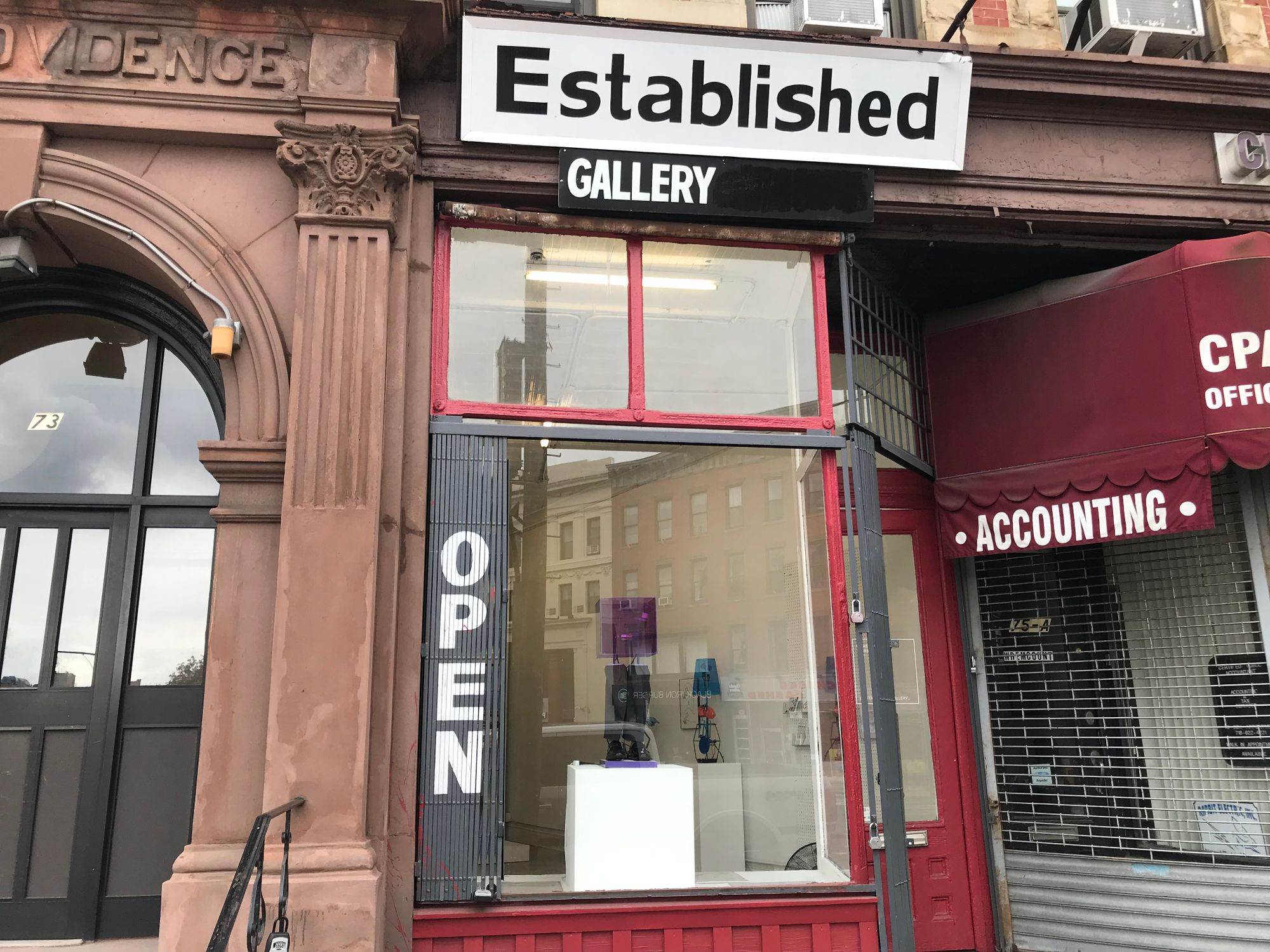 "If I made sculptures, this is what I would want to do," said gallery owner Greg Griffith of the Philadelphia artist's work presented in the exhibit Strange Loops. Griffith, a painter, officially opened Established Gallery earlier this year. He lives with his family just around the corner.
"That's how I found this space. I used to walk to get coffee every morning and this was a thrift store that had been here for 30 years," he explained. Griffith used to buy items for his still-life paintings from the old woman who sold "trinkets out front."
"She had the weirdest collection of things," he recalls. That collection became his when he took over the storefront two years ago with plans to continue running the space as a thrift shop-cum-art gallery.
"The space kind of came about by happenstance…this lady was ready to leave and I saw an opportunity because I was ready to try something new in my life," he said. "I come from a kind of punk DIY background where you just do it, you figure it out, and somewhere in that you develop your own identity." He curated the woman's inventory, cleaned up the space, and ran the thrift shop for about a year.
"At first I would clear everything out and have an opening one night. Then I'd put everything back and hang the art above the [merchandise]," he recalled. "I thought I could do this hybrid thing, but I was uncomfortable with it. It just didn't feel right…. Then I just realized this space would be much better if I just took the leap."
"I was a big thrifter when I was a kid," he added. "I thought it would be fun and then I realized…that's a hard business and it wasn't my focus. I wanted to be showing art."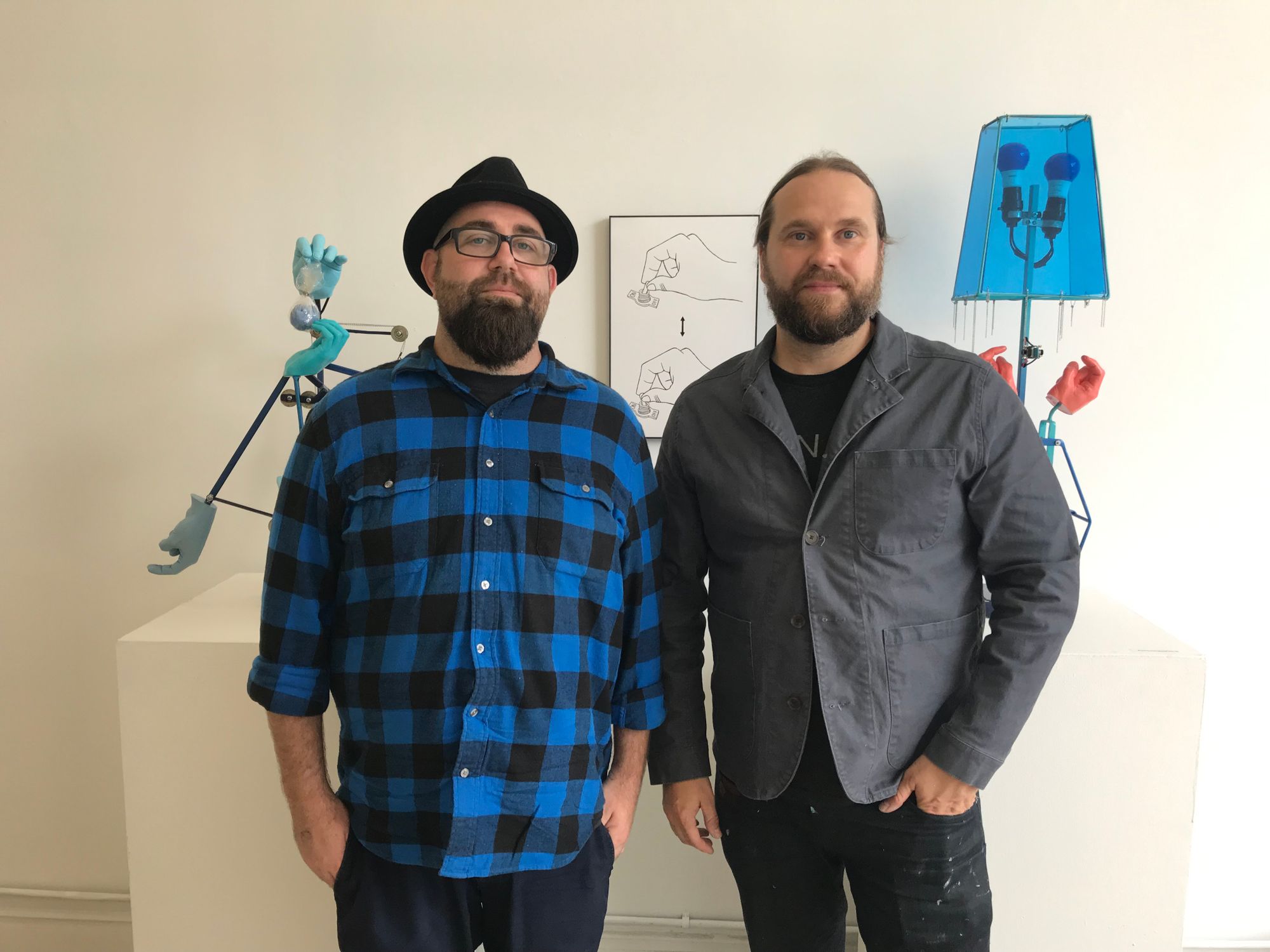 Griffith reached out to Gowanus-based artist Johnny Thornton for advice. Thornton has been working in Brooklyn for about nine years and was appointed Program Director of Arts Gowanus back in January. Griffith hosted an exhibit of Thornton's black-and-white portraits at the gallery space in April.
"That show went really well," said Griffith. "It was interesting seeing what sold, what didn't…really kind of learning. We became friends through that. We both started seeing that we wanted to do something in this gallery that would compete with Chelsea or the Lower East Side. And we knew there was an audience for it. We were convinced by then there was an audience for a real commercial-type gallery in a neighborhood setting."
With newfound confidence, Griffith was finally able to drop the thrift shop side of the business. The "tongue in cheek" name pokes fun at the art world's common use of the term "established" in front of "art gallery" or before a date (e.g., "established in 2019").
Griffith collaborated with Thornton on Established Gallery's next exhibit—Rendering Likeness, a group show in June curated by Thornton featuring contemporary portraiture by 40 NYC artists. "One of his first suggestions was doing a group show here, building interest, getting on the map, letting people know that this is a cool space," said Griffith. "It's a great location, but we are kind of an island, it's not like being in Chelsea."
"People have to come to us," Thornton added. "We don't have any residual traffic from other galleries. People have to actually come and seek us out."
People did find the gallery and also purchased works from Rendering Likeness. "I think in that show, in terms of selling work, we realized there's sort of a collector base around here that's thirsty for things like this," said Thornton.
During the quiet summer months, another group show curated by Brooklyn-based artist Darragh Rosenberger transformed the 800-square-foot gallery into a retail concept store. In September, Thornton officially joined Established Gallery as Director, curating exhibits and managing the operations of the space.
"We're partners in building a program of artists we're excited about, that we feel the neighborhood will be excited about, that we feel collectors will be excited about," Thornton said. "I feel because it's a two-man operation, both of our jobs are all-encompassing," he added, noting that their shared duties also include installing the art, painting the walls, and sweeping.
"In terms of building a program, since we're so new, we're just sort of establishing ourselves, no pun intended," Thornton continued. "We're building in a way that's sort of organic…. It's exciting to have the ability to say, 'Hey, I just saw this artist I love. What do you think? Why don't we reach out?'" The duo hope to use the Project Space in the rear of the gallery as a place to foster younger artists and help them execute their ideas.
"I love painting so I want to show different types of painting as much as possible, but I also want to bring in ideas that inform me," Griffith noted. "I want to open the space up to other people, but finding those people, finding those ideas takes time."
In October, Established Gallery will present a solo exhibit of Griffith's work, followed in November by another group show, Macho, curated by Gowanus-based artists Alexandra Rubinstein and Andrew Smenos. "It's a little risqué, it's got some heavy-hitters. I really think we can make a little splash with it," said Griffith. "Which at this point, that's really where we're at. How do you get noticed and make this a destination for people?"
Even if you're not an art collector, the two invite neighbors to visit. "Just come in and see what's being done," Griffith said. "I love the families that roll in with their strollers—because I'm one too—and the kids checking things out and looking at art. I do want to be that kind of neighborhood gallery presenting smart ideas."
"Connecting artists with collectors makes me happy," said Thornton. "It's just what I like to do. To bring dynamic work to this neighborhood and to collectors, that makes me happy."
Established Gallery
75 6th Avenue (between Flatbush Avenue & Bergen Street), Prospect Heights
Hours: Saturday & Sunday, 12pm to 6pm or by appointment
Videos of Stuart Lantry's kinetic sculptures featured in Strange Loops, on view at Established Gallery September 7-29. Video 1 features Lantry's Ballad to Failed Relationships (Feat. Hammer and Nail); Video 2 features Lantry's Anxious Energy; Video 3 features Lantry's Too Cool, I AM BATMAN, and Self Portrait with Sunglasses and a Sack of Nuts. (Pamela Wong/Bklyner)