Brooklyn's Street Homeless Raise Worries, But Officials Warn It's A Long Haul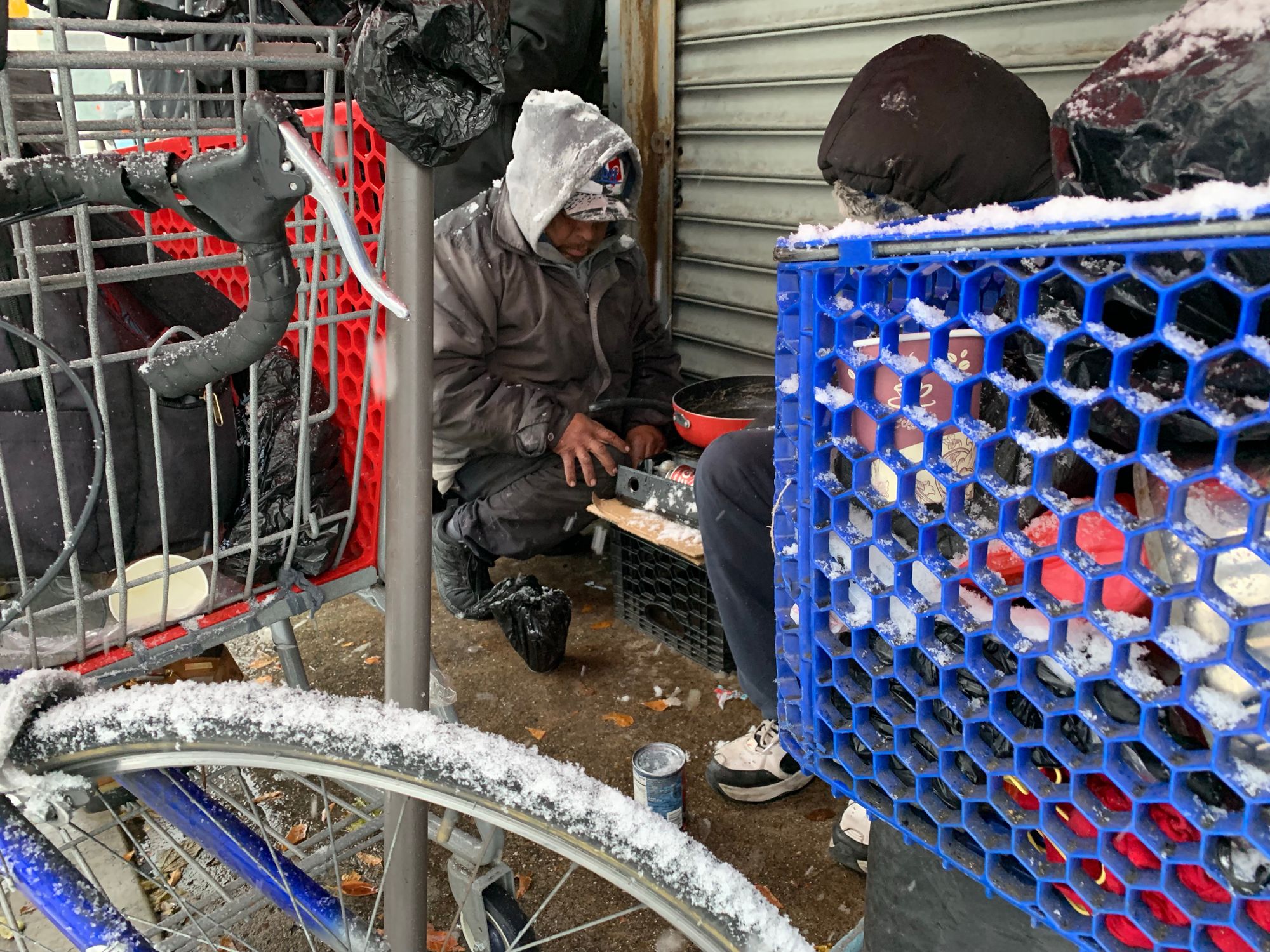 BOROUGH PARK – As the first snow of winter 2018 dumped on Borough Park Thursday afternoon, a handful of men stood huddled beneath a small awning at 61st Street and Ft. Hamilton Parkway. Some of them held umbrellas atop shopping carts loaded with empty bottles and other knick-knacks in the biting cold wind, while two others began setting up a gas-powered hot plate to cook food.
"We're okay," said Antonio, the group's de facto spokesman, washing his hands quickly from a water jug sitting on the sidewalk.
Despite a visit earlier that day from homeless outreach workers, Antonio said that, as usual, that night he and his friends had no plans to sleep in a shelter.
"It's no big deal for us. We're not going to go, we're going to stay, everybody can keep warm, everyone has something to do, we're okay," he said.
Antonio and his friends have made this block near the borders of Dyker Heights, Bensonhurst and Sunset Park a makeshift home base as they struggle to survive on the streets. They spend most of their time a half a block away, where 61st Street runs along an MTA rail-yard. The N train can be heard announcing arrivals at the Ft. Hamilton Parkway station.
Despite having a legal right to a shelter bed in New York City each night, Antonio and his friends choose not to join over 60,000 other New Yorkers in the city's shelters.
They are "street homeless," a small and often-overlooked subset of New York City's homeless population who prefer to stay out of the shelter system.
Antonio and his friends have become well-known in the neighborhood, with many businesses giving them their leftover food. The owner of an auto body shop across 10th Ave allows the men to sleep in front of his garage doors after he shuts down operations each day. Most residents Bklyner spoke with did not consider the men disruptive or dangerous.
But some residents and businesses blame the homeless men for garbage that gets regularly dumped along 61st Street between 8th and 15th Avenue, though that appears to have also come from local businesses dumping late at night.
There have also been complaints about the men urinating and even defecating in the area, charges Antonio denies. A worker at a nearby school said the men have left their possessions outside their windows, and sometimes sleep in front of their building, adding they have called the police on them before.
But overall, residents and business owners mostly expressed concern about Antonio and his friends' well-being, wishing the city would take them to a shelter or find them a place to live, especially as winter approaches.
"I don't find it appropriate for them to be out in the cold, honestly, it's sad," said Christine Demetriadis, who lives nearby.
But Antonio says they don't want that kind of help. They simply prefer being on their own and sticking together.
"They have the rules," Antonio said. "You have to get there on time, you have to get out on time, you have to get in on time. We aren't that kind of guys."
He added that they wanted to hold on to the meager personal possessions they keep in their carts, which they fear would be taken away should they go to a shelter.
Giselle Routhier, the Policy Director for the Coalition For The Homeless, said this is not an unusual sentiment among the street homeless.
"Most of the time it's because of a very rational decision on their part," she told Bklyner in a phone interview, "either because they've been there before and have had a bad experience, are afraid to enter the shelter system or are dealing with some other issue."
Routhier said many street homeless also tend to have a physical or mental health issue. Antonio said one of his friends has diabetes, and another man named Juan appeared to be physically disabled.
Routhier says it is very difficult to gauge the magnitude of the street homelessness problem. The city does an annual one-night survey of the number of unsheltered homeless. The last one, conducted January 22, 2018, counted 3,675 people sleeping on the streets.
Routhier said that as the sample is one night each year, it is hard to draw any real statistical conclusions, but a Coalition for the Homeless report she authored this year estimated their numbers in the thousands.
Experts and outreach officials say the work of transitioning street homeless into shelters or permanent housing is a long and difficult one. The process of building enough trust to get people off the street can take weeks, months and even years.
New York's Department of Homeless Services said outreach workers from Breaking Ground, a nonprofit which works with the city, are in regular contact with Antonio and his friends as part of the city's HOME-STAT program, but that as long as they pose no threat to themselves or others there is little they can do.
"We remain undeterred in our efforts to engage clients proactively until we make the connection that will help them transition off the streets," said DHS spokeswoman Arianna Fishman, adding the program has helped 1,815 people make that transition.
In her 2018 report, Routhier praised the HOME-STAT program for putting more outreach workers on the street, and told Bklyner she felt it was good the program provided more outreach, but without new housing to offer their effectiveness was severely limited.
Ultimately, Routhier said the issue of street homelessness can only be solved by addressing that root problem: lack of affordable housing.
"There are lot of barriers, both bureaucratic and other, that may be present and make it challenging for someone to be able to cope in a shelter setting," she said.
The Coalition for the Homeless' House Our Future NY campaign demands Mayor Bill de Blasio increase new construction of affordable housing specifically for the homeless.
The Coalition demands de Blasio increase "the total number of housing units created for homeless households to 30,000," or 10 percent of his goal of 300,000 affordable housing units, with "24,000 of these units to be created through new construction."
Routhier pointed to a letter signed by members of the city government and about 60 organizations joining the call.
"Having those housing resources available in order to offer someone who's on the streets a real option for getting off the streets is what's most important," she said, encouraging concerned residents to support this initiative.
When asked about these demands, the New York City Department of Housing Preservation and Development said, "we have set a new standard by requiring a minimum 10 percent of apartments in virtually all affordable rental developments be set aside for homeless New Yorkers. This allocation can be as high as 60 percent in some developments. As a result, roughly 10 percent of all rental units financed so far are dedicated to homeless New Yorkers."
"We are committed to continue delivering housing for homeless New Yorkers as well as low-income New Yorkers and those on the brink of homelessness," they added.
In response, Routhier said the Coalition's ask is more than that.  First, she said that while de Blasio does set aside 10 percent at the outset, that is often not what ends up being built.
"We know that in practice that has been negotiated down in many instances," she said, adding that while the Coalition's request focuses on 10 percent of the overall program being for the homeless, the 24,000 units of new construction would make up about 20 percent of what de Blasio plans overall.
"We're nowhere near those numbers," she said.
Routhier also said that of the 10 percent figure HPD cited, about half of that is "supportive housing," meaning housing with social services attached, and the Coalition is asking for additional straight affordable housing for people who do not require those services.
One of those signing the Coalition's letter was Council-member Carlos Menchaca, who represents the section of Borough Park where Antonio and his friends are staying.
Menchaca told Bklyner solutions to homelessness is his district and Brooklyn at large would not be "easy or even singular."
"Preventing homelessness will require a holistic, multi-agency approach, coupled with strong regulations that help keep people in their homes, provides access to affordable housing if they can't, access to jobs that are well paying at all times, and everything else in between that keeps individuals and families secure," he said in a statement.
On Thursday, amid the falling snow, Antonio began cooking a can of soup and said he planned to go out later and shovel for money as soon as the snow stopped, joking that less than four or five feet of snow on the streets was not enough to send him or his friends running for a shelter.
"Nobody wants to go," he said. "We feel okay."